/
"Mama, I have a company! Migmarks and Arts!" the young Miguela Puyat eagerly exclaimed to her mom, who couldn't quite figure out what she just announced. She was ten years old then and wanted to become a businessman like her dad. She would make bookmarks and rosaries and sell them to her relatives, just so she could have more baon. But as she grew older, Miguela realized that the money should go somewhere else—that other people needed it more. She was exposed to public service at a tender age since her parents are advocates, and they influenced her to live a life for other people. She started using her art skills to teach street kids in the community to do beadworks so they can create and market their own products. Now, every time she creates something—whether it's art or music—she finds it more meaningful when she is able to share her abilities and when her creations go to a good cause. 
Miss Doodle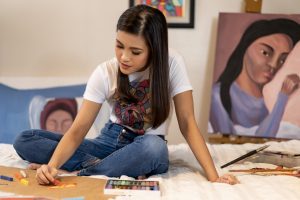 Miguela started dabbling in art when she was a kid, spending most of her alone time drawing her mom with a heart-shaped head. In class, she would also doodle a lot, and teachers would scold her because they thought she wasn't listening. But when quarter exams came, she would  get excellent grades.
A lot of her works are self-portraits. She sees herself in different obscure situations and puts them into art. Her significant experiences define the kind of artwork she produces. Sometimes, random ideas come to her like they are calling her to transfer them into a canvas, or she just draws aimlessly the thoughts wandering in her mind.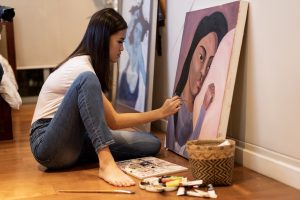 Miguela takes inspiration from the styles of Lucian Freud and David Hockney, British painters who do impasto and pop art, respectively. National artist Ang Kiukok, a Filipino painter of Chinese descent, also influenced her artworks. "He uses a surrealist art style. It looks unrealistic, the proportions are not real, he illustrates the shadows and scratch marks, and makes the skin imperfect, which is what we are. We are not perfect, but he manages to make (his subjects) look beautiful," Miguela explained. When drawing a person, the hand should be the size of the face to have the right proportion. Miguela, whose hands are much smaller than her face, believes that there is more perfection in imperfection. "I produced my art the way I see it in my head, but not the way other people see it or the way things are," she added.
The Young Advocate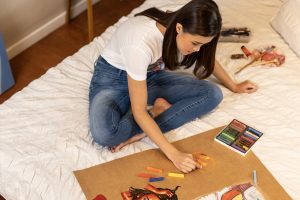 In the beginning, Miguela made trinkets for fundraising, but she soon found out that the most efficient way to make capital is to mass produce her artwork and put them on merchandise. She founded Migmarks and Arts, a social enterprise, to support her beneficiaries including Bantay Bata 163, helping abused and sick children; Lingkod-ER Foundation, aiding indigent patients in the emergency rooms; DZMM TLC Public Service on Wheels, conducting community service in different areas of the Philippines; and the Pag-asa ng Pamilya Scholarship Foundation, sending destitute kids to college.
"I think the biggest blessing is just the satisfaction knowing people get the help they need, that there's someone who will benefit from what I'm doing. Because what are you without helping others? It's not about me, it's about helping other people, and that's what matters most in this process," Miguela, now seventeen, shared.
The Passport to a Brighter Future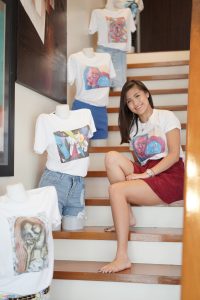 Miguela is on her last year in high school and is already scouting for an art school abroad. With a background that puts much value in education, helping three needy scholars through Pag-asa ng Pamilya Scholarship Foundation enter college is a big deal for her. "I feel like other people deserve that quality education as well . . . . And without it, they can't move forward in life and be the best they can be," she said.
Miguela acknowledges that she comes from a privileged background and wants to give other less fortunate youth the chance to prosper. "That, in essence, is what it's all about—giving these people the opportunity to provide for themselves properly and for their family and not be stuck in minimum wage. Because the more they earn, the more they can support their family. The more they earn, the longer their parents can live," she mused.
Setting Goals Beyond
With big dreams that go beyond herself, Miguela relies on making lists to jot down her goals and organize her life. "I love to write down what I have to do. I have a Google document built like a calendar, and I color-code everything with goals and targets and things to do," she divulged. It's a big help now that she has to juggle meeting requirements to graduate, making new designs for her merchandise, and building a portfolio of artwork to apply for art school. "Guess the pressure is on, but with the end goal inside, it doesn't feel as hard. Something I like to follow is: You do what you can, and God will do what you can't. So I do my best in everything, and whatever I can't control, God will take care of it," she said.
Message to the Youth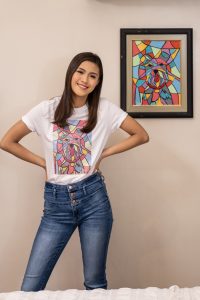 Miguela firmly believes that what is done with love is done well, because nothing worth having comes easy. "God's gift is meant to be shared, no matter how difficult it is. What is done with love is done well, because nothing worth having comes easy," she reflected.
"I love art, so I'm going to do art for the rest of my life and put it to good use," Miguela conveyed with great conviction, as she favors to live a simpler life and be content.
Miguela has her fair share of insecurities, but for her, others' judgments don't matter. She concludes, "What you do is for you and if you want to do it for others, it is also for you because it makes you happy. I believe in a hopeful God—and in everything I do, I believe God only wants the best for me and He will be there for me the whole way."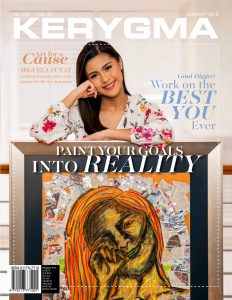 About the Cover Painting: The Child in a Rubble explores the theme of going through obstacles and traumatic experiences through one's life but being able to come out of it stronger. It is seen in the way that the girl is portrayed smiling. If people "unmuddle the muddled," the child can still come out stronger, with a clearer vision in mind. Child abuse is wrong and every child has the right to recuperate, be given a future, and be given a chance to heal.