READINGS for 2007-10-26
FORGIVENESS
I know I am rotten through and through... – Romans 7:18
I've always had this problem about forgiveness.
No, I don't have a black book stowed away somewhere handy where I can note down other people's transgressions towards me. As far as I can remember, I've never protractedly harbored any resentment against anyone. I'm always one who believes that everyone deserves a second chance.
So what's my problem? I'm hard on myself.
It takes days, even weeks, for me to bounce back from a slump after I've committed a sin.
I always find it hard to forgive myself.
I've read our reading several times in the past and each time, I thought I was fully identifying with Paul whenever I lashed out against myself. Yet reading it this time around made me realize this: No matter how I progress in my spiritual life, my humanity will always tend to lure me back into sin. That is why I always have to be mindful of it. And thank God, my humanity is inadequate to deal with all this. I don't have to beat myself up whenever I fall.
I have Jesus — who lifts me up and gives me the power over my humanity — who forgives me. Roy M.
REFLECTION:
Nothing you do will make God love you less.
For Your unending patience and everlasting forgiveness, thank You.
1st READING
Romans 7:18-25
St Paul is honest with us. He tells us of the struggle he has with sin – the difficulty he has in doing what he knows to be right. I am sure that we can all identify with this struggle. Perhaps we are in the middle of it at the moment. The only way to overcome it is through a deeper surrender to the grace of God in our lives. On our own we will ultimately lose this battle – sin will prevail. However, with Christ by our side, we are destined for victory. Let us ensure that we walk always with Him.
18 I know that good does not dwell in me, that is, in my flesh. The willing is ready at hand, but doing the good is not. 19 For I do not do the good I want, but I do the evil I do not want. 20 Now if I do what I do not want, it is no longer I who do it, but sin that dwells in me. 21 So, then, I discover the principle that when I want to do right, evil is at hand. 22 For I take delight in the law of God, in my inner self, 23 but I see in my members another principle at war with the law of my mind, taking me captive to the law of sin that dwells in my members. 24 Miserable one that I am! Who will deliver me from this mortal body? 25 Thanks be to God through Jesus Christ our Lord.
P S A L M
Psalm 119:66, 68, 76, 77, 93, 94
R: Lord, teach me your statutes.
66 Teach me wisdom and knowledge, for in your commands I trust. (R) 68 You are good and bountiful; teach me your statutes. (R) 76 Let your kindness comfort me according to your promise to your servants. (R) 77 Let your compassion come to me that I may live, for your law is my delight. (R) 93 Never will I forget your precepts, for through them you give me life. (R) 94 I am yours; save me, for I have sought your precepts. (R)
G O S P E L
Luke 12:54-59
It is unseemly for members of the same community to take a dispute to a secular court to have it resolved. It is much better if they can resolve it internally. There is a far greater chance of an amicable settlement in this context rather than the secular one. The secular context is merely interested in the issue of the law; at least within the community there may also be a sense of mercy and commitment to one another that may come into play. There is also the question as to whether scandal might arise from seeking a purely secular solution to the disagreement.
54 "When you see a cloud rising in the west you say immediately that it is going to rain — and so it does; 55 and when you notice that the wind is blowing from the south you say that it is going to be hot — and so it is. — 56 You hypocrites! You know how to interpret the appearance of the earth and the sky; why do you not know how to interpret the present time? 57 Why do you not judge for yourselves what is right? 58 If you are to go with your opponent before a magistrate, make an effort to settle the matter on the way; otherwise your opponent will turn you over to the judge, and the judge hand you over to the constable, and the constable throw you into prison. 59 I say to you, you will not be released until you have paid the last penny."
my reflections
think: On our own we will ultimately lose this battle – sin will prevail. However, with Christ by our side we are destined for victory.
_________________________________________________________

God's special verse/thought for me today________________
_________________________________________________________

T O D A Y ' S BLESSING LIST
Thank You Lord for: ____________________________________
_______________________________________________________
READ THE BIBLE IN ONE YEAR Mark 10-11
LORD TEACH ME YOUR WAYS
In his letter to the Romans, Paul speaks so empathically on the misery and struggles of human life. He understands the tensions one is involved with when we seek to follow the ways of the Lord.He reminds his readers that we are not alone in our journey of life but Jesus will see us through.
We all understand that our lives are new through the grace of the Holy Spirit that dwells within. We all understand the command of Jesus to love another as He has loved us. We have the assistance in our journey with brothers and sisters who support us in our faith. So much is on offer for us, yet how often are we burdened like Paul by the power of sin. Paul knows all about it when he states in his letter – "For I delight in the law of God in my inner self, but I see in my members another principle at war with my mind..." He is talking about the tendency we have to sin; we don't want to but we do! This tendency has a theological term, namely, concupiscence – that is the drive within to do evil. Paul says on this "For I do not do the good that I want but I do the evil that I want". And we cry oh what wretched people we are. We go to confession stating the same failures and we say we are wretched. We make the same mistakes and we say we are wretched. We said the wrong thing, we told a lie and we do this and that and we say what a wretched mess. However, before the pit of depression becomes too deep a pit to fall into, let us look to God who has given a way out of this wretched mess. As Paul shouts in triumph so do we, "Thanks be to God through Jesus Christ." Yes it is God who has the final say on sin. It is accomplished as Jesus said on the cross.
We know within ourselves the willingness to do good, yet it is true that there is another "principle" at work. The enemy absolutely despises us and he will do anything to persuade us from goodness. We are aware of the temptations to speak against someone or to take revenge, or to act in a particular way – this is the evil at hand. Often it comes in subtle and unassuming disguises. Hence there is a need to be vigilant. Call upon the Lord where He will come and bring salvation, He is our Savior. Yes thanks be to God through Jesus Christ who gives us the Holy Spirit to walk the walk of faith. Fr. Brian Steele
REFLECTION QUESTION: The battle of the mind is often the worst battle we must conquer. So much can begin here if we are able to seek the Lord to anoint our minds. Pray the prayer of Ephesians 6:13-17 for God's protection over our lives and the lives of the members of our family.
Lord, grant me the gift of Your Spirit and help me to be patient, kind and gentle in all I do. Help me to avoid evil and do good in all my affairs. Amen.
St. Rusticus, bishop, pray for us.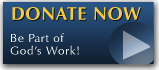 The FEAST is one of the happiest places on earth.

Click Here to find a Feast near you!
KERYGMA TV! is BACK
KERYGMA TV is on a new time slot and new channel Sundays 8 a.m. at IBC 13
Need Counseling? No Landline?
Now, you can use your mobile phone to call a friend for counseling at 09228407031. Or you may call our landlines 7266728, 7264709, 7259999 Mon-Fri 24-hrs, Sat 6am-5pm, Sun 6am-10am
BO BLOGS!
Go to Bo's Official Site and read his almost daily blog! Its not news, but thoughts and musings of Bo Sanchez. Get to know Bo in a more personal way --and find out what it means to live the life of a preacher. You get to enrich your faith as well.
DONATION
Remember to always donate your "first fruits"-not the last. Click on the "Donation" Box under the members menu - and you'll even see links to the nearest branches of the Banks where you can deposit.