READINGS for 2009-07-13
When Jesus finished giving these commands to his twelve disciples, he went away from that place to teach and to preach in their towns.
– Matthew 11:1
Today I honor my late father on his birthday. He was a faithful husband, a responsible and loving father, a caring son, a respected coworker and a doting grandfather.
Many of the things I learned from him he taught without knowing it. By the way he treated my mom, I learned how a man should treat a woman. By the way he got angry when his things went missing from where he kept them, I learned that one should not take people's things without asking for their permission. By the way he looked after his parents in their old age, I learned that we have a duty to take care of our aging parents, and to honor them by showing them gratitude and love. Though at times he verbalized these virtues in our casual conversations, his actions spoke louder.
Jesus always led by example. The way He lived His life was more than enough testimony of His humility and divinity. There's no better way to influence a life than to walk the talk. That's why He became the greatest Fisher of Men.
I hope and pray that Papa is as proud of me as the Heavenly Father is of His beloved Son.
Nova Arias
What are you teaching other people with your life?
Lord Jesus, teach me to follow in Your footsteps that I may walk the talk.
Sometimes it is difficult to know how a situation will end. This means that we should be aware that there may be pitfalls if we put all our eggs into one basket, so to speak. It is always important to consider all the possible options before we decide. The sons of Jacob, or their descendants at least, find themselves in big trouble and nowhere to go now that the leadership in Egypt has changed.
8
A new king, who knew nothing of Joseph, came to power in Egypt.
9
He said to his subjects, "Look how numerous and powerful the Israelite people are growing, more so than we ourselves!
10
Come, let us deal shrewdly with them to stop their increase; otherwise, in time of war they too may join our enemies to fight against us, and so leave our country."
11
Accordingly, taskmasters were set over the Israelites to oppress them with forced labor. Thus they had to build for Pharaoh the supply cities of Pithom and Raamses.
12
Yet the more they were oppressed, the more they multiplied and spread. The Egyptians, then, dreaded the Israelites
13
and reduced them to cruel slavery,
14
making life bitter for them with hard work in mortar and brick and all kinds of field work — the whole cruel fate of slaves.
22
Pharaoh then commanded all his subjects, "Throw into the river every boy that is born to the Hebrews, but you may let all the girls live."
R: Our help is in the name of the Lord.
1
Had not the LORD been with us — let Israel say,
2
had not the LORD been with us — when men rose up against us,
3
then would they have swallowed us alive. When their fury was inflamed against us.
(R)
4
Then would the waters have overwhelmed us; the torrent would have swept over us;
5
over us then would have swept the raging waters.
6
Blessed be the LORD, who did not leave us a prey to their teeth.
(R)
7
We were rescued like a bird from the fowlers' snare; broken was the snare, and we were freed.
8
Our help is in the name of the LORD, who made heaven and earth.
(R)
Being a disciple of Jesus will mean coming into conflict with those we love when there are fundamental truths of the Gospel at stake. No amount of love and respect for anyone can force us to choose to do something we know to be wrong, or against our faith in God. Truth is an absolute reality that does not allow for compromise. Let us pray that we would always have the strength to stand firm in the truth of the Gospel.
34
Jesus said to his disciples: "Do not think that I have come to bring peace upon the earth. I have come to bring not peace but the sword.
35
For I have come to set a man 'against his father, a daughter against her mother, and a daughter-in-law against her mother-in-law;
36
and one's enemies will be those of his household.'
37
"Whoever loves father or mother more than me is not worthy of me, and whoever loves son or daughter more than me is not worthy of me;
38
and whoever does not take up his cross and follow after me is not worthy of me.
39
Whoever finds his life will lose it, and whoever loses his life for my sake will find it.
40
"Whoever receives you receives me, and whoever receives me receives the one who sent me.
41
Whoever receives a prophet because he is a prophet will receive a prophet's reward, and whoever receives a righteous man because he is righteous will receive a righteous man's reward.
42
And whoever gives only a cup of cold water to one of these little ones to drink because he is a disciple — amen, I say to you, he will surely not lose his reward."
11:
1
When Jesus finished giving these commands to his twelve disciples, he went away from that place to teach and to preach in their towns.
think:
Truth is an absolute reality that does not allow for compromise.
_________________________________________________________

God's special verse/thought for me today________________
_________________________________________________________

T O D A Y ' S BLESSING LIST
Thank You Lord for:
____________________________________
_______________________________________________________
READ THE BIBLE IN ONE YEAR 1 Chronicles 10-12
"Do not think that I have come to bring peace upon the earth. I have come to bring not peace, but division" (Matthew 10:34).
The biblical scholar Scott Hahn, a Lutheran who became a Catholic convert, narrated an exchange he had with a professed atheist. He was talking about the philosophical proofs for the existence of God when the atheist spoke up and said, "Professor Hahn, if God did not exist, we would invent Him anyway." For that atheist, God was just an invention of the human mind, an infantile projection of human insecurity, of man's inability to cope up with the mysteries of life. In response, Scott Hahn remarked, "If God does exist, we would invent atheism anyway." Why would we invent atheism? Because we do not want a demanding God. We do not want a God who will challenge us. We do not want a God who will tell us things that we do not want to hear. If ever we would invent a God, it would have to be a convenient God, a God who will never make me feel uncomfortable, a God who will never bring me out of my comfort zone. That is the God of atheism. And that is no God at all.
Today's Gospel is an indication that the God of Christianity could not have been an invention. If Jesus was just an invention, why invent a God who will disturb you to the core of your being? But this is just precisely what Jesus expresses to be His mission. Listen to His disturbing words, "I did not come to bring peace but division." Make no mistake about it, Jesus came not just to make us
feel
good. He came to
make
us good. And only after being good, then we shall genuinely feel good about ourselves. Being good entails a decisive choice of the good over the bad. That will entail purification and purgation — a dying to one's self. And that is difficult
.
Fr. Joel O. Jason
How would you describe your brand of Christianity? Is it the cafeteria brand of Christianity where you only choose to follow those things that appeal to you? If you hear the Gospel say something that doesn't appeal to you, do you readily dismiss it as irrelevant?
Today, make this prayer your own: "Lord, if I am disturbed, comfort me. But when I am too comfortable, disturb me."
St. Henry the Emperor, pray for us.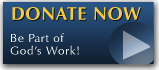 The FEAST is one of the happiest places on earth.

Click Here to find a Feast near you!
KERYGMA TV! is BACK
KERYGMA TV is on a new time slot and new channel Sundays 8 a.m. at IBC 13
Need Counseling? No Landline?
Now, you can use your mobile phone to call a friend for counseling at 09228407031. Or you may call our landlines 7266728, 7264709, 7259999 Mon-Fri 24-hrs, Sat 6am-5pm, Sun 6am-10am
BO BLOGS!
Go to Bo's Official Site and read his almost daily blog! Its not news, but thoughts and musings of Bo Sanchez. Get to know Bo in a more personal way --and find out what it means to live the life of a preacher. You get to enrich your faith as well.
DONATION
Remember to always donate your "first fruits"-not the last. Click on the "Donation" Box under the members menu - and you'll even see links to the nearest branches of the Banks where you can deposit.