READINGS for 2009-07-11
"You intended to harm me, but God intended it for good to accomplish what is now being done." – Genesis 50:20
She used to be one of my closest friends back in college, where we first met. Unfortunately, somewhere along the way, we got into an argument. She started fighting with all our other friends just because she was in a bad mood. Then she started slacking off at school, so I decided to tell her exactly what I thought, in the hope of making her see the light and change her ways. I thought that since we're friends, she would totally understand, right? Wrong.
She got mad at me and stopped talking to me. I tried to give her some time to cool off. But after a while, she said something really mean that hurt me so much, I got angry as well. Harsh words were spoken and we stopped being friends. Ouch.
I still wonder why it had to happen and I admit I did a lot of wrong things during the entire incident. Until now I'm praying for our reconciliation but because of this experience, I've learned to be more understanding, tactful and loving of my friends who hold different opinions from me. I've matured because of this ordeal. And even if it hurt me a lot, I know I wouldn't be who I am now if it weren't for that
.
Tina matanguihan
Think of a past experience that hurt you. Reflect on how it helped you become who you are right now.
Father, may You help us get through the things that hurt us and help us to see how You are also using it for our good.
Joseph expresses here a principle that can be difficult to accept and at the same time essential to our faith in God — that God can bring good out of an evil act or intention. The brothers of Joseph undoubtedly meant to harm him, yet God has turned the situation around to the point that it is Joseph who saves his whole family from the famine inflicting the earth. This is the power that God has at His disposal. This is one of the reasons why it is a very sensible decision to align one's self with God and His will. In the long run, the benefits are far more than we could ever earn or manage to accumulate through our own strength.
Genesis 49:29-32; 50:15-26a
29
Jacob gave his sons this charge: "Since I am about to be taken to my kindred, bury me with my fathers in the cave that lies in the field of Ephron the Hittite,
30
the cave in the field of Machpelah, facing on Mamre, in the land of Canaan, the field that Abraham bought from Ephron the Hittite for a burial ground.
31
There Abraham and his wife Sarah are buried, and so are Isaac and his wife Rebekah, and there, too, I buried Leah —
32
the field and the cave in it that had been purchased from the Hittites."
50:
15
Now that their father was dead, Joseph's brothers became fearful and thought, "Suppose Joseph has been nursing a grudge against us and now plans to pay us back in full for all the wrong we did him!"
16
So they approached Joseph and said: "Before your father died, he gave us these instructions:
17
'You shall say to Joseph, Jacob begs you to forgive the criminal wrongdoing of your brothers, who treated you so cruelly.' Please, therefore, forgive the crime that we, the servants of your father's God, committed." When they spoke these words to him, Joseph broke into tears.
18
Then his brothers proceeded to fling themselves down before him and said, "Let us be your slaves!"
19
But Joseph replied to them: "Have no fear. Can I take the place of God?
20
Even though you meant harm to me, God meant it for good, to achieve his present end, the survival of many people.
21
Therefore have no fear. I will provide for you and for your children." By thus speaking kindly to them, he reassured them.
22
Joseph remained in Egypt, together with his father's family. He lived a hundred and ten years.
23
He saw Ephraim's children to the third generation, and the children of Manasseh's son Machir were also born on Joseph's knees.
24
Joseph said to his brothers: "I am about to die. God will surely take care of you and lead you out of this land to the land that he promised on oath to Abraham, Isaac and Jacob."
25
Then, putting the sons of Israel under oath, he continued, "When God thus takes care of you, you must bring my bones up with you from this place."
26
Joseph died at the age of a hundred and ten.
R: Be glad you lowly ones; may your hearts be glad!
1
Give thanks to the LORD, invoke his name; make known among the nations his deeds.
2
Sing to him, sing his praise, proclaim all his wondrous deeds.
(R)
3
Glory in his holy name; rejoice, O hearts that seek the LORD!
4
Look to the LORD in his strength; seek to serve him constantly.
(R)
6
You descendants of Abraham, his servants, sons of Jacob, his chosen ones!
7
He, the LORD, is our God; throughout the earth his judgments prevail.
(R)
Today is the Feast of St. Benedict, one of the greatest saints of the Western Church. It is to a large degree the result of the faithfulness of Benedict to God's will and his commitment to living it to the full that Western civilization gained its moral and social foothold. It was to a large degree the Benedictine monks who maintained libraries of knowledge through the Dark Ages, and thus gave rise to the University Age and the subsequent growth in knowledge and science. Whether people like it or not, we owe a lot to this simple and obedient man of God.
24
Jesus said to his disciples: "No disciple is above his teacher, no slave above his master.
25
It is enough for the disciple that he become like his teacher, for the slave that he become like his master. If they have called the master of the house Beelzebul, how much more those of his household!
26
"Therefore do not be afraid of them. Nothing is concealed that will not be revealed, nor secret that will not be known.
27
What I say to you in the darkness, speak in the light; what you hear whispered, proclaim on the housetops.
28
And do not be afraid of those who kill the body but cannot kill the soul; rather, be afraid of the one who can destroy both soul and body in Gehenna.
29
Are not two sparrows sold for a small coin? Yet not one of them falls to the ground without your Father's knowledge.
30
Even all the hairs of your head are counted.
31
So do not be afraid; you are worth more than many sparrows.
32
Everyone who acknowledges me before others I will acknowledge before my heavenly Father.
33
But whoever denies me before others, I will deny before my heavenly Father."
think:
To align one's self with God and His will will bring us far more benefits than we could ever manage to accumulate through our own strength.
_________________________________________________________

God's special verse/thought for me today________________
_________________________________________________________

T O D A Y ' S BLESSING LIST
Thank You Lord for:
____________________________________
_______________________________________________________
READ THE BIBLE IN ONE YEAR 1 Chronicles 4-6
Jesus in the Gospel comforts His disciples, "Do not be afraid!" How often have you heard these words spoken to you? When you were young and learning how to walk, probably your parents told you not to be afraid to take your first step. Remember your first day in school? Or your first day in high school? Probably the same words comforted you in the company of unfamiliar classmates and teachers. When you were learning how to ride a bicycle, the same words surely encouraged you to keep on pedaling and balancing the bike you are riding. "Do not be afraid!" How often have you said that to yourself? When you began the big, challenging world of college life, when you had your first interview for a job, when you faced the altar on your wedding day and your heart is racing within you?
The Italians would say, "
Non avete paura.
" Literally, it is translated, "Do not have fear." It means, "do not keep it with
you," "do not harbor it," "do not let it paralyze you." Maybe, the more appropriate translation would be, "do not allow fear to have you." When Jesus says "do not be afraid," He is not saying that a Christian who believes will not feel or experience fear. We will, for that is a part of our humanity. But Christ has saved us for eternal life, so even if we feel fear, a Christian does not allow fear to overtake him or her. Today as always, God is telling us the same thing, "Do not be afraid." No matter what stage of life we are in at the moment, He is there for us. And if He is with us, what should we be afraid of? One basic reality regarding God is that He is always there for us in all the events of our lives. But sometimes we doubt this reality. And this doubt makes us weak in carrying on the daily obligations and struggles of our life. But God is always there to remind us that He is always there, that we should not be afraid because we are never alone, and that we should always possess brave hearts for we are Christians.
Fr. Joel O. Jason
What fear possesses you right now? Is fear overtaking you? Cast all your cares to Jesus because He cares for you.
Oh my God, teach me to be courageous, to securely travel on. This I can do only through the help of Your grace. Amen.
St. Benedict, Abbot, pray for us.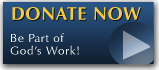 The FEAST is one of the happiest places on earth.

Click Here to find a Feast near you!
KERYGMA TV! is BACK
KERYGMA TV is on a new time slot and new channel Sundays 8 a.m. at IBC 13
Need Counseling? No Landline?
Now, you can use your mobile phone to call a friend for counseling at 09228407031. Or you may call our landlines 7266728, 7264709, 7259999 Mon-Fri 24-hrs, Sat 6am-5pm, Sun 6am-10am
BO BLOGS!
Go to Bo's Official Site and read his almost daily blog! Its not news, but thoughts and musings of Bo Sanchez. Get to know Bo in a more personal way --and find out what it means to live the life of a preacher. You get to enrich your faith as well.
DONATION
Remember to always donate your "first fruits"-not the last. Click on the "Donation" Box under the members menu - and you'll even see links to the nearest branches of the Banks where you can deposit.