READINGS for 2009-07-02
"Ready!" he replied... – Genesis 22:1
Business guru Tom Peters once said that successful business people are "biased for action." If they were to shoot a rifle, they'd fire first and adjust accordingly. FIRE, READY, AIM!
In today's reading, Abraham's attitude was similar as he cried out, "Ready!" to the Lord's voice. He didn't know what would be required of him but I suspect that he was constantly anticipating God's instructions.
The following instructions from the Lord needed him to just do the same. "Fire!" — take his son to be a sacrifice and "aim" later.
I don't know if father Abraham would have been a great businessman if he lived in our day. But I am sure of one thing: he is a great leader and patriarch, a father of a multitude of nations, because he was biased for action, biased for God!
Ariel Driz
Do I act on God's Word and Wisdom immediately?
Lord Jesus, thank You for great examples who showed the way. Grant me the grace to be biased for action, biased for You. Amen.
We will all face times of testing when our faith will be stretched to its limits. God will not stretch us further than we can stand. Yet, times of testing will always be difficult moments to negotiate. It is only with faith in God and trust in His loving mercy that we will be able to pass through them. Let us open our hearts in good times so that our faith will be strengthened to the point that when times of challenge come, we
will have the resources and perseverance to see them through.
1
God put Abraham to the test. He called to him, "Abraham!" "Ready!" he replied.
2
Then God said: "Take your son Isaac, your only one, whom you love, and go to the land of Moriah. There you shall offer him up as a holocaust on a height that I will point out to you."
3
Early the next morning Abraham saddled his donkey, took with him his son Isaac, and two of his servants as well, and with the wood that he had cut for the holocaust, set out for the place of which God had told him.
4
On the third day Abraham got sight of the place from afar.
5
Then he said to his servants: "Both of you stay here with the donkey, while the boy and I go on over yonder. We will worship and then come back to you."
6
Thereupon Abraham took the
wood for the holocaust and laid it on his son Isaac's shoulders, while he himself carried the fire and the knife.
7
As the two walked on together, Isaac spoke to his father Abraham. "Father!" he said. "Yes, son," he replied. Isaac continued, "Here are the fire and the wood, but where is the sheep for the holocaust?"
8
"Son," Abraham answered, "God himself will provide the sheep for the holocaust." Then the two continued going forward.
9
When they came to the place of which God had told him, Abraham built an altar there and arranged the wood on it. Next he tied up his son Isaac, and put him on top of the wood on the altar.
10
Then he reached out and took the knife to slaughter his son.
11
But the LORD's messenger called to him from heaven, "Abraham, Abraham!" "Yes, Lord," he answered.
12
"Do not lay your hand on the boy," said the messenger. "Do not do the least thing to him. I know now how devoted you are to God, since you did not withhold from me your own beloved son."
13
As Abraham looked about, he spied a ram caught by its horns in the thicket. So he went and took the ram and offered it up as a holocaust in place of his son.
14
Abraham named the site Yahweh- yireh; hence people now say, "On the mountain the LORD will see."
15
Again the LORD's messenger called to Abraham from heaven
16
and said: "I swear by myself, declares the LORD, that because you acted as you did in not withholding from me your beloved son,
17
I will bless you abundantly and make your descendants as countless as the stars of the sky and the sands of the seashore; your descendants shall take possession of the gates of their enemies,
18
and in your descendants all the nations of the earth shall find blessing — all this because you obeyed my command."
19
Abraham then returned to his servants, and they set out together for Beersheba, where Abraham made his home.
Psalm 115:1-2. 3-4. 5-6. 8-9
R: I will walk in the presence of the Lord, in the land of the living.
1
Not to us, O LORD, not to us but to your name give glory because of your kindness, because of your truth.
2
Why should the pagans say, "Where is their God?"
(R)
3
Our God is in heaven; whatever he wills, he does.
4
Their idols are silver and gold, the handiwork of men.
(R)
5
They have mouths but speak not; they have eyes but see not;
6
they have ears but hear not; they have noses but smell not.
(R)
8
Their makers shall be like them, everyone that trusts in them.
9
The house of Israel trusts in the LORD; he is their help and their shield.
(R)
Again, it is on the basis of faith that Jesus works this miracle. He sees the depth of faith of the man and so He forgives his sins. Then seeing the disbelief in those around Him murmuring against what He has done, He turns to them in frustration and heals the paralytic. Which is the greater of the healings? From a spiritual point of view, it is the first of course. However, to those with doubts as to Jesus' power, the second is more conclusive.
1
After entering a boat, Jesus made the crossing, and came into his own town.
2
And there people brought to him a paralytic lying on a stretcher. When Jesus saw their faith, he said to the paralytic, "Courage, child, your sins are forgiven."
3
At that, some of the scribes said to themselves, "This man is blaspheming."
4
Jesus knew what they were thinking, and said, "Why do you harbor evil thoughts?
5
Which is easier, to say, 'Your sins are forgiven,' or to say, 'Rise and walk'?
6
But that you may know that the Son of Man has authority on earth to forgive sins" — he then said to the paralytic, "Rise, pick up your stretcher, and go home."
7
He rose and went home.
8
When the crowds saw this they were struck with awe and glorified God who had given such authority to men.
think:
It is on the basis of our faith that Jesus works His miracles.
_________________________________________________________

God's special verse/thought for me today________________
_________________________________________________________

T O D A Y ' S BLESSING LIST
Thank You Lord for:
____________________________________
_______________________________________________________
READ THE BIBLE IN ONE YEAR 1 Kings 17-19
Today we hear of one of the accusations being hurled at Jesus by the people around Him. He was charged of blasphemy. The scribes were always ready to pin Him down and look for any possible allegation that will defeat Jesus. The scribes had no problem that Jesus cured the man physically. What bothered them was that Jesus claimed to have forgiven the sins of the man as well. But that is precisely what sets Jesus apart from the rest of the religious leaders of His time. He was no mere healer. He was no mere wonder-worker. He was the "Lamb of God, who takes away the sin of the world."
In the Scriptures, holiness has always been described as "walking with the Lord." The Jews have a set of rules for holy
living which they call
hallakah
, which can be loosely translated as "to walk in the way of the Lord." That is why in the Jewish mentality, physical illness, paralysis or disability of any kind have always been associated with sinfulness. Remember the episode in Chapter 9 of the Gospel of John where the disciples asked Jesus whether the man born blind was the result of the man's sinfulness or that of his parents? Jesus answered, "neither he nor his parents sinned" (John 9:3). But while Jesus did not validate this automatic association with sickness and sin, He did acknowledge that sinfulness is a greater form of "sickness" than the physical kind. Thus, He offers not only physical healing but more so, the forgiveness of sin. Oftentimes, Jesus would accompany His healings with the admonition to "go and sin no more." This is what He did to the paralytic in our Gospel. Jesus does not only offer healing; Jesus offers us salvation.
Fr. Joel O. Jason
What is ailing you right now? Are you physically ill? Or spiritually sick? Do you try to keep your spirit in good and healthy condition as you do with your body?
Jesus, You are the great Doctor. Heal us from our bodily pains and touch our broken spirit. You are our hope and life, for without You, we cannot do anything. Amen.
St. Monegundis, Widow, pray for us.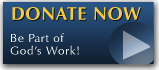 The FEAST is one of the happiest places on earth.

Click Here to find a Feast near you!
KERYGMA TV! is BACK
KERYGMA TV is on a new time slot and new channel Sundays 8 a.m. at IBC 13
Need Counseling? No Landline?
Now, you can use your mobile phone to call a friend for counseling at 09228407031. Or you may call our landlines 7266728, 7264709, 7259999 Mon-Fri 24-hrs, Sat 6am-5pm, Sun 6am-10am
BO BLOGS!
Go to Bo's Official Site and read his almost daily blog! Its not news, but thoughts and musings of Bo Sanchez. Get to know Bo in a more personal way --and find out what it means to live the life of a preacher. You get to enrich your faith as well.
DONATION
Remember to always donate your "first fruits"-not the last. Click on the "Donation" Box under the members menu - and you'll even see links to the nearest branches of the Banks where you can deposit.