READINGS for 2009-05-06
But the word of God continued to spread and grow. – Acts 12:24
A small lady named Etring did not accept no for an answer. She kept on calling Pilar every week, inviting her to the prayer meeting. After six months of different kinds of excuses and alibis, Pilar gave in, bringing her whole family.
Pilar is the wife of Gene Sanchez and the mother of Bo. The family later became the first members of what will be the Light of Jesus Community.
Because of Etring, a persistent dwarflike lady, the community is celebrating its 28th year of existence, touching people and bringing God's Word all over the Philippines and the world.
The Word of God grew and continues to multiply
.
Chelle Crisanto
Do you do your share of planting God's Word in your neighbors, office workers and the people you meet every day?
Teach me, Father, to be a gardener, planting seeds of faith in raw soil to be harvested when You come again.
Here is the official start of Paul's mission to the Gentiles. As we have noted a few days ago, this mission has been given the highest legitimacy possible with the conversion of Cornelius and his family in Jaffa. We will now see it flourish under the supervision of a man who is probably the greatest preacher the Church has known in that most of what he did begun from nothing, with very little support and virtually
24
The word of God continued to spread and grow.
25
After Barnabas and Saul completed their relief mission, they returned to Jerusalem, taking with them John, who is called Mark.
13:
1
Now there were in the church at Antioch prophets and teachers: Barnabas, Symeon who was called Niger, Lucius of Cyrene, Manaen who was a close friend of Herod the tetrarch, and Saul.
2
While they were worshipping the Lord and fasting, the holy Spirit said, "Set apart for me Barnabas and Saul for the work to which I have called them."
3
Then, completing their fasting and prayer, they laid hands on them and sent them off.
4
So they, sent forth by the Holy Spirit, went down to Seleucia and from there sailed to Cyprus.
5
When they arrived in Salamis, they proclaimed the word of God in the Jewish synagogues.
R: O God, let all the nations praise you!
1 [2]
May God have pity on us and bless us; may he let his face shine upon us.
2 [3]
So may your way be known upon earth; among all nations, your salvation.
(R)
4 [5]
May the nations be glad and exult because you rule the peoples in equity; the nations on the earth you guide.
(R)
5 [6]
May the peoples praise you, O God; may all the peoples praise you!
7 [8]
May God bless us, and may all the ends of the earth fear him!
(R)
Lack of faith in Jesus, particularly in a person who has every reason to believe in Him, is in itself its own condemnation, even punishment. When the Gospel is proclaimed to us, provided the proclamation is not compromised by the bad witness of those proclaiming it, there is an innate recognition in our hearts of its truth simply because this is the nature of truth and the Gospel is the truth of our salvation. We have to believe this, or something similar, or we will lack the desire to proclaim the Gospel.
44
Jesus cried out and said, "Whoever believes in me believes not only in me but also in the one who sent me,
45
and whoever sees me sees the one who sent me.
46
I came into the world as light, so that everyone who believes in me might not remain in darkness.
47
And if anyone hears my words and does not observe them, I do not condemn him, for I did not come to condemn the world but to save the world.
48
Whoever rejects me and does not accept my words has something to judge him: the word that I spoke, it will condemn him on the last day,
49
because I did not speak on my own, but the Father who sent me commanded me what to say and speak.
50
And I know that his commandment is eternal life. So what I say, I say as the Father told me."
think
:
Lack of faith in Jesus, particularly in a person who has every reason to believe in Him, is in itself its own condemnation, even punishment.
_________________________________________________________

God's special verse/thought for me today________________
_________________________________________________________

T O D A Y ' S BLESSING LIST
Thank You Lord for:
____________________________________
_______________________________________________________
READ THE BIBLE IN ONE YEAR Number 1-3
Does GoD ever conDemn us?
I do not believe that God actively condemns anyone — it is we who condemn ourselves by the choices we make to sin. If we experience separation from God, it is not because He has chosen to reject us or leave us or has forgotten us, but that we have chosen to ignore His will and have separated ourselves from Him through sin.
The condemnation we experience is a result of sin, in other words, our choices to stand apart from God's will and ways. We cannot blame God for this at all. It is a result of our own doing and our own doing alone. What we need to recognize and be convinced about is the truth that it is only in God's will that we will discover true fulfillment and happiness. Apart from God and His will, nothing is possible. If we live according to God's will, it is logical that we will be happy and free of any sense of condemnation. Jesus makes this quite clear in the Gospel where He tells us that anyone who hears and listens to the Word of God and keeps it faithfully, will live in the light of God and be free of condemnation. This is not easy to do as it requires an enormous amount of humility to submit one's life to the grace and will of God over and above doing what we want when we want to do it. It is probably a bit similar to the situation where one is working for a boss: you will have a good relationship with your boss and enjoy your work much more if you are obedient to the rules and regulations set down for your job. If you step outside the bounds of these rules, then the odds are that you will sour your relationship with your boss and your experience of work will deteriorate as well. It makes logical sense.
God is not really such a demanding taskmaster when one considers what is at stake. If we are talking about eternal life, it is logical to expect that the requirements will be somewhat demanding because of the seriousness of the matter at hand. It could be interesting to reflect on what we really think the gift of eternal life is worth in terms of the response we are willing to make to its offer!
Fr. Steve Tynan, MGL
Exactly what am I willing to give in return for the offer of eternal life?
Jesus, You demonstrated Your depth of commitment to me through Your willingness to die on the cross. Help me to make a reasonable
response to Your offer of love and eternal life.
St. Evodius, Bishop, pray for us.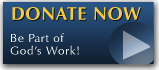 The FEAST is one of the happiest places on earth.

Click Here to find a Feast near you!
KERYGMA TV! is BACK
KERYGMA TV is on a new time slot and new channel Sundays 8 a.m. at IBC 13
Need Counseling? No Landline?
Now, you can use your mobile phone to call a friend for counseling at 09228407031. Or you may call our landlines 7266728, 7264709, 7259999 Mon-Fri 24-hrs, Sat 6am-5pm, Sun 6am-10am
BO BLOGS!
Go to Bo's Official Site and read his almost daily blog! Its not news, but thoughts and musings of Bo Sanchez. Get to know Bo in a more personal way --and find out what it means to live the life of a preacher. You get to enrich your faith as well.
DONATION
Remember to always donate your "first fruits"-not the last. Click on the "Donation" Box under the members menu - and you'll even see links to the nearest branches of the Banks where you can deposit.