READINGS for 2009-04-23
"The Father loves the Son and has given everything over to him." – John 3:35
God has been so generous with me. He has not only blessed me with a good husband but He packaged it also with good in-laws. My parents-in-law love their son so much that at a drop of a pin, they would willingly give up everything if he asked them to. But he doesn't take advantage; it's enough that he knows it. And since I am married to him, my children enjoy the privilege of being in the family and I also.
That's why it's not hard for me to imagine God's love for His own son. And yet, He was able to sacrifice His only real son just so that we could be adopted into His family! On the cross, God sent the spirit of his Son into our hearts crying out "Abba, Father!" (Galatians 4:6)
Now, you and I are God's own children too. We now enjoy the same privilege that Jesus had. So let's stop embarrassing our Dad with the way we live our life and start acting more like His children. Start reading the Manual on how to live and love and be like our Dad.
God included us in His family so that He will have more children to bless with the best kind of life possible. He's the best dad anyone could ever dream of!
Ronna Ledesma
Why are we still living in the dungeon when God has called us to live in the palace?
Abba, Father, thank You for calling me Your very own.
Peter puts his case clearly and succinctly. The authorities are unable to convince them that they speak for God and so he refuses to follow their instructions. We should not follow Peter's example lightly. Yes, there are times when we should refuse to obey an unjust law or a morally incorrect command. However, we must be careful and discern well as there is such a reality as a God-given secular authority.
27
When the court officers had brought the Apostles in and made them stand before the Sanhedrin, the high priest questioned them,
28
"We gave you strict orders [did we not?] to stop teaching in that name. Yet you have filled Jerusalem with your teaching and want to bring this man's blood upon us."
29
But Peter and the apostles said in reply, "We must obey God rather than men.
30
The God of our ancestors raised Jesus, though you had him killed by hanging him on a tree.
31
God exalted him at his right hand as leader and savior to grant Israel repentance and forgiveness of sins.
32
We are witnesses of these things, as is the holy Spirit that God has given to those who obey him."
33
When they heard this, they became infuriated and wanted to put them to death.
Psalm 34:2 and 9. 17-18. 19-20
R: The Lord hears the cry of the poor.
1 [2]
I will bless the LORD at all times; his praise shall be ever in my mouth.
8 [9]
Taste and see how good the LORD is; blessed the man who takes refuge in him.
(R)
16 [17]
The LORD confronts the evildoers, to destroy remembrance of them from the earth.
17 [18]
When the just cry out, the LORD hears them, and from all their distress he rescues them.
(R)
18 [19]
The LORD is close to the brokenhearted; and those who are crushed in spirit he saves.
19 [20]
Many are the troubles of the just man, but out of them all the LORD delivers him.
(R)
John the Baptist is quite willing to recognize that Jesus has greater authority than he has. Jesus is 'from above' — that is, from heaven, from God. He is but a child of the earth, a particularly blessed one maybe, but still only a human being. Of all men and women, perhaps it is John the Baptist who first realizes the true significance of the person and mission of Jesus. He never hesitates to point people in Jesus' direction acknowledging that his own mission is secondary to that of Jesus.
31
The one who comes from above is above all. The one who is of the earth is earthly and speaks of earthly things. But the one who comes from heaven is above all.
32
He testifies to what he has seen and heard, but no one accepts his testimony.
33
Whoever does accept his testimony certifies that God is trustworthy.
34
For the one whom God sent speaks the words of God. He does not ration his gift of the Spirit.
35
The Father loves the Son and has given everything over to him.
36
Whoever believes in the Son has eternal life, but whoever disobeys the Son will not see life, but the wrath of God remains upon him.
think
:
There is such a reality as a God-given secular authority.
_________________________________________________________

God's special verse/thought for me today________________
_________________________________________________________

T O D A Y ' S BLESSING LIST
Thank You Lord for:
____________________________________
_______________________________________________________
READ THE BIBLE IN ONE YEAR Psalm 77-78
FAith — At the lion's Den
In today's Gospel passage the evangelist continues the reflection we took up yesterday. Faith in Christ is what saves. This truth has often been misinterpreted. Faith in Christ does not mean shouting enthusiastically, "I accept Jesus as my Lord and Savior!" Jesus once said very clearly that not all those who call "Lord, Lord" will be saved but those who do the will of His Father. In other words, real faith in Christ goes far beyond a brief emotional outcry. Real faith will always be shown in action. Real faith carries in itself the element of personal commitment. The faith Jesus expects means to enjoy a life-giving relationship with Him; on the other hand it means to give oneself to Christ and His Church in dedication and full confidence.
Aesop tells the fable,
The Hunter and the Woodman
. A hunter was searching for the tracks of a lion. He asked a man cutting trees if he had seen any marks of the lion's footsteps or knew where his lair was. "Oh yes," said the woodman, "I will take you to the lion himself." The hunter turned pale and stuttered, "No, thanks. I did not ask that; it is only his tracks that I am looking for, not the lion himself." This fable tells us something about what real faith demands. In our dealings with God and with our fellowmen we are often like this hunter. We profess our faith, we claim that we stand up for what the Lord says, but when we face the full implication of what we profess, we draw back. We are looking for the footprints of the lion and Jesus offers to take us face to face with the lion. For example, we like to hear that God is love, that God loves us, but when Jesus tells us to love our enemies we draw back and fail the test of real faith. Discerning what God is telling us is only the first part that faith challenges us. The second and even more decisive part is following in practical life the implications of
what God is saying to us. This is the crucial moment. This is facing up to the lion. Otherwise we are like the hunter searching for the lion trail and not the lion himself. Such a hunter achieves nothing at the end.
Fr. Rudy Horst, SVD
When do I usually shy away from doing what Christ expects from me, a person who proclaims to have faith?
Lord, thank You for this lesson in faith. I am like the hunter; I am afraid of facing the reality of faith. I often forget that faith in You must show
in action. Help me, Lord, to change this attitude.
St. George, Martyr, pray for us.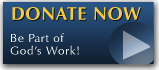 The FEAST is one of the happiest places on earth.

Click Here to find a Feast near you!
KERYGMA TV! is BACK
KERYGMA TV is on a new time slot and new channel Sundays 8 a.m. at IBC 13
Need Counseling? No Landline?
Now, you can use your mobile phone to call a friend for counseling at 09228407031. Or you may call our landlines 7266728, 7264709, 7259999 Mon-Fri 24-hrs, Sat 6am-5pm, Sun 6am-10am
BO BLOGS!
Go to Bo's Official Site and read his almost daily blog! Its not news, but thoughts and musings of Bo Sanchez. Get to know Bo in a more personal way --and find out what it means to live the life of a preacher. You get to enrich your faith as well.
DONATION
Remember to always donate your "first fruits"-not the last. Click on the "Donation" Box under the members menu - and you'll even see links to the nearest branches of the Banks where you can deposit.