READINGS for 2009-02-22
They were all astounded and glorified God, saying, "We have never seen anything like this." – Mark 2:12
"I need you to call your brothers and gather them at home," my dad's sister explained to me over the phone. "Your family will be evicted from your house by noon tomorrow. The three of you should tell your dad tonight."
I was shocked. How will we break the news to Dad? Where will we live? "Lord, have mercy on our family," I prayed with tears.
The sheriff, together with the creditor, came at 10 the next morning. Our request for more time to look for a new home and to raise the P5 million to buy the house back fell on deaf ears. But God stepped in. He touched the hearts of three generous and selfless individuals who raised the P5 million in cash in a matter of two hours. He sent a young lawyer who helped us negotiate and draw up the needed documentation for free. My cousin even flew in from Cebu to give moral support.
God must have heard the prayers of my friends who kept vigil through the night. He must have seen my family's helplessness as a chance to manifest His glory. He blessed us with prayer warriors who came to our aid and brought us face to face with Jesus.
Dina Pecaña
Desperation has no place in the hearts of those who believe in Him.
Merciful Lord, I believe You will come to my aid in my time of need. Give me the grace to let You rescue me.
About the only thing we truly have that is ours that we can offer to the Lord is our sinfulness. All that is good in our lives ultimately finds its origin in God. Perhaps we need to reflect upon this a little more than we have in the past. I think if we do this honestly, we will discover that we will be inspired to give ourselves more freely and fully to the service of the Kingdom of God. This will be a good thing as the Church is in great need of more men and women willing to lay down their lives in the works of evangelization and discipleship.
Isaiah 43:18-19. 21-22. 24b-25
18
Thus says the Lord: Remember not the events of the past, the things of long ago consider not;
19
See, I am doing something new! Now it springs forth, do you not perceive it? In the desert I make a way, in the wasteland, rivers.
21
The people I formed for myself, that they might announce my praise.
22
Yet you did not call upon me, O Jacob, for you grew weary of me, O Israel.
24
You burdened me with your sins, and wearied me with your crimes.
25
It is I, I, who wipe out, for my own sake, your offenses; your sins I remember no more.
Psalm 41:2-3. 4-5. 13-14 (5b)
R: Lord, heal my soul, for I have sinned against you.
1 [2]
Blessed is the one who has regard for the lowly and the poor; in the day of misfortune the LORD will deliver him.
2 [3]
The LORD will keep and preserve him; and make him blessed on the earth, and not give him over to the will of his enemies.
(R)
3 [4]
The LORD will help him on his sickbed, he will take away all his ailment when he is ill.
4 [5]
Once I said, "O LORD, have pity on me; heal me, though I have sinned against you.
(R)
12 [13]
But because of my integrity you sustain me and let me stand before you forever.
13 [14]
Blessed be the LORD, the God of Israel, from all eternity and forever. Amen. Amen.
(R)
The gift of the Holy Spirit is God's guarantee of His commitment to us. What more could we ask for than this!? It is amazing and beyond our comprehension to fully understand the significance of God's gift of His Spirit. Let us then be thankful for the gift and ensure that we do not take the gift of the Holy Spirit for granted or fail to surrender our lives to His power and grace.
18
Brothers and sisters: As God is faithful, our word to you is not "yes" and "no."
19
For the Son of God, Jesus Christ, who was proclaimed to you by us, Silvanus and Timothy and me, was not "yes" and "no," but "yes" has been in him.
20
For however many are the promises of God, their Yes is in him; therefore, the Amen from us also goes through him to God for glory.
21
But the one who gives us security with you in Christ and who anointed us is God;
22
he has also put his seal upon us and given the Spirit in our hearts as a first installment.
There is nothing in this world that has the power to keep us apart from God except our own free will. God has overcome every other obstacle to our salvation and given us His victory. All that remains as a stumbling block are the choices we make. God loves us so much that He does not want our love for Him to be a command, but our own choice to respond to His love for us.
1
When Jesus returned to Capernaum after some days, it became known that he was at home.
2
Many gathered together so that there was no longer room for them, not even around the door, and he preached the word to them.
3
They came bringing to him a paralytic carried by four men.
4
Unable to get near Jesus because of the crowd, they opened up the roof above him. After they had broken through, they let down the mat on which the paralytic was lying.
5
When Jesus saw their faith, he said to the paralytic, "Child, your sins are forgiven."
6
Now some of the scribes were sitting there asking themselves,
7
"Why does this man speak that way? He is blaspheming. Who but God alone can forgive sins?"
8
Jesus immediately knew in his mind what they were thinking to themselves, so he said, "Why are you thinking such things in your hearts?
9
Which is easier, to say to the paralytic, 'Your sins are forgiven,' or to say, 'Rise, pick up your mat and walk'?
10
But that you may know that the Son of Man has authority to forgive sins on earth" —
11
he said to the paralytic, "I say to you, rise, pick up your mat, and go home."
12
He rose, picked up his mat at once, and went away in the sight of everyone. They were all astounded and glorified God, saying, "We have never seen anything like this."
think:
There is nothing in this world that has the power to keep us apart from God — except our own free will.
_________________________________________________________

God's special verse/thought for me today________________
_________________________________________________________

T O D A Y ' S BLESSING LIST
Thank You Lord for:
____________________________________
_______________________________________________________
READ THE BIBLE IN ONE YEAR Ephesians 4-6
Things to be grateful for from the past week
________________________________________________________________
________________________________________________________________
_________________________________________________________________
Things to ask God for in the coming week
________________________________________________________________
_________________________________________________________________
________________________________________________________________
Most important word God told me this week
________________________________________________________________
________________________________________________________________
________________________________________________________________
Moses, Noah, Isaiah, Jeremiah, the prophets, Mary, Joseph, Peter, Paul and Jesus. What do these people have in common? They all said "yes" to the Lord. God was doing a new thing in their lives and they all said "yes." For some it took a while to come to that point but, in the end, they were all obedient to the call of the Lord in their lives.
Yes! I like that word. It means affirmation, surrender, permission, consent, agreement and obedience. In some circumstances, this word has negative connotations – "yes" to sin, immorality, war, corruption and violence.
At baptism, we said "yes." As infants, we didn't have the faculty of speech, but our parents or whoever stood on our behalf stated an affirmation to the Lord. We believe that Jesus died and rose again and in Him is the forgiveness of our sins. Jesus said "yes" to the Father and was obedient unto His death on the Cross. At every moment, we are called to renew that "yes." The Spirit has been given as installment, as the guarantee, the "yes" of the Father who has welcomed us and accepted us into His Kingdom.
In today's Gospel, the "yes" of Jesus is expressed through the healing and the pronouncement of forgiveness. The friends of the paralytic express their "yes" by bringing their friend to Jesus even if it meant damaging the roof. The paralytic himself expresses this "yes" by submitting to the command of Jesus by taking up his mat and walking in front of the crowd.
However, there are some who say 'no.' The Pharisees denounce the act of Jesus as not from God, they reject His forgiveness, and they refuse to believe in the power of God.
Fr. Brian Steele, MGL
What do you say — yes or no? Whatever your answer might be, there will always be repercussions — good and bad. But the decision is always yours.
St. Peter, Apostle, pray for us.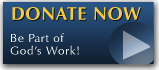 The FEAST is one of the happiest places on earth.

Click Here to find a Feast near you!
KERYGMA TV! is BACK
KERYGMA TV is on a new time slot and new channel Sundays 8 a.m. at IBC 13
Need Counseling? No Landline?
Now, you can use your mobile phone to call a friend for counseling at 09228407031. Or you may call our landlines 7266728, 7264709, 7259999 Mon-Fri 24-hrs, Sat 6am-5pm, Sun 6am-10am
BO BLOGS!
Go to Bo's Official Site and read his almost daily blog! Its not news, but thoughts and musings of Bo Sanchez. Get to know Bo in a more personal way --and find out what it means to live the life of a preacher. You get to enrich your faith as well.
DONATION
Remember to always donate your "first fruits"-not the last. Click on the "Donation" Box under the members menu - and you'll even see links to the nearest branches of the Banks where you can deposit.