READINGS for 2009-01-15
Moved with pity, he stretched out his hand, touched him, and said to him, "I do will it. Be made clean." – Mark 1:41
When I casually invited a friend to the Kerygma Conference 2007, he replied, "Masusunog ako do'n" (I'll burn there). He's not the churchgoing type, you see. And even when I told him that it was going to be a fun and inspiring event, he simply laughed and begged off.
I used to give the same reply years ago. I always got invited to join prayer meetings and religious communities but I begged off because I wasn't ready to "return" to God. I was convinced that those things were only for people whose paths were straight. And much as I knew how merciful God is, I felt that I wasn't fit to serve.
One day, I said yes just for the heck of it, and that was all it took for me to experience His love and mercy. It was life-changing. God tirelessly awaits for us with open arms, ready to purify us once more. All we need to do is ask Him to
.
Nova Arias
What hinders you from going back to the Father? Give Him the chance to cleanse you.
Father, You are the greatest Healer. Make me like new.
We read an exhortation not to harden our hearts. Hardness of heart can occur in many different ways. It can simply be the refusal to listen to the word of God either in prayer or in reading the Scriptures. It can also be the deliberate refusal to follow God's will even though we know what it is He wants us to do! The life of true discipleship is one whereby we are always seeking to discover God's will and implement it no matter what the consequences may be for us.
7
The Holy Spirit says: "Oh, that today you would hear his voice,
8
"Harden not your hearts as at the rebellion in the day of testing in the desert,
9
where your ancestors tested and tried me and saw my works
10
for forty years. Because of this I was provoked with that generation and I said, "They have always been of erring heart, and they do not know my ways."
11
As I swore in my wrath, "They shall not enter into my rest." ' "
12
Take care, brothers, that none of you may have an evil and unfaithful heart, so as to forsake the living God.
13
Encourage yourselves daily while it is still "today," so that none of you may grow hardened by the deceit of sin.
14
We have become partners of Christ if only we hold the beginning of the reality firm until the end.
Psalm 95:6-7c. 8-9. 10-11
R: If today you hear his voice, harden not your hearts.
6
Come, let us bow down in worship; let us kneel before the LORD who made us.
7
For he is our God, and we are the people he shepherds, the flock he guides.
(R)
Oh, that today you would hear his voice
,
8
"Harden not your hearts as at Meribah, as in the day of Massah in the desert,
9
where your fathers tempted me; they tested me though they had seen my works.
(R)
10
Forty years I wearied of that generation; I said: This people's heart goes astray, and they know not my ways.
11
Therefore I swore in my anger, they shall not enter into my rest."
(R)
I believe Mark gives us this individual account of a healing in order to bring the healing miracles of Jesus into clear focus. We are not just speaking of some sort of general healing whereby Jesus 'waves His hand in blessing' and everyone is healed. No! Jesus takes the time to work with us as individuals and addresses each of our problems with respect for each of our uniqueness. God is a personal God and not some sort of general 'goodness' that permeates our lives and the world.
40
A leper came to him and kneeling down begged him and said, "If you wish, you can make me clean."
41
Moved with pity, he stretched out his hand, touched him, and said to him, "I do will it. Be made clean."
42
The leprosy left him immediately, and he was made clean.
43
Then, warning him sternly, he dismissed him at once.
44
Then he said to him, "See that you tell no one anything, but go, show yourself to the priest and offer for your cleansing what Moses prescribed; that will be proof for them."
45
The man went away and began to publicize the whole matter. He spread the report abroad so that it was impossible for Jesus to enter a town openly. He remained outside in deserted places, and people kept coming to him from everywhere.
think:
Jesus takes the time to work with us as individuals with respect for each of our uniqueness.
_________________________________________________________

God's special verse/thought for me today________________
_________________________________________________________

T O D A Y ' S BLESSING LIST
Thank You Lord for:
____________________________________
_______________________________________________________
READ THE BIBLE IN ONE YEAR Luke 5-8
The workS of The SPiriT are SuBJecT To uS
Personal choice and reason are two wonderful gifts that God never cancelled out in our human person, even after the fall of the first man and woman. This shows how much God loves and respects our human individuality, even when the first man and woman used their gifts of reason and choice to go against Him. Authentic life in the Spirit of God sustains every man's freedom and intellect. The Holy Spirit, even as He possesses us, does not cripple our being. In fact, true giftedness in the Spirit of God enhances human freedom and understanding. The Apostle Paul wrote about this in his first letter to the Corinthians (14:32.33.37): "Indeed, the spirits of prophets are under the prophets' control, since he is not the God of disorder but of peace… If anyone thinks that he is a prophet or a spiritual person, he should recognize that what I am writing to you is a commandment of the Lord…"
Joy is a fruit of the Holy Spirit and it blooms in persons truly touched by God's presence. The leper in the Gospel surely had his joy overflowing. He was not just restored to a handsome human appearance. The leper, long separated from society and from his family because of the skin disease (cf. Leviticus 13:46), now goes back to normal interaction with family and friends. But Jesus wants the healed man to contain his joy. Biblicists say Jesus did not want to be known as just a wonder worker. His wonder works were meant to authenticate His greater mission: that He has come as the Messiah. Further, Jesus wanted to be able to move around freely to preach and teach. Jesus did not want to be recognized simply on His own merit. He wanted to be known as the Yahweh's ambassador.
Genuine and sound spiritual life is not built on sporadic and instantaneous healings, miracles or visions. We need to nurture everything with constant prayer, patient endurance and everyday faithfulness.
Fr. Domie Guzman, SSP
Have you experienced the over f lowing and overwhelming touch of God's Spirit? How did you manage yourself and the event? Are you one who easily reacts to spectacles of cure and miracles?
Lord Jesus, may my eyes remain focused on You rather than the wonders that You do in my life.
Blessed Arnold Janssen, pray for us.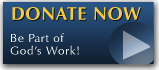 The FEAST is one of the happiest places on earth.

Click Here to find a Feast near you!
KERYGMA TV! is BACK
KERYGMA TV is on a new time slot and new channel Sundays 8 a.m. at IBC 13
Need Counseling? No Landline?
Now, you can use your mobile phone to call a friend for counseling at 09228407031. Or you may call our landlines 7266728, 7264709, 7259999 Mon-Fri 24-hrs, Sat 6am-5pm, Sun 6am-10am
BO BLOGS!
Go to Bo's Official Site and read his almost daily blog! Its not news, but thoughts and musings of Bo Sanchez. Get to know Bo in a more personal way --and find out what it means to live the life of a preacher. You get to enrich your faith as well.
DONATION
Remember to always donate your "first fruits"-not the last. Click on the "Donation" Box under the members menu - and you'll even see links to the nearest branches of the Banks where you can deposit.