READINGS for 2009-01-12
Jesus said to them, "Come after me, and I will make you fishers of men." – Mark 1:17
After listening to Bo Sanchez's encouragement during The Feast, our weekly prayer meeting, Ispent the whole afternoon making a mind map of my dreams and goals for the year. At a quiet spot at a nearby cafe, I took my computer and typed away my plans while sipping freshly brewed coffee. I painted a picture of how my finances, business, personal, spiritual and family life would look like. Wow! It got me fired up.
Then I read an article by American pastor Greg Laurie. It reminded me that everything I do on this earth will be "tested by fire" to expose my heart and my intentions, and will be measured against God's will for my life. Andrew and Peter were doing their daily chores and pursuing their plans but their life changed forever when they heeded Jesus' call to follow Him and become fishers of men. The Lord's plan to save souls, to rescue men, was a pressing reminder for me at that very moment.
Reading this message broadened my view on my mission as I continued with my planning. It became godly, meaningful and it compelled me to act on it even more. Yes! I'm going fishing
!
Ariel Driz
Am I participating in the biggest fishing expedition in the world?
Lord, I know You have a plan. I am part of that plan! Alleluia!
St. Benedict of Biscop, Bishop, pray for us.
The author of Hebrews tells us at the beginning that what he wants to present to us is an account of how Jesus fulfills all the promises of God. The revelation we receive through Jesus is definitive and final. It is Jesus who reveals the fullness of the glory of God to us. The challenge for us is to open our hearts to this revelation and thus allow the truth of God's love for us to begin the process of our salvation.
1
Brothers and sisters: In times past, God spoke in partial and various ways to our ancestors through the prophets;
2
in these last days, he spoke to us through a son, whom he made heir of all things and through whom he created the universe,
3
who is the refulgence of his glory, the very imprint of his being, and who sustains all things by his mighty word. When he had accomplished purification from sins, he took his seat at the right hand of the Majesty on high,
4
as far superior to the angels as the name he has inherited is more excellent than theirs.
5
For to which of the angels did God ever say: "You are my son; this day I have begotten you"? Or again: "I will be a father to him, and he shall be a son to me"?
6
And again, when he leads the first-born into the world, he says: "Let all the angels of God worship him."
Psalm 97:1 and 2b. 6 and 7c. 9
R: Let all his angels worship him.
1
The LORD is king; let the earth rejoice; let the many isles be glad.
2
Justice and judgment are the foundation of his throne.
(R)
6
The heavens proclaim his justice, and all peoples see his glory.
7
Let all his angels worship him.
(R)
9
Because you, O LORD, are the Most High over all the earth, exalted far above all gods.
(R)
I always find it interesting to go back and look at the original sources of an idea or movement. Today we are invited to reflect upon the origins of the Gospel as Jesus begins His ministry. What is essential to the proclamation of the Gospel? It seems that the texts today tell us that there are two essential responses that we should look for in the lives of people — namely, repentance of sin and faith in Jesus Christ or belief in the Good News. This must always be the focus of the Church's and our presentation of the Gospel.
14
After John had been arrested, Jesus came to Galilee proclaiming the gospel of God:
15
"This is the time of fulfillment. The kingdom of God is at hand. Repent, and believe in the gospel."
16
As he passed by the Sea of Galilee, he saw Simon and his brother Andrew casting their nets into the sea; they were fishermen.
17
Jesus said to them, "Come after me, and I will make you fishers of men."
18
Then they abandoned their nets and followed him.
19
He walked along a little farther and saw James, the son of Zebedee, and his brother John. They too were in a boat mending their nets.
20
Then he called them. So they left their father Zebedee in the boat along with the hired men and followed him.
think
:
It is Jesus who reveals the fullness of the glory of God to us.
_________________________________________________________

God's special verse/thought for me today________________
_________________________________________________________

T O D A Y ' S BLESSING LIST
Thank You Lord for:
____________________________________
_______________________________________________________
READ THE BIBLE IN ONE YEAR Mark 9-12
god'S weird SenSe of Time
Consider the details of the Gospel passages: John the Baptist is arrested and imprisoned… Jesus disturbs Simon and Andrew while the brothers cast their nets into the waters… Jesus walks and calls James and John away from their father and the hired men. All these, Mark says, signify God's best time — "the time of fulfillment."
The Bible contains many other references to God's strange sense of time: Abraham and Sarah finally had their own son when Abraham was 100 years old and Sarah was past the normal child-bearing age. Moses was allowed to waste 40 years of
his life in the court of Pharoah while Israel languished in forced labor. He was later to spend another 40 years on the run in the desert. Then at the age of 80, Moses finally leads Israel out of Egypt. After Malachi, God sent no prophets to Israel for around 400 years, and when John the Baptist came, his mission was cut short by Herod's sword. Finally, Jesus came – as the awaited Messiah. He spends 30 years of hidden life, and He dedicates just the last three years of His earthly mission for preaching about the Kingdom.
I believe that this is one great challenge about following God: to synch with His plans and timetable, we need to have either patience (lots of patience) or a never-ending sense of humor.
Fr. Domie Guzman, SSP
Go back to your adventures of time and timing with God. What are your unforgettable experiences in this regard? In what ways have you experienced that God's time — no matter how it initially appeared strange — always turns out to be the "best time" for you, for your work, for your relationship?
Lord Jesus, make me sensitive to Your time, to be always aware that my time isn't necessarily Your time. Grant me patience to wait for the perfect time for the unfolding of Your plans in my life.
St. Benedict of Biscop, Bishop, pray for us.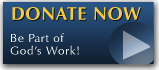 The FEAST is one of the happiest places on earth.

Click Here to find a Feast near you!
KERYGMA TV! is BACK
KERYGMA TV is on a new time slot and new channel Sundays 8 a.m. at IBC 13
Need Counseling? No Landline?
Now, you can use your mobile phone to call a friend for counseling at 09228407031. Or you may call our landlines 7266728, 7264709, 7259999 Mon-Fri 24-hrs, Sat 6am-5pm, Sun 6am-10am
BO BLOGS!
Go to Bo's Official Site and read his almost daily blog! Its not news, but thoughts and musings of Bo Sanchez. Get to know Bo in a more personal way --and find out what it means to live the life of a preacher. You get to enrich your faith as well.
DONATION
Remember to always donate your "first fruits"-not the last. Click on the "Donation" Box under the members menu - and you'll even see links to the nearest branches of the Banks where you can deposit.