READINGS for 2009-01-07
… perfect love drives out all fear. – 1 John 4:18
"Don't be afraid. It's just like an ant bite." Still, my kid cried and shivered in fear. After all, who wasn't afraid of injections when he was a kid? It was painful! And no amount of assurance kept us from fearing the pain. But there was something that did comfort us. Daddy was there. Mommy was there.
My son would always hug me tight every time a nurse would stick a needle into his body. The tighter he hugged me, the tighter I'd hug him back. I'd whisper, "I'm here. Everything will be all right. I will never allow you to be hurt for no reason or purpose. I love you!" My child would still feel the pain. And while he wouldn't fully understand, yet he would believe me — because he feels mylove. Faith comes in. And peace follows.
Now I believe. Now I know. When I am afraid — of pain, of failure, of rejection, of humiliation, of the uncertainties ahead — my Father in heaven hugs me more tightly and tells me, "Son, I am here. Everything will be all right. I will never allow you to be hurt for no reason or purpose. I love you!"
I still do not fully understand many things. But I believe my God — because I feel His perfect love. Faith comes in. And peace follows.
Alvin Barcelona
What are you afraid of? Open yourself to God's perfect love — and feel the peace.
Loving Father, I lift up to You my fears. I believe that You are embracing me tightly now. I receive Your love. I receive Your peace. Amen.
The Holy Spirit is the sure sign of God's persevering love for us. Nobody gives away an aspect of their being to another without a profound and enduring love of that person! This is the gift of the Holy Spirit to us — the Father and the Son sending Him to assure us of their love and ongoing commitment. Let us open our hearts to welcome the gift of the Holy Spirit without conditions and allow Him the freedom to lead us in the ways of God's Kingdom.
11
Beloved, if God so loved us, we also must love one another.
12
No one has ever seen God. Yet, if we love one another, God remains in us, and his love is brought to perfection in us.
13
This is how we know that we remain in him and he in us, that he has given us of his Spirit.
14
Moreover, we have seen and testify that the Father sent his Son as savior of the world.
15
however acknowledges that Jesus is the Son of God, God remains in him and he in God.
16
We have come to know and to believe in the love God has for us. God is love, and whoever remains in love remains in God and God in him.
17
In this is love brought to perfection among us, that we have confidence on the day of judgment because as he is, so are we in this world.
18
There is no fear in love, but perfect love drives out fear because fear has to do with punishment, and so one who fears is not yet perfect in love.
R: Lord, every nation on earth will adore you.
1
O God, with your judgment endow the king, and with your justice, the king's son;
2
he shall govern your people with justice and your afflicted ones with judgment.
(R)
10
The kings of Tarshish and the Isles shall offer gifts; the kings of Arabia and Seba shall bring tribute.
(R)
12
For he shall rescue the poor when he cries out, and the afflicted when he has no one to help him.
13
He shall have pity for the lowly and the poor; the lives of the poor he shall save.
(R)
First the miracle of the loaves and fishes and now another miracle where Jesus commands the winds and seas to obey Him. Mark clearly wants to leave us in no doubt as to who has the real power. And yet, the disciples have not yet come to believe that Jesus is the Messiah. I think their slowness to believe helps us to understand a little of our own blindness to faith and trust in God. I am sure if we all reflect upon our lives we can remember times when little bit of faith in Jesus might have made a great difference in the outcomes of the past. Let us learn from such reflections and so grow in faith and act on this faith in the future!
45
After the five thousand had eaten and were satisfied, Jesus made his disciples get into the boat and precede him to the other side toward Bethsaida, while he dismissed the crowd.
46
And when he had taken leave of them, he went off to the mountain to pray.
47
When it was evening, the boat was far out on the sea and he was alone on shore.
48
Then he saw that they were tossed about while rowing, for the wind was against them. About the fourth watch of the night, he came toward them walking on the sea. He meant to pass by them.
49
But when they saw him walking on the sea, they thought it was a ghost and cried out.
50
They had all seen him and were terrified. But at once he spoke with them, "Take courage, it is I, do not be afraid!"
51
He got into the boat with them and the wind died down. They were [completely] astounded.
52
They had not understood the incident of the loaves. On the contrary, their hearts were hardened.
think
:
Let us open our hearts to welcome the gift of the Holy Spirit without conditions and allow Him the freedom to lead us in the ways of God's Kingdom.
_________________________________________________________

God's special verse/thought for me today________________
_________________________________________________________

T O D A Y ' S BLESSING LIST
Thank You Lord for:
____________________________________
_______________________________________________________
READ THE BIBLE IN ONE YEAR Mathew 19-21
our god-exPerience can Be dangerouS
The disciples' reaction to Jesus' act of walking towards them as they were tossed about in a storm at sea, merits our close examination. Biblicists say that the fear of the disciples is one that supports the classic theory of a "theophany." They say that Jesus, by walking over the waters, revealed Himself as someone who shares the power and divinity of the Father, since in the Old Testament the sole powers over the waters was one of Yahweh-God. Yahweh alone walked over the primordial waters in Genesis 1:1-2, and with this He initiated the creation of the universe. Yahweh alone made the waters swell and subside during the time of Noah. Yahweh alone parted the Red Sea to enable the Israelites to cross on dry land. In all these revelatory actsof Yahweh, the Bible recorded the standard reaction of fear and trembling among the people.
Beyond the biblical theory of a "theophany," the fear of the disciples continue to puzzle us. The terror that the disciples
experienced, I believe, was rooted not in Jesus but in themselves. The Gospel narration says they still lacked understanding and had not really internalized their discipleship. Perhaps a good number of them followed Jesus because it made them feel good to be identified with a fast-rising, young preacher. The storm at sea exposed their limits, their collective hang-up.
What happened in the Gospel can become our experience, too. When we initially touch God's presence and God touches us with His grace, we rejoice. But as our experience of God deepens, He allows us to see our limits, our inner conflicts and issues, our favorite sins and our immaturities. God allows us to enter the "Dark Night" of storms so that we may get to know and allow Him to purify us.
Fr. Domie Guzman, SSP
In what ways have you experienced God's presence as "disturbing"? Why were you particularly disturbed? What issues/limits/personal conflicts and realities of life did God allow you to experience, own and resolve through your prayer life? Reflect on this: God does not change our lives; He only transforms us.
Lord Jesus, grant us the courage to face ourselves, our limits, our inner conflicts and issues, our favorite sins. May we allow ourselves to be purified so that we may follow You without fear.
St. Raymond of Peñafort, Confessor, pray for us.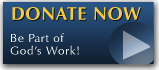 The FEAST is one of the happiest places on earth.

Click Here to find a Feast near you!
KERYGMA TV! is BACK
KERYGMA TV is on a new time slot and new channel Sundays 8 a.m. at IBC 13
Need Counseling? No Landline?
Now, you can use your mobile phone to call a friend for counseling at 09228407031. Or you may call our landlines 7266728, 7264709, 7259999 Mon-Fri 24-hrs, Sat 6am-5pm, Sun 6am-10am
BO BLOGS!
Go to Bo's Official Site and read his almost daily blog! Its not news, but thoughts and musings of Bo Sanchez. Get to know Bo in a more personal way --and find out what it means to live the life of a preacher. You get to enrich your faith as well.
DONATION
Remember to always donate your "first fruits"-not the last. Click on the "Donation" Box under the members menu - and you'll even see links to the nearest branches of the Banks where you can deposit.