READINGS for 2008-09-04
Let no one deceive himself. If any one among you considers himself wise in this age, let him become a fool so as to become wise. – 1 Corinthians 3:18
He who asks is a fool for five minutes. He who does not remains a fool forever. A lot of people think they are wise yet they do not ask.
One of my faults (as with most men, I think) is that I tend to rely on my instinct and knowledge when it comes to directions. Once, we drove to an unfamiliar place looking for a friend's house. We were lost yet I didn't ask for help. It was only when we hit a dead-end that I asked. If I had done that earlier, we could have found the house 40 minutes earlier.
Some people think it's beyond them to ask, especially when it comes to faith. Many Catholics convert to other religions because "Catholics worship Mary when the Bible says we should worship only God." If only they had the courage and humility to ask, they would have known the real answer: Catholics worship only one God. We venerate Mary and place her in high esteem because of her special role in God's plan of salvation. If you have questions about our faith, ask a priest, community elder, a church/canon expert or look it up in the
Catechism of the
Catholic Church
.
That way, you need not wander for long.
Jun Asis
What questions do I have about my faith? Have I asked somebody dependable, trustworthy and knowledgeable?
Give me, Lord, the humility to admit that I do not hold all the answers to life's questions and the courage to ask for help.
St. Rosalia, virgin, pray for us.
I think Paul speaks from experience here. What I mean is that he was a very well instructed man in the ways of the Jewish religion, but now he has discovered that much of what he has learnt is not so relevant anymore. It is as though he has to start again and relearn everything that pertains to his faith, now that he has chosen to follow Jesus. Wisdom gained apart from faith is not necessarily going to be all that helpful in the work of the Gospel. This is why we have to become as fools, acknowledging that we know little in order to begin to grow in true wisdom.
18
Brothers and sisters: Let no one deceive himself. If any one among you considers himself wise in this age, let him become a fool so as to become wise.
19
For the wisdom of this world is foolishness in the eyes of God, for it is written: "He catches the wise in their own ruses,"
20
and again: "The Lord knows the thoughts of the wise, that they are vain."
21
So let no one boast about human beings, for everything belongs to you,
22
Paul or Apollos or Kephas, or the world or life or death, or the present or the future: all belong to you,
23
and you to Christ, and Christ to God.
Psalm 24:1bc-2, 3-4ab, 5-6
R: To the Lord belongs the earth and all that fills it.
1
The LORD's are the earth and its fullness; the world and those who dwell in it.
2
For he founded it upon the seas and established it upon the rivers.
(R)
3
Who can ascend the mountain of the LORD? Or who may stand in his holy place?
4
He whose hands are sinless, whose heart is clean, who desires not what is vain.
(R)
5
He shall receive a blessing from the LORD, a reward from God his savior.
6
Such is the race that seeks for him, that seeks the face of the God of Jacob.
(R)
It is important for us to recognize the seriousness and radical nature of the call to follow Jesus as His disciple. Peter and Andrew leave everything to follow Jesus – it does not get much more radical than that. The question we have to ask ourselves is, "Have I taken the call of God in my life with the same seriousness?" This does not mean that I have to leave everything I have to follow Jesus, but it does mean that I have to be ready to do so. It is a deep commitment to follow Jesus.
1
While the crowd was pressing in on Jesus and listening to the word of God, he was standing by the Lake of Gennesaret.
2
He saw two boats there alongside the lake; the fishermen had disembarked and were washing their nets.
3
Getting into one of the boats, the one belonging to Simon, he asked him to put out a short distance from the shore. Then he sat down and taught the crowds from the boat.
4
After he had finished speaking, he said to Simon, "Put out into deep water and lower your nets for a catch."
5
Simon said in reply, "Master, we have worked hard all night and have caught nothing, but at your command I will lower the nets."
6
When they had done this, they caught a great number of fish and their nets were tearing.
7
They signaled to their partners in the other boat to come to help them. They came and filled both boats so that they were in danger of sinking.
8
When Simon Peter saw this, he fell at the knees of Jesus and said, "Depart from me, Lord, for I am a sinful man."
9
For astonishment at the catch of fish they had made seized him and all those with him,
10
and likewise James and John, the sons of Zebedee, who were partners of Simon. Jesus said to Simon, "Do not be afraid; from now on you will be catching men."
11
When they brought their boats to the shore, they left everything and followed him.
think:
I have to be ready to leave everything. It is a deep commitment to follow Jesus.
_______________________________________________________

God's special verse/thought for me today________________
_________________________________________________________

T O D A Y ' S BLESSING LIST
Thank You Lord for:
____________________________________
_______________________________________________________
READ THE BIBLE IN ONE YEAR
Psalm 84-88
thE biG diFFErEnCE WhEn it is GOd's Will
What a difference indeed lies in Jesus' command! Poor Simon and company were fishing in vain all night long; now all it took was an instruction by Jesus to "put out into deep water and lower [the] nets for a catch." Although we can imagine Simon's remonstration at first ("What would Jesus know about fishing — a carpenter, of all people?"), he nevertheless complied. "[A]t your command I will lower the nets."
To his great surprise. No wonder too, his embarrassment and sudden realization of unworthiness. To top it all, Jesus gave him both an assurance and a prophecy: "Do not be afraid; from now on you will be catching men."
We too can be victims of our anxieties and fears in life, especially in the face of our repeated failures, constant struggles, and many hardships. All these paralyze us and prevent us from venturing further in our life with God. And yet, all it takes is Jesus' command; all it takes is God's will. If Jesus took over Simon's fishing boat and used it as a unique "pulpit" for his preaching, so too can he surely take over our pathetic lives. As captain of our ship, God takes command and steers us to the right direction. There indeed lies the big difference.
Perhaps someday He will shout to us the unusual command: "Abandon ship!" That is certainly not because we have struck an iceberg or because the ship is sinking. That is simply because there is no need for the ship anymore: "From now on you will be catching men."
Fr. Martin Macasaet
What areas in your life have prevented you from venturing further in your life with God?
Help me to see, Lord, what areas in my life I should open more and more to Your lordship and power. Enable me to let You gain control that You may use me as You wish.
St. Rosalia, virgin, pray for us.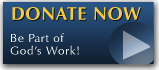 The FEAST is one of the happiest places on earth.

Click Here to find a Feast near you!
KERYGMA TV! is BACK
KERYGMA TV is on a new time slot and new channel Sundays 8 a.m. at IBC 13
Need Counseling? No Landline?
Now, you can use your mobile phone to call a friend for counseling at 09228407031. Or you may call our landlines 7266728, 7264709, 7259999 Mon-Fri 24-hrs, Sat 6am-5pm, Sun 6am-10am
BO BLOGS!
Go to Bo's Official Site and read his almost daily blog! Its not news, but thoughts and musings of Bo Sanchez. Get to know Bo in a more personal way --and find out what it means to live the life of a preacher. You get to enrich your faith as well.
DONATION
Remember to always donate your "first fruits"-not the last. Click on the "Donation" Box under the members menu - and you'll even see links to the nearest branches of the Banks where you can deposit.