READINGS for 2008-08-25
We ought to thank God always for you, brothers, as is fitting, because your faith flourishes ever more, and the love of every one of you for one another grows ever greater. – 2 Thessalonians 1:3
Four years ago, I was tasked with shepherding a group of singles in our community. We would meet almost every week as we prepared to sponsor a weekend encounter and we continued to meet every month after that.
When we're together, there is a different joy. We can spend hours laughing at jokes and bloopers or reflecting and sharing about how God's Word has touched us. I believe the latter is what made the group what it is today.
The very first time we gathered, we weren't close at all. But for some reason — divine, I believe — when I started them off with a sharing session they were open about their feelings and struggles. Some were even moved to tears and were unashamed to let them fall. Since then, we've gotten close with God as the foundation of our relationship.
The verse above fittingly describes them. Today, most of them have nearly completed the growth program and are nearing the discipleship stage. What a blessing to have true friends with whom I can share my faith.
Malachi (that's the name of our group), if you're reading this, know that I feel the same way about all of you as Paul did for the Thessalonians
.
George Gabriel
Do your relationships bring you closer to God?
"Lord, may I be a blessing to all my friends and may they see You in me."
Paul specifically reminds the Thessalonians that they had to break away from idolatry in order to take on the Christian way of life. Perhaps we should think a little about this today in terms of the virtual idolization we have of things material and ideas secular. Some say there is no need to talk about false gods any more. I think they could not be more wrong. Materialism is as a god to the people of today as Jupiter was to
2 Thessalonians 1:1-5, 11-12
1
Paul, Silvanus, and Timothy to the church of the Thessalonians in God our Father and the Lord Jesus Christ:
2
grace to you and peace from God [our] Father and the Lord Jesus Christ.
3
We ought to thank God always for you, brothers, as is fitting, because your faith flourishes ever more, and the love of every one of you for one another grows ever greater.
4
Accordingly, we ourselves boast of you in the churches of God regarding your endurance and faith in all your persecutions and the afflictions you endure.
5
This is evidence of the just judgment of God, so that you may be considered worthy of the kingdom of God for which you are suffering.
11
We always pray for you, that our God may make you worthy of his calling and powerfully bring to fulfillment every good purpose and every effort of faith,
12
that the name of our Lord Jesus may be glorified in you, and you in him, in accord with the grace of our God and Lord Jesus Christ.
R: Proclaim God's marvelous deeds to all the nations.
1
Sing to the LORD a new song; sing to the LORD, all you lands.
2
Sing to the LORD; bless his name.
(R)
Announce his salvation, day after day.
3
Tell his glory among the nations; among all peoples, his wondrous deeds.
(R)
4
For great is the LORD and highly to be praised; awesome is he, beyond all gods.
5
For all the gods of the nations are things of nought, but the LORD made the heavens.
(R)
The role of a leader is fraught with responsibility and future judgment. There is nothing easy about being a good leader. Anyone who aspires to exercise power over others without a mind to being a servant of all ought never be given any power at all! Authority is all about service, not the exercise of power, and the life of a good leader will reflect this truth. Similarly, the lives of bad or even evil leaders in the history of the world will show one thing – they were really only interested in the power-trip!
13
Jesus said to the crowds and to his disciples: "Woe to you, scribes and Pharisees, you hypocrites. You lock the kingdom of heaven before human beings. You do not enter yourselves, nor do you allow entrance to those trying to enter .
[14] 14 15
"Woe to you, scribes and Pharisees, you hypocrites. You traverse sea and land to make one convert, and when that happens you make him a child of Gehenna twice as much as yourselves.
16
"Woe to you, blind guides, who say, 'If one swears by the temple, it means nothing, but if one swears by the gold of the temple, one is obligated.'
17
Blind fools, which is greater, the gold, or the temple that made the gold sacred?
18
And you say, 'If one swears by the altar, it means nothing, but if one swears by the gift on the altar, one is obligated.'
19
You blind ones, which is greater, the gift, or the altar that makes the gift sacred?
20
One who swears by the altar swears by it and all that is upon it;
21
one who swears by the temple swears by it and by him who dwells in it;
22
one who swears by heaven swears by the throne of God and by him who is seated on it."
think
:
Authority is all about service, not the exercise of power, and the life of a good leader will reflect this truth.
_______________________________________________________

God's special verse/thought for me today________________
_________________________________________________________

T O D A Y ' S BLESSING LIST
Thank You Lord for:
____________________________________
_______________________________________________________
READ THE BIBLE IN ONE YEAR
Psalm 41-44
thE ChUrCh bElOnGs tO Christ
Blessed John XXIII was pope during a difficult time. To have enough strength, he prayed every night before sleeping in front of the Blessed Sacrament. One night he was so overwhelmed by the problems that he said, "Lord, the church belongs to you. I am going to bed." That is what Jesus meant when he told Peter, "You are Peter, and on this rock I will build my church, and the gates of the underworld will not prevail against it."
Today's gospel tells us that Jesus is the owner of the church. Neither Peter nor the disciples own the Church. Priests and bishops who think and act as if they own the church are like farm workers who think the farm belongs to them. We do not own the church — we belong to the Church. Peter is the corner stone and we are the stones with which the Church is built.
A famous stained-glass artist was commissioned to make a huge portrait for the window of the cathedral in Chartres, France. He laid all the pieces he was going to use on the floor of the cathedral. Among these beautiful pieces of glass was a small, clear piece as big as a fingernail. As the portrait was assembled, that little piece remained on the floor. On the day of the window's unveiling the entire city gathered to witness the event. The artist pulled away the cloth and the crowd gasped at the beauty of the colorful window glowing in the sunlight. Then the crowd grew silent. Something was missing. The artist walked to where the little clear piece of glass lay, picked it up, and placed it in the portrait, right in the center of Jesus' eye. As the sun hit that little piece, it gave off a dazzling sparkle. The work of art was now complete. In the grand design of building the church of God, each one of us could consider ourselves to be that small piece of glass – so small and yet so indispensable.
Fr. Rudy Horst
How is God using me to build up his church? Am I letting God use me?
Lord, make me humble. Help me to serve You and contribute with the little talent I have to Your continuous building of Your Church. Let me never be so conceited and think that the future of the Church depends on me. I know now – it depends only on You and on my cooperation.
St. Aurea, martyr, pray for us.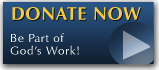 The FEAST is one of the happiest places on earth.

Click Here to find a Feast near you!
KERYGMA TV! is BACK
KERYGMA TV is on a new time slot and new channel Sundays 8 a.m. at IBC 13
Need Counseling? No Landline?
Now, you can use your mobile phone to call a friend for counseling at 09228407031. Or you may call our landlines 7266728, 7264709, 7259999 Mon-Fri 24-hrs, Sat 6am-5pm, Sun 6am-10am
BO BLOGS!
Go to Bo's Official Site and read his almost daily blog! Its not news, but thoughts and musings of Bo Sanchez. Get to know Bo in a more personal way --and find out what it means to live the life of a preacher. You get to enrich your faith as well.
DONATION
Remember to always donate your "first fruits"-not the last. Click on the "Donation" Box under the members menu - and you'll even see links to the nearest branches of the Banks where you can deposit.