READINGS for 2008-07-15
Unless your faith is firm; you shall not be firm. – Isaiah 7:9c
The real estate industry has a seven-year boom-bust cycle. During one of the boom years, a whole subdivision with more than 600 lots were sold out in one day! To say that it was a seller's market was a gross understatement. Cash buyers were given priority, followed by those who gave 50 percent down payment. All payments were covered by manager's checks. This happened in the days before the Asian financial crisis.
But presently, the real estate has been in the doldrums for more than seven years. In one lackluster year, we were on our last month of selling and we had hit less than 50 percent of our sales quota. Other agents were "inventing" sales to keep a up a good front. I placed my trust in God, claiming that He would not delay.
After much prayer and being firm in not making up fictitious sales like the other agents, God dramatically gave us a single large transaction that covered all our sales deficits for the year! We never wavered in our faith that Jesus would save us. And He is, in every sense of His name — Savior.
Donna España
When Jesus said, "O you men of little faith," was He referring to you?
Strengthen my faith, O Lord, that I may overcome all my difficulties in life.
God had told Ahaz through the prophecy of Isaiah that Jerusalem would not fall and so it turns out to be true. When we read the word of God in the Scriptures, it is important for us to believe it. If God makes a promise, then we can be 100 percent sure that He will fulfill. The same should be true for any promise or commitment we make. In a world that is ambivalent about commitments, it is important that we as Christians provide an example that respects both truth and commitment as important values to uphold.
1
In the days of Ahaz, king of Judah, son of Jotham, son of Uzziah, Rezin, king of Aram, and Pekah, king of Israel, son of Remaliah, went up to attack Jerusalem, but they were not able to conquer it.
2
When word came to the house of David that Aram was encamped in Ephraim, the heart of the king and heart of the people trembled, as the trees of the forest tremble in the wind.
3
Then the LORD said to Isaiah: Go out to meet Ahaz, you and your son Shear-jashub, at the end of the conduit of the upper pool, on the highway of the fuller's field,
4
and say to him: Take care you remain tranquil and do not fear; let not your courage fail before these two stumps of smoldering brands [the blazing anger of Rezin and the Arameans, and of the son of Remaliah],
5
because of the mischief that Aram [Ephraim and the son of Remaliah] plots against you, saying,
6
"Let us go up and tear Judah asunder, make it our own by force, and appoint the son of Tabeel king there."
7
Thus says the LORD: This shall not stand, it shall not be!
8
Damascus is the capital of Aram, and Rezin the head of Damascus; Samaria is the capital of Ephraim, and Remaliah's son the head of Samaria.
9
But within sixty years and five, Ephraim shall be crushed, no longer a nation. Unless your faith is firm you shall not be firm!
Psalm 48: 2-3a, 3b-4, 5-6, 7-8
R: God upholds his city for ever.
1 [2]
Great is the LORD and wholly to be praised in the city of our God. His holy mountain,
2 [3]
fairest of heights, is the joy of all the earth.
(R)
Mount Zion, "the recesses of the North," is the city of the great King.
3 [4]
God is with her castles; renowned is he as a stronghold.
(R)
4 [5]
For lo! the kings assemble, they come on together;
5 [6]
they also see, and at once are stunned, terrified, routed.
(R)
6 [7]
Quaking seizes them there; anguish, like a woman's in labor,
7 [8]
as though a wind from the east were shattering ships of Tarshish.
(R)
There is little or no excuse for those who have heard and understood the Gospel if they reject it and refuse to submit their lives to faith in Christ. As much as God wants us to be saved, He has also given us the gift of freewill and He will not interfere in the way we choose to use it. Yes, He will always seek to win us back to His love, but the choice will always be ours if we are going to accept it or not.
20
Jesus began to reproach the towns where most of his mighty deeds had been done, since they had not repented.
21
"Woe to you, Chorazin! Woe to you, Bethsaida! For if the mighty deeds done in your midst had been done in Tyre and Sidon, they would long ago have repented in sackcloth and ashes.
22
But I tell you, it will be more tolerable for Tyre and Sidon on the day of judgment than for you.
23
And as for you, Capernaum: 'Will you be exalted to heaven? You will go down to the netherworld.' For if the mighty deeds done in your midst had been done in Sodom, it would have remained until this day.
24
But I tell you, it will be more tolerable for the land of Sodom on the day of judgment than for you."
think:
In a world that is ambivalent about commitments, it is important that we as Christians provide an example that respects both truth and commitment as important values to uphold.
_______________________________________________________



God's special verse/thought for me today

________________
_________________________________________________________



T O D A Y ' S BLESSING LIST
Thank You Lord for:
____________________________________
_______________________________________________________
READ THE BIBLE IN ONE YEAR
Judith 1-4
With the threat of invasion looming over the nation of Israel, it was very easy for Ahaz to "feel shaken." The heart of King Ahaz "trembled" at the news that Assyria was on its way to conquer. He was caught in a difficult situation – to join Aram (Syria) and Israel in a coalition against Assyria, or side with the Assyrians, a vast and expansive military force. Ahaz chose to side with the "bigger and better" Assyrian forces, a decision condoned by Isaiah.
Ahaz is encouraged by Isaiah to stand firm in faith even though the Kingdom was literally falling around him, with the extension of the Assyrians taking over the Northern Kingdom and moving to attack Jerusalem. What great faith Ahaz needed in this God who would save him, even when everything seemed to indicate the opposite. God was on their side and would destroy the enemy.
Sometimes, we too can be intimidated by the powers looming over us. The power of sin produces fear and our lives become governed by the impending disasters we see before us. Satan, our enemy, can seemingly have power in the world to destroy and steal from us the peace of God. We must stand up in faith and be vigilant. The power of sin in our lives can easily persuade us to give into weakness and despondency.
We must believe that God will not test us beyond our strength, but will always give us the grace needed to fight the battle of sin and darkness. The Lord's Prayer promises that we will not be put to the test – but we also acknowledge that God provides us with the daily bread and provision needed to walk in faith with Him. When the enemy comes against us, we can react in two ways – we can shake in fear or we can place our faith in God who saved and delivered His people. Jesus has won the victory for us. We need to accept this and place our trust in Him. As St. Paul states in his letter to the Romans, "If God is for us who can be against us?"
Fr. Brian Steele
What are those looming forces in my life? Where do I fail to place my trust in the Lord and succumb to the deception of the enemy?
God my Father, You uphold my life. I am safe in Your arms of love. Hold me close and never let me be afraid. You are with me and You are
on my side. Amen.
St. Bonaventure, bishop and doctor of the Church, pray for us.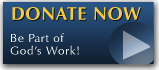 The FEAST is one of the happiest places on earth.

Click Here to find a Feast near you!
KERYGMA TV! is BACK
KERYGMA TV is on a new time slot and new channel Sundays 8 a.m. at IBC 13
Need Counseling? No Landline?
Now, you can use your mobile phone to call a friend for counseling at 09228407031. Or you may call our landlines 7266728, 7264709, 7259999 Mon-Fri 24-hrs, Sat 6am-5pm, Sun 6am-10am
BO BLOGS!
Go to Bo's Official Site and read his almost daily blog! Its not news, but thoughts and musings of Bo Sanchez. Get to know Bo in a more personal way --and find out what it means to live the life of a preacher. You get to enrich your faith as well.
DONATION
Remember to always donate your "first fruits"-not the last. Click on the "Donation" Box under the members menu - and you'll even see links to the nearest branches of the Banks where you can deposit.