READINGS for 2008-06-16
"Should anyone press you into service for one mile, go with him for two miles." – Matthew 5:41
We attended a Christmas party in our neighborhood and met a couple who were impressed with our new house. They also wanted to build a home in the neighborhood and were looking for an architect and a contractor.
Despite the busy season, my wife and I found time to meet with the man over dinners that ended late into the night. We looked at his initial house plans and designs and offered our advice. We also shared how God blessed us with the house and offered to help him look for a contractor and source the materials.
Since they were Filipinos who lived in the U.S. they would have to construct their house in absentia. So my wife and I offered to keep an eye on their construction when they were not around. Over the short period of time they spent in the Philippines before heading back to the States, we had established a friendship built on trust and service.
Although we were only out to extend a helping hand, our goodwill resulted in a sale when the couple decided to buy a condominium through our real estate brokerage services.
Going the extra mile is its own reward, don't you think?
Rolly España
Is your service self-centered or is it altruistic in aim?
Lord, You gave Your all in service to the Father. Teach us to serve like You.
I find it every difficult to understand why a person who already has so much would want to take what little a poor person has. There will be very little or no defense for such an action on Judgment Day. The response of Zacchaeus seems most appropriate. There must be a change of heart before such a person could consider knocking on the door of heaven let alone entering.
1
Naboth the Jezreelite had a vineyard in Jezreel next to the palace of Ahab, king of Samaria,
2
Ahab said to Naboth, "Give me your vineyard to be my vegetable garden, since it is close by, next to my house. I will give you a better vineyard in exchange, or, if you prefer, I will give you its value in money."
3
"The LORD forbid," Naboth answered him, "that I should give you my ancestral heritage."
4
Ahab went home disturbed and angry at the answer Naboth the Jezreelite had made to him, "I will notgive you my ancestral heritage." Lying down on his bed, he turned away from food and would not eat.
5
His wife Jezebel came to him and said to him, "Why are you so angry that you will not eat?"
6
He answered her, "Because I spoke to Naboth the Jezreelite and said to him, 'Sell me your vineyard, or, if you prefer, I will give you a vineyard in exchange.' But he refused to let me have his vineyard."
7
"A fine ruler over Israel you are indeed!" his wife Jezebel said to him. "Get up. Eat and be cheerful. I will obtain the vineyard of Naboth the Jezreelite for you."
8
So she wrote letters in Ahab's name and, having sealed them with his seal, sent them to the elders and to the nobles who lived in the same city with Naboth.
9
This is what she wrote in the letters: "Proclaim a fast and set Naboth at the head of the people.
10
Next, get two scoundrels to face him and accuse him of having cursed God and king. Then take him out and stone him to death."
11
His fellow citizens — the elders and the nobles who dwelt in his city — did as Jezebel had ordered them in writing, through the letters she had sent them.
12
They proclaimed a fast and placed Naboth at the head of the people.
13
Two scoundrels came in and confronted him with the accusation, "Naboth has cursed God and king." And they led him out of the city and stoned him to death.
14
Then they sent the information to Jezebel that Naboth had been stoned to death.
15
When Jezebel learned that Naboth had been stoned to death, she said to Ahab, "Go on, take possession of the vineyard of Naboth the Jezreelite which he refused to sell you, because Naboth is not alive, but dead."
16
On hearing that Naboth was dead, Ahab started off on his way down to the vineyard of Naboth the Jezreelite, to take possession of it.
Psalm 5:2-3ab, 4b-6a, 6b-7
R: Lord, listen to my groaning.
1 [2]
Hearken to my words, O LORD, attend to my sighing.
2 [3]
Heed my call for help, my king and my God!
(R)
3 [4]
At dawn I bring my plea expectantly before you.
4 [5]
For you, O God, delight not in wickedness; no evil man remains with you;
5 [6]
the arrogant may not stand in your sight.
(R)
You hate all evildoers;
6 [7]
you destroy all who speak falsehood; the bloodthirsty and the deceitful the LORD abhors.
(R)
We should never repay evil with evil. This is the fundamental message of today's Gospel. The way we respond to how others treat us should always be guided by Gospel principles. This is how should we be following the example of Jesus and the saints. We are not perfect yet but this should not stop us from striving for perfection.
38
Jesus said to his disciples: "You have heard that it was said, 'An eye for an eye and a tooth for a tooth.'
39
But I say to you, offer no resistance to one who is evil. When someone strikes you on your right cheek, turn the other one to him as well.
40
If anyone wants to go to law with you over your tunic, hand him your cloak as well.
41
Should anyone press you into service for one mile, go with him for two miles.
42
Give to the one who asks of you, and do not turn your back on one who wants to borrow."
think:
Do I turn my back on those in need?
_______________________________________________________



God's special verse/thought for me today

________________
_________________________________________________________



T O D A Y ' S BLESSING LIST
Thank You Lord for:
____________________________________
_______________________________________________________
READ THE BIBLE IN ONE YEAR
1 Chronicles 7-9
Many of the stories we find in the Scriptures are repeated over and over again in real life. This is probably because most of them come from real life in the first place. In the First Reading, we find ourselves caught up in a story about greed. If we stop to reflect upon it, the first question that comes to my mind is why do Ahab and Jezebel need Naboth's vineyard in the first place? They do not. They are wealthy enough as it is. Here we are confronted face on with the sin of greed and its acquisitive
nature. Greedy people do not need the things they covet – they just want them seemingly for the sake of wanting them.
How do we keep greed in check in our lives? The first thing we have to do is try to live simply and not allow acquisitiveness to become a part of our lives. Once we place ourselves on the never-ending treadmill of having to have this or
that simply because the person next door has it, we will eventually be
consumed by the need to have for no real purpose or reason, which is greed.
There is a big problem with obesity in our world today, particularly among the affluent. Are we afraid that the food is about to run out, and so we stock up on a bit extra each time we eat? Or is it simply that we enjoy eating and do not choose to exercise the discipline of self-control. I think it is probably the latter and so we have no one to blame but ourselves! If we want to, we can choose to limit our food intake, and the same goes for our consumption of any of the world's goods, electronic gadgets, clothes and others. We need to remember that everything we consume is something that is denied to another person in the sense that we cannot eat the same sandwich twice. If some of us are being greedy, then it follows that we are probably depriving others of the things they may need just to live a dignified life.
Fr. Steve Tynan
How can I limit the goods that I consume or use in my life in order to simplify it and also to make what I do not use available to others?
Jesus, grant me a generous heart that I may share with others the things I have and thus improve their way of life.
St. Benno, bishop, pray for us.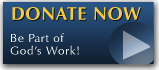 The FEAST is one of the happiest places on earth.

Click Here to find a Feast near you!
KERYGMA TV! is BACK
KERYGMA TV is on a new time slot and new channel Sundays 8 a.m. at IBC 13
Need Counseling? No Landline?
Now, you can use your mobile phone to call a friend for counseling at 09228407031. Or you may call our landlines 7266728, 7264709, 7259999 Mon-Fri 24-hrs, Sat 6am-5pm, Sun 6am-10am
BO BLOGS!
Go to Bo's Official Site and read his almost daily blog! Its not news, but thoughts and musings of Bo Sanchez. Get to know Bo in a more personal way --and find out what it means to live the life of a preacher. You get to enrich your faith as well.
DONATION
Remember to always donate your "first fruits"-not the last. Click on the "Donation" Box under the members menu - and you'll even see links to the nearest branches of the Banks where you can deposit.