READINGS for 2008-05-16
GOD'S MANOR HOUSE
"What good is it, my brothers, if someone says he has faith but does not have works? – James 2:14
When we built a new house outside Metro Manila, God inspired us to make it a spiritual retreat house. At the onset, we translated that inspiration by making the house speak of His glory.
Wanting Scripture-based accents for the house, we had a bread and wine design at the foyer where our family Bible was to be enthroned. We put Easter lilies at the main entrance door and the living room. We had sowing and reaping painting scenes at the mini-theater and a shattered etched glass cross in the prayer room to signify our brokenness. During the construction, we conducted mini Bible seminars for the workers, gave them personal Bibles and taught them to pray every day. We wanted them to know that we were not the owners of the house but merely stewards of the Lord. To share God's generosity we even gave bonuses to the workers.
Now that the house has been completed, we dedicate it to Him in service and boldly proclaim His Word and His works.
The Lord gives us many means and opportunities we can use to share our faith with others. May we be faithful in using them
to further His kingdom.
Rolly España
"Whatever you do, do it for the glory of God." (1 Corinthians 10:31)
Lord Jesus, help us to be like You, doing the will of the Father who sent You.
Words cost us very little. It is easy to say something. The real question is whether or not we are willing to live what we proclaim. In common parlance, "to put our money where our mouth is." The truest and lasting indicator of where we stand in our faith in God is our commitment to the truth. This will be seen in the solid actions and choices of our daily lives.
14
What good is it, my brothers, if someone says he has faith but does not have works? Can that faith save him?
15
If a brother or sister has nothing to wear and has no food for the day,
16
and one of you says to them, "Go in peace, keep warm, and eat well," but you do not give them the necessities of the body, what good is it?
17
So also faith of itself, if it does not have works, is dead.
18
Indeed someone might say, "You have faith and I have works." Demonstrate your faith to me without works, and I will demonstrate my faith to you from my works.
19
You believe that God is one. You do well. Even the demons believe that and tremble.
20
Do you want proof, you ignoramus, that faith without works is useless?
21
Was not Abraham our father justified by works when he offered his son Isaac upon the altar?
22
You see that faith was active along with his works, and faith was completed by the works.
23
Thus the scripture was fulfilled that says, "Abraham believed God, and it was credited to him as righteousness," and he was called "the friend of God."
24
See how a person is justified by works and not by faith alone.
26
For just as a body without a spirit is dead, so also faith without works is dead.
R: Blessed the man who greatly delights in the Lord's commands.
1
Blessed the man who fears the LORD, who greatly delights in his commands.
2
His posterity shall be mighty upon the earth;
the upright generation shall be blessed.
(R)
3
Wealth and riches shall be in his house; his generosity shall endure forever.
4
Light shines through the darkness for the upright; he is gracious and merciful and just.
(R)
5
Well for the man who is gracious and lends, who conducts his affairs with justice;
6
he shall never be moved; the just man shall be in everlasting remembrance.
(R)
Jesus seems to be speaking in riddles but once we become accustomed to the Gospel's way of life, it is very easy to understand the meaning of His words. This does not make it easy to live according to that meaning but at least it gives us the opportunity to try to do so. Jesus is calling us all to a life that is anchored in the service of the Kingdom of God. In this way of life, we will discover our lives anew and afresh as sons and daughters of God.
34
Jesus summoned the crowd with his disciples and said to them, "Whoever wishes to come after me must deny himself, take up his cross, and follow me.
35
For whoever wishes to save his life will lose it, but whoever loses his life for my sake and that of the gospel will save it.
36
What profit is there for one to gain the whole world and forfeit his life?
37
What could one give in exchange for his life?
38
Whoever is ashamed of me and of my words in this faithless and sinful generation, the Son of Man will be ashamed of when he comes in his Father's glory with the holy angels."
9:
1
He also said to them, "Amen, I say to you, there are some standing here who will not taste death until they see that the kingdom of God has come in power."
think:
Is my faith evident in my daily decisions and actions?
_______________________________________________________



God's special verse/thought for me today

________________
_________________________________________________________



T O D A Y ' S BLESSING LIST
Thank You Lord for:
____________________________________
_______________________________________________________
READ THE BIBLE IN ONE YEAR
Judges 17-21
One particular folk festival that many Filipinos still observe in May is the "Santa Cruzan." Even in urban centers, this festival, which features a parade of beautifully dressed ladies with their consorts, is still observed. Many a time, the event even becomes an opportunity for people to meet their heartthrob actors and actresses who are invited to be one of the featured ladies or consorts.
"Santa Cruzan," as the name implies, is a celebration to honor the finding of the relics of the Cross of Jesus. The story goes that when Christianity was finally tolerated as a religion to be practiced openly throughout the Roman Empire, Helena, the mother of Constantine who became sole ruler of the once divided territories, embarked on a pilgrimage to the Holy Land. A staunch believer of Christ even before her son won the imperial crown, Helena wanted to unearth Jesus' Cross which was said to have been neglected and buried on the hill of Calvary. With all the imperial resources now available for her, she pursued the search for the Cross. However, she encountered some initial difficulties because she soon found out that there were many crosses on the hill of Calvary. To distinguish which of the crosses was the One, Helena brought a sick person and she asked that each piece of the crosses be touched on the sick. Only the touch of the Cross of Jesus brought final relief to the person.
Many times, when we are asked what "is" our Cross, we end up reciting a list of difficulties we face in life. But which one is the "Cross?" Jesus says: carry your Cross. The Cross we are asked to carry is the Cross we have to have to follow Jesus. Therefore, our Cross is the one single difficulty or trial we have to endure for the moment as a sign of our faithfulness and commitment to Jesus, His Church and His Gospel. Other hardships or difficulties may be "self-inflicted" (consequences of our wrong choices and priorities), or "pure harassment" (man-made, and not willed by the Lord).
Fr. Domie Guzman
So, what "is" your Cross now?
Jesus, You carried Your cross patiently all the way to Calvary. Help me to do the same in my daily life.
St. John Nepomucene, priest and martyr, pray for us.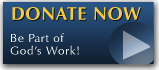 The FEAST is one of the happiest places on earth.

Click Here to find a Feast near you!
KERYGMA TV! is BACK
KERYGMA TV is on a new time slot and new channel Sundays 8 a.m. at IBC 13
Need Counseling? No Landline?
Now, you can use your mobile phone to call a friend for counseling at 09228407031. Or you may call our landlines 7266728, 7264709, 7259999 Mon-Fri 24-hrs, Sat 6am-5pm, Sun 6am-10am
BO BLOGS!
Go to Bo's Official Site and read his almost daily blog! Its not news, but thoughts and musings of Bo Sanchez. Get to know Bo in a more personal way --and find out what it means to live the life of a preacher. You get to enrich your faith as well.
DONATION
Remember to always donate your "first fruits"-not the last. Click on the "Donation" Box under the members menu - and you'll even see links to the nearest branches of the Banks where you can deposit.