READINGS for 2008-05-15
And He asked them, "But who do you say that I am?" – Mark 8:29
A woman knocked on our door asking for financial help. She said that their home was devastated by a fire in Malabon. I doubted her story but still I looked inside the house for some things I could give her as she waited outside our gate. I was still deciding what to give when the doorbell began to ring again and again. I thought it was the woman who couldn't wait for my donation. The persistent doorbell reminded me of the importunate widow in the Bible who didn't stop bugging the judge until she got what she wanted.
When I got outside, it was a collector who was ringing the doorbell. When I talked to the woman within hearing range of the collector, the latter validated the story of the fire because he heard about it in the news. I also learned that the woman lost her husband in the blaze. I shared Jesus with the widow and prayed for her before handing over some goods. Yes, at every chance I get I talk of my Lord and Savior. When people approach me for financial assistance, I'd give them Jesus first before the money. I would tell them to turn to Him, not just as Savior during their time of distress but as Lord as well. By doing that, I'm able to share with them my real Treasure.
Donna España
Do you know enough of Jesus? Do you talk about Him without being timid?
Thank You for being Lord and Savior of my life. I will speak of Your glory at all times.
It is very difficult to live a life totally free of prejudice and bias. We all have difficulties in relating to at least a few people in our lives because we are not naturally attracted to them. It is not up to us whether that attraction exists or not. However, we can make a decision to love all men and women no matter who they are or what they might have done.
1
My brothers, show no partiality as you adhere to the faith in our glorious Lord Jesus Christ.
2
For if a man with gold rings on his fingers and in fine clothes comes into your assembly, and a poor person in shabby clothes also comes in,
3
and you pay attention to the one wearing the fine clothes and say, "Sit here, please," while you say to the poor one, "Stand there," or "Sit at my feet,"
4
have you not made distinctions among yourselves and become judges with evil designs?
5
Listen, my beloved brothers. Did not God choose those who are poor in the world to be rich in faith and heirs of the kingdom that he promised to those who love him?
6
But you dishonored the poor person. Are not the rich oppressing you? And do they themselves not haul you off to court?
7
Is it not they who blaspheme the noble name that was invoked over you?
8
However, if you fulfill the royal law according to the scripture, "You shall love your neighbor as yourself," you are doing well.
9
But if you show partiality, you commit sin, and are convicted by the law as transgressors.
R: The Lord hears the cry of the poor.
1 [2]
I will bless the LORD at all times; his praise shall be ever in my mouth.
2 [3]
Let my soul glory in the LORD; the lowly will hear me and be glad.
(R)
3 [4]
Glorify the LORD with me, let us together extol his name.
4 [5]
I sought the LORD, and he answered me and delivered me from all my fears.
(R)
5 [6]
Look to him that you may be radiant with joy, and your faces may not blush with shame.
6 [7]
When the poor one called out, the LORD heard, and from all his distress he saved him.
(R)
Who do you say Jesus is for you? In answering this question honestly we will give ourselves an insight into the depth of our relationship with Jesus. Or maybe, we will realize that we are not really acting upon the truth we know — that Jesus is the Messiah and Son of God.
27
Jesus and his disciples set out for the villages of Caesarea Philippi. Along the way he asked his disciples, "Who do people say that I am?"
28
They said in reply, "John the Baptist, others Elijah, still others one of the prophets."
29
And he asked them, "But who do you say that I am?" Peter said to him in reply, "You are the Messiah."
30
Then he warned them not to tell anyone about him.
31
He began to teach them that the Son of Man must suffer greatly and be rejected by the elders, the chief priests, and the scribes, and be killed, and rise after three days.
32
He spoke this openly. Then Peter took him aside and began to rebuke him.
33
At this he turned around and, looking at his disciples, rebuked Peter and said, "Get behind me, Satan. You are thinking not as God does, but as human beings do."
think:
Who is Jesus to me?
_______________________________________________________



God's special verse/thought for me today

________________
_________________________________________________________



T O D A Y ' S BLESSING LIST
Thank You Lord for:
____________________________________
_______________________________________________________
READ THE BIBLE IN ONE YEAR
Judges 13-16
A number of times in the Gospel of Mark, Jesus instructed the disciples not to tell anyone about His being the Messiah. Our Reading today makes us understand things better. Peter knew who Jesus was in His intellect and in His words: "You are the Messiah." However, His knowledge of Jesus stops there. He interprets Jesus' mission as a Messiah according to His own human, self-serving, convenient and triumphal terms. Peter expected Jesus to be a sort of a political Messiah: a wielder and broker of power. Hence, when Jesus began talking about the mystery of the Cross as the pathway of his being Messiah, Peter would not want to believe, much less, to follow.
To be able to walk our talk is hard. Here, many teachers and preachers fail. However, to truly comprehend our talks and our words is even harder. Probably, this is why in the end, we talk but we never walk accordingly. We easily use words without reflecting what the words mean. More often than not, we use words – we employ words – according to our own interpretations.
When we say "God" and we pray to Him, do we really know who "God" is? When we say Jesus "my Messiah and King" do we really know what it means to address Jesus as such? When we sing, "I have decided to follow Jesus," do we know from our hearts the consequences of this commitment?
Fr. Domie Guzman
As you pray today, make it brief, but weigh and comprehend each word that you lift up to Jesus.
Lord, I need Your grace to understand and live out in my life the commitment I made to follow You.
St. Dymphna, virgin and martyr, pray for us.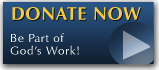 The FEAST is one of the happiest places on earth.

Click Here to find a Feast near you!
KERYGMA TV! is BACK
KERYGMA TV is on a new time slot and new channel Sundays 8 a.m. at IBC 13
Need Counseling? No Landline?
Now, you can use your mobile phone to call a friend for counseling at 09228407031. Or you may call our landlines 7266728, 7264709, 7259999 Mon-Fri 24-hrs, Sat 6am-5pm, Sun 6am-10am
BO BLOGS!
Go to Bo's Official Site and read his almost daily blog! Its not news, but thoughts and musings of Bo Sanchez. Get to know Bo in a more personal way --and find out what it means to live the life of a preacher. You get to enrich your faith as well.
DONATION
Remember to always donate your "first fruits"-not the last. Click on the "Donation" Box under the members menu - and you'll even see links to the nearest branches of the Banks where you can deposit.