READINGS for 2008-04-27
"If you love me, you will keep my commandments." – John14:15
I found out that a close relative I trusted bad-mouthed me, stole from me and did the same to other members of our family. As my wife and I dug further, we discovered more bad stories about this person. Every time we talked about this, my blood would boil and my adrenalin would go up. But the Lord is reminding me today, "Love him if you love Me."
A close friend uttered an insulting joke about me and my business. I wanted to squeeze the life out of this person. What a totally unfair statement! But today, the Lord reminds me, "Love her if you love Me." After having spent two years of helping out and serving a friend, this person sends me an email outlining all my shortcomings and faults. The Lord reminds me, "Love! Do it for Me!"
I realized that Ken Blanchard, bestselling author of
The One Minute Manager
and
Lead Like Jesus,
was right when he said, "Demonstration (not words) is the next wave of evangelization." The world is waiting for those who follow Jesus in acting and being like Him, who will love as He did.
Ariel Driz
In what way can I demonstrate my love for the Lord?
Lord Jesus, nothing is impossible for You. Grant me the grace to love even when it hurts. Amen.
The reception of the Holy Spirit is a key aspect of a person's initiation into the life of Christ. We need to surrender to the Spirit's power or we may be like a car without an engine to move it anywhere. Peter and John visited Samaria to pray specifically for the outpouring of the Holy Spirit after the initial work of evangelization done by Philip. Today, the Church continually needs Christians to be empowered by the Spirit for the building up of God's Kingdom here on earth.
5
Philip went down to the city of Samaria and proclaimed the Messiah to them.
6
With one accord, the crowds paid attention to what was said by Philip when they heard it and saw the signs he was doing.
7
For unclean spirits, crying out in a loud voice, came out of many possessed people, and many paralyzed and crippled people were cured.
8
There was great joy in that city.
14
Now when the apostles in Jerusalem heard that Samaria had
accepted the word of God, they sent them Peter and John,
15
who went down and prayed for them, that they might receive the Holy Spirit,
16
for it had not yet fallen upon any of them; they had only been baptized in the name of the Lord Jesus.
17
Then they laid hands on them and they received the Holy Spirit.
Psalm 66: 1- 3, 4-5 , 6-7, 16 and 20
R: Let all the earth cry out to God with joy.
1
Shout joyfully to God, all you on earth,
2
sing praise to the glory of his name; proclaim his glorious praise.
3
Say to God, "How tremendous are your deeds!
(R)
4
Let all on earth worship and sing praise to you, sing praise to your name!"
5
Come and see the works of God, his tremendous deeds among the children of Adam.
(R)
6
He has changed the sea into dry land; through the river they passed on foot; therefore let us rejoice in him.
7
He rules by his might forever.
(R)
16
Hear now, all you who fear God, while I declare what he has done for me.
20
Blessed be God who refused me not my prayer or his kindness!
(R)
St. Peter exhorts us to be ready at all times with an explanation for the hope we have in our lives. Thus we need to understand the life of grace we live under the guidance and blessing of the Holy Spirit. When others ask us about it, our explanation should inspire them to surrender to God and accept His gift of salvation.
1Peter 3: -15-18 (or 1Peter 4: 13- 16)
15
Sanctify Christ as Lord in your hearts. Always be ready to give an explanation to anyone who asks you for a reason for your hope,
16
but do it with gentleness and reverence, keeping your conscience clear, so that, when you are maligned, those who defame your good conduct in Christ may themselves be put to shame.
17
For it is better to suffer for doing good, if that be the will of God, than for doing evil.
18
For Christ also suffered for sins once, the righteous for the sake of the unrighteous,
that he might lead you to God. Put to death in the flesh, he was brought to life in the spirit.
Jesus promises His disciples that He will send the gift of the Holy Spirit upon them when He returns to His Father in heaven. The Spirit makes up for the loss of the physical presence of Jesus in the world. It also serves as the basis of our lives as disciples. Without the Holy Spirit, the world will easily lure us into its ways and beliefs. But with it, we can stand firm and know that we will never be defeated as long as we live by God's grace.
John 14: 15-21 (or John1 7: 1-11 a)
15
"If you love me, you will keep my commandments.
16
And I will ask the Father, and he will give you another Advocate to be with you always,
17
the Spirit of truth, which the world cannot accept, because it neither sees nor knows it. But you know it, because it remains with you, and will be in you.
18
I will not leave you orphans; I will come to you.
19
In a little while the world will no longer see me, but you will see me, because I live and you will live.
20
On that day you will realize that I am in my Father and you are in me and I in you.
21
Whoever has my commandments and observes them is the one who loves me. And whoever loves me will be loved by my Father, and I will love him and reveal myself to him."
think:
Do I surrender to the power of the Holy Spirit?
_______________________________________________________

God's special verse/thought for me today________________
_________________________________________________________

T O D A Y ' S BLESSING LIST
Thank You Lord for:
____________________________________
_______________________________________________________
READ THE BIBLE IN ONE YEAR
Deuteronomy 1-3
Things to be grateful for from the past week
________________________________________________________________
________________________________________________________________
_________________________________________________________________
Things to ask God for in the coming week
________________________________________________________________
_________________________________________________________________
________________________________________________________________
Most important word God told me this week
________________________________________________________________
_________________________________________________________________
After Socrates drank the cup of lethal hemlock, his pupils mourned that "they would have to spend the rest of their lives as children who had lost their father," said Plato. Such is the case in ancient days. When a learned teacher dies, his students, nourished by his fatherly wisdom, often speak of themselves as having been orphaned. This is the same between Jesus and the Twelve. Thus, Jesus tells His disciples today, "I will not leave you orphans."
Jesus is indeed telling the truth when He assures His disciples that He will not leave them orphans. Here are three reasons:
First, Jesus never lies. If there is anything that Jesus cannot do, despite His being God Himself, it is to tell a lie. Jesus is not only truthful; He is the Truth. When He tells His disciples that He will not leave them orphans, believe it.
Second, Jesus will die the following day but He will rise again. Students of a learned rabbi are considered orphans at the death of their teacher. And the death of their teacher is permanent; thus, the students are orphans forever. But Jesus' death is temporary; thus, the disciples are not orphans at all.
Third, Jesus is going away but He is not gone. He is not leaving the scene. He will still be very much present within the Church and in the world. Jesus' ascension does not mean that He is gone forever. It only means that Jesus cannot be seen by
the naked eye anymore. It means that Jesus can only be recognized through the eyes of faith. It only means that He is present in a different way.
The Holy Spirit defends us against lies, helps us believe in the resurrection of Jesus, and makes us recognize Him still present in our midst but in a new and different way. Jesus gives us the Holy Spirit, our Advocate.
We are not orphans. We will never be. Jesus is not only with us. He is in us through His Spirit.
Fr. Bobby Titco
Jesus is in us, not only with us.
Jesus living in me, help me live in You. Jesus living with me, help me live with You. Jesus, You gave me Your Spirit. Let me give my life to You. Amen.
St. Zita, virgin, pray for us.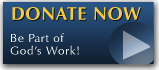 The FEAST is one of the happiest places on earth.

Click Here to find a Feast near you!
KERYGMA TV! is BACK
KERYGMA TV is on a new time slot and new channel Sundays 8 a.m. at IBC 13
Need Counseling? No Landline?
Now, you can use your mobile phone to call a friend for counseling at 09228407031. Or you may call our landlines 7266728, 7264709, 7259999 Mon-Fri 24-hrs, Sat 6am-5pm, Sun 6am-10am
BO BLOGS!
Go to Bo's Official Site and read his almost daily blog! Its not news, but thoughts and musings of Bo Sanchez. Get to know Bo in a more personal way --and find out what it means to live the life of a preacher. You get to enrich your faith as well.
DONATION
Remember to always donate your "first fruits"-not the last. Click on the "Donation" Box under the members menu - and you'll even see links to the nearest branches of the Banks where you can deposit.