READINGS for 2008-04-20
But you are a chosen people, a royal priesthood…a people belonging to God… – 1 Peter 2:9
If you were a commodity, how much do you think you'd be worth? Fifty million? One hundred thousand? Or just enough to buy two movie tickets with a popcorn and a drink? In accounting, there's a term called net worth. It's simply the difference between total assets and total liabilities. Assets — like cash, stocks, bonds and properties — are things you own. Liabilities — like loans, credit card balances and mortgage — are those that you owe.
We are living in a world that measures success and the value of a person in terms of net worth. According to Forbes.com, in 2006, Henry Sy had a total net worth of $1.5 billion; Lucio Tan, $1.7 billion; and Jaime Zobel de Ayala, $1.3 billion.
Do you sometimes feel that you are less of a person because you have a small bank account? Or because you drive a 20-year-old, run-by-faith vehicle? Or wear clothes bought in U.K. (
ukay-ukay
)? As children of God, we are worth more than the most expensive jewelry, car or mansion that money can buy. We are priceless. God has chosen us as His very own. Our worth is based on what God does and not on what we have or what we do.
Judith Concepcion
How much is your worth? Remember that your value comes from being one of God's children, not from what you own or have achieved.
Thank You, Lord, for calling me Your own.
This reading expresses a very important principle that bishops and priests in particular should reflect on. The apostles decide to raise up other men to help with the necessary administrative tasks so that they can concentrate on praying and preaching the Gospel. As evangelists we need to guard ourselves from distractions in order to remain effective in our primary calling.
1
As the number of disciples continued to grow, the Hellenists complained against the Hebrews because their widows were being neglected in the daily distribution.
2
So the Twelve called together the community of the disciples and said, "It is not right for us to neglect the word of God to serve at table.
3
Brothers, select from among you seven reputable men, filled with the Spirit and wisdom, whom we shall appoint to this task,
4
whereas we shall devote ourselves to prayer and to t he ministry of the word."
5
The proposal was acceptable to the whole community, so they chose Stephen, a man filled with faith
and the holy Spirit, also Philip, Prochorus, Nicanor, Timon, Parmenas, and Nicholas of Antioch, a convert to Judaism.
6
They presented these men to the apostles who prayed and laid hands on them.
7
The word of God continued to spread, and the number of the disciples in Jerusalem increased greatly; even a large group of priests were becoming obedient to the faith.
Psalm 33: 1-2, 4-5, 18-19
R: Lord, let your mercy be on us, as we place our trust in you.
1
Exult, you just, in the LORD; praise from the upright is fitting.
2
Give thanks to the LORD on the harp; with the ten-stringed lyre chant his praises.
(R)
4
Upright is the word of the LORD, and all his works are trustworthy.
5
He loves justice and right; of the kindness of the LORD the earth is full.
(R)
18
See, the eyes of the LORD are upon those who fear him, upon those who hope for his kindness,
19
to deliver them from death and preserve them in spite of famine.
(R)
Peter reminds us that faith in Jesus is the foundation stone of our lives. We cannot allow anything else to take His place. It will be detrimental to our formation in the ways and mind of God. The world persistently offers many other options for us upon which to base our lives. Let us pray for the grace to focus our lives on Jesus and be firm in that decision.
4
Come to him, a living stone, rejected by human beings but chosen and precious in the sight of God,
5
and, like living stones, let yourselves be built into a spiritual house to be a holy priesthood to offer spiritual sacrifices acceptable to God through Jesus Christ.
6
For it says in scripture: "Behold, I am laying a stone in Zion, a cornerstone, chosen and precious, and whoever believes in it shall not be put to shame."
7
Therefore, its value is for you who have faith, but for those without faith: "The stone which the builders rejected has become the cornerstone,"
8
and "A stone that will make people stumble, and a rock that will make them fall." They stumble by disobeying the word, as is their destiny.
9
But you are "a chosen race, a royal priesthood, a holy nation, a people of his own, so that you may announce the praises" of him who called you out of darkness into his wonderful light.
Jesus tells Philip that those who believe in Him will perform even greater works than He did. What an amazing promise! God has held nothing back from us in calling us to work in union with the Holy Spirit. By this, we play a central role in bringing the Gospel to the world.
1
"Do not let your hearts be troubled. You have faith in God; have faith also in me.
2
In my Father's house there are many dwelling places. If there were not, would I have told you that I am going to prepare a place for you?
3
And if I go and prepare a place for you, I will come back again and take you to myself, so that where I am you also may be.
4
Where I am going you know the way."
5
Thomas said to him, "Master, we do not know where you are going; how can we know the way?"
6
Jesus said to him, "I am the way and the truth and the life. No one comes to the Father except through me.
7
If you know me, then you will also know my Father. From now on you do know him and have seen him."
8
Philip said to him, "Master, show us the Father, and that will be enough for us."
9
Jesus said to him, "Have I been with you for so long a time and you still do not know me, Philip? Whoever has seen me has seen the Father. How can you say, 'Show us the Father'?
10
Do you not believe that I am in the Father and the Father is in me? The words that I speak to you I do not speak on my own. The Father who dwells in me is doing his works.
11
Believe me that I am in the Father and the Father is in me, or else, believe because of the works themselves.
12
Amen, amen, I say to you, whoever believes in me will do the works that I do, and will do greater ones than these, because I am going to the Father."
think:
God has held nothing back from us in calling us to work in union with the Holy Spirit.
_______________________________________________________



God's special verse/thought for me today

________________
_________________________________________________________



T O D A Y ' S BLESSING LIST
Thank You Lord for:
____________________________________
_______________________________________________________
READ THE BIBLE IN ONE YEAR
Numbers 16-18
Things to be grateful for from the past week
________________________________________________________________
________________________________________________________________
_________________________________________________________________
Things to ask God for in the coming week
________________________________________________________________
_________________________________________________________________
________________________________________________________________
Most important word God told me this week
________________________________________________________________
_________________________________________________________________
Imagine that you were one of the Twelve Apostles. You left home, family, trade, and whatnot and followed Jesus who came from Nazareth, a place from where, nothing good ever comes. You went everywhere Jesus went. You heard His teachings and believed everything He said. If ever you had doubts about the sanity and truthfulness of Jesus, you had many chances to leave Him, but you remained with Him. Now, He is saying goodbye. How would you feel?
Then Jesus says, "Do not let your heart be troubled." His words do not seem to help ease your hurt, do they? Letting go is such a painful process that words — no matter how beautiful and sincere they are— can even intensify the sting of separation. No matter how much we are assured that the separation is only temporary, we still believe that it is better for people we love to be physically present.
But love is not love until it lets go. One who professes love but refuses to let go is not a lover. He is a parasite. Letting go is the ultimate test of love. In the Gospel today, both Jesus and the apostles needed to let go. But their mutual letting go did not mean abandonment or betrayal. Their letting go was the ultimate challenge of their love for one another. Jesus had to let go of His apostles for their sake. The apostles must let go of Jesus so He could complete the mission entrusted to Him by the Father. From then on, the love between Jesus and His disciples – you and I included – would have to grow with faith and hope.
Love demands faith and is nourished by hope. Our faith convinces us what our physical reality fails to prove: Jesus is here with us. Our hope sustains us where human expectation falls short: Jesus will come again and take us with Him to paradise. Faith, hope, and love as St. Paul wrote, are the things that last to the end; and the greatest of them is love. But love is not love until it lets go.
Fr. Bobby Titco
I cling to You, O Jesus, more than anything and anyone. I let go of You so that I may cling to You even more. Amen.
St. Victor, Martyr, pray for us.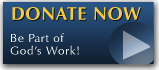 The FEAST is one of the happiest places on earth.

Click Here to find a Feast near you!
KERYGMA TV! is BACK
KERYGMA TV is on a new time slot and new channel Sundays 8 a.m. at IBC 13
Need Counseling? No Landline?
Now, you can use your mobile phone to call a friend for counseling at 09228407031. Or you may call our landlines 7266728, 7264709, 7259999 Mon-Fri 24-hrs, Sat 6am-5pm, Sun 6am-10am
BO BLOGS!
Go to Bo's Official Site and read his almost daily blog! Its not news, but thoughts and musings of Bo Sanchez. Get to know Bo in a more personal way --and find out what it means to live the life of a preacher. You get to enrich your faith as well.
DONATION
Remember to always donate your "first fruits"-not the last. Click on the "Donation" Box under the members menu - and you'll even see links to the nearest branches of the Banks where you can deposit.