READINGS for 2008-03-15
Solemnity of St. Joseph, husband of Mary
"Your house and your kingdom shall endure forever before me." – 2 Samuel 7:16
March is our wedding month and, last year, we celebrated our silver anniversary. Having God at the center of our lives has made our relationship progress to a higher plane each time. We never forget to say, "I love you" each morning after we finish praying.
After more than 300 months, we still celebrate monthly and reflect on God's goodness to us. That is why even after so many years, people continue to notice our intimacy and "sweetness" to each other.
I thank God for my husband who has been my life partner — in family, in our business and in serving God. Because He has filled us so much, we share this joy and peace with other couples. We serve as the head of a couple ministry that gives seminars to younger couples and teaching them that the key to a successful marriage is to claim God's sacramental grace in matrimony. His grace was our source of strength in our childlessness. His grace is the manifestation of His covenant of peace to us and to all married couples.
Donna España
When was the last time you said "I love you" to your spouse? How long has it been since
you said the same endearment to God?
Lord God, You are the element that bonds couples in marriage. Grant us Your sacramental
grace.
Joseph is often the forgotten person of the Holy Family. We tend to talk a lot about Jesus and a bit about Mary's role in His life but Joseph seems to be the forgotten partner in all of this. Let us spend a little time reflecting today on Joseph's role as husband of Mary, protector and provider for the Holy Family, teacher and mentor of Jesus. He is truly a man to emulate in the way he carried out his responsibilities.
2 Samuel 7:4-5a, 12-14a, 16
4
The LORD spoke to Nathan and said
5
"Go, tell my servant David,
12
when your time comes and you rest with your ancestors, I will raise up your heir after you, sprung from your loins, and I will make his kingdom firm.
13
It is he who shall build a house for my name. And I will make his royal throne firm forever.
14
I will be a father to him, and he shall be a son to me.
16
Your house and your kingdom shall endure forever before me; your throne shall stand firm forever.' "
Psalm 89:2-3, 4-5, 27 and 29
R: The son of David will live for ever.
1 [2]
The promises of the LORD I will sing forever; through all generations my mouth will proclaim your faithfulness.
2 [3]
For you have said, "My kindness is established forever"; in heaven you have confirmed your faithfulness.
(R)
3 [4]
"I have made a covenant with my chosen one, I have sworn to David my servant
4 [5]
Forever will I confirm your posterity and establish your throne for all generations."
(R)
26 [27]
"He shall say of me, 'You are my father, my God, the rock, my savior!'
28 [29]
Forever I will maintain my kindness toward him, and my covenant with him stands firm."
(R)
Joseph's faith is perhaps one of the best-hidden secrets of the Scriptures. It is Abraham's faith that makes him righteous before God and leads to his humble and obedient acceptance of God's will for his life. If we look at the struggles and difficulties Joseph faced, I think it is fair enough to say that he, too, had faith like Abraham and it is this that gave God the confidence to give him the tasks he did.
13
It was not through the law that the promise was made to Abraham and his descendants that he would inherit the world, but through the righteousness that comes from faith.
16
For this reason, it depends on faith, so that it may be a gift, and the promise may be guaranteed to all his descendants, not to those who only adhere to the law but to those who follow the faith of Abraham, who is the father of all of us,
17
as it is written, "I have made you father of many nations." He is our father in the sight of God, in whom he believed, who gives life to the dead and calls into being what does not exist.
18
He believed, hoping against hope, that he would become "the father of many nations," according to what was said, "Thus shall your descendants be."
22
That is why "it was credited to him as righteousness."
Joseph is presented to us in the Scriptures as a man obedient to God's word, attentive to the needs of Mary and his family and faithful and righteous in the way he lives his life. There is no better example of manhood than this for a young boy to emulate. Perhaps the young men of today would do well to reflect a bit more on some of the examples of men of God in the Scriptures in order to discover what they need todo to become men of God.
Matthew 1:16, 18-21, 24a (or Luke 2:41-51a)
16
Jacob the father of Joseph, the husband of Mary. Of her was born Jesus who is called the Messiah
.
18
Now this is how the birth of Jesus Christ came about. When his mother Mary was betrothed to Joseph, but before they lived together, she was found with child through the Holy Spirit.
19
Joseph her husband, since he was a righteous man, yet unwilling to expose her to shame, decided to divorce her quietly.
20
Such was his intention when, behold, the angel of the Lord appeared to him in a dream and said, "Joseph, son of David, do not be afraid to take Mary your wife into your home. For it is through the Holy Spirit that this child has been conceived in her.
21
She will bear a son and you are to name him Jesus, because he will save his people from their sins."
24
When Joseph awoke, he did as the angel of the Lord had commanded him and took his wife into his home.
think:
Let us spend a little time reflecting today on Joseph's role as husband of Mary, protector and provider for the Holy Family, teacher and mentor of Jesus. He is truly a man to emulate in the way he carried out his responsibilities.
_______________________________________________________



God's special verse/thought for me today

________________
_________________________________________________________



T O D A Y ' S BLESSING LIST
Thank You Lord for:
____________________________________
_______________________________________________________
READ THE BIBLE IN ONE YEAR
Genesis 17-20
it is faith and not the laW that Counts
Paul's argument in the fourth chapter of the Letter to the Romans is at the heart of his understanding of salvation and faith. St. Paul argues that faith in the promises of God is the only way to salvation; this is the way it has always been, and this is the way it always will be. There is no other path to get to the point of eternal life than through faith in the work of Jesus Christ on the cross and His resurrection from the dead.
If we Christians want to experience fullness of life and all that God offers us in the world, then we must place our faith in Jesus and allow the demands of our faith to dictate to us the way we choose to live. Joseph and Mary were both faithful to all God asked them to do, and so Mary gave birth to the Son of God. During Jesus' early years, He was cared for by both Mary and Joseph. Joseph, hearing in a dream to take his family to Egypt, heeded the angel's warning in order to avoid Herod's wrath. Here we see the role of obedience in the life of one who desires to follow God's will.
We live in a world where individuals are encouraged and even applauded when they "break out of the mold," forge a new path and open up new possibilities in life for others. This is fine but only if it is
done within the bounds of the will of God and the moral principles He has given us on which to base our lives. This is particularly pertinent when we begin to examine the cutting edges of science. It is imperative that we ask ourselves whether or not it is morally permissible to pursue certain lines of research in the light of the absolute dignity of each person. No life can be deliberately sacrificed in the hope that a cure for any disease may be found. There is no certainty in science other than that we are not able to be sure of anything.
Sometimes we have to admit that we do not have the answers and the moral cost to obtain them is too great.
Fr. Steve Tynan
When was the last time I consulted God about the direction my life is taking? Do I need to know His will, or am I already struggling to follow it every day?
Holy Spirit, show me the will of God for my life and give me the strength and courage to follow it.
St. Guy of Pomposa, abbot, pray for us.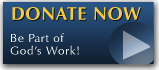 The FEAST is one of the happiest places on earth.

Click Here to find a Feast near you!
KERYGMA TV! is BACK
KERYGMA TV is on a new time slot and new channel Sundays 8 a.m. at IBC 13
Need Counseling? No Landline?
Now, you can use your mobile phone to call a friend for counseling at 09228407031. Or you may call our landlines 7266728, 7264709, 7259999 Mon-Fri 24-hrs, Sat 6am-5pm, Sun 6am-10am
BO BLOGS!
Go to Bo's Official Site and read his almost daily blog! Its not news, but thoughts and musings of Bo Sanchez. Get to know Bo in a more personal way --and find out what it means to live the life of a preacher. You get to enrich your faith as well.
DONATION
Remember to always donate your "first fruits"-not the last. Click on the "Donation" Box under the members menu - and you'll even see links to the nearest branches of the Banks where you can deposit.