READINGS for 2008-01-07
ON A MiRACULOUS bOAT
"the people who sit in darkness have seen a great light… – Matthew 4:16
St. Raymond was on a missionary trip with the king at Majorca, Spain's largest island, when he discovered that the monarch was having an affair with one of the ladies of his court. Raymond admonished him but the ruler refused to listen to him.
Raymond wanted to abort the mission and leave but the king threatened to kill whoever would transport him. So Raymond spread his cloak on the water, set his staff as a mast and tied a corner of his coat to make a sail. On his miraculous makeshift boat, he sailed to Barcelona, 140 miles away, arriving there six hours later!
Numerous conversions took place among the big crowd that welcomed him at the shore. The king also repented.
How many of us would be as bold as St. Raymond under the same circumstances?
God doesn't ask us to do the impossible, like sail the seas on our coats. But He does ask us to be a light in this dark world where sin and compromise reigns.
Will you be that light in your world? Rissa Singson-Kawpeng
REFLECTION:
"Paul says he is gripped by the love of God, that is why he acts as he does....
There is only one thing he is living for, and that is to persuade men of the judgment seat of God, and of the love of Christ." (Oswald Chambers)
Lord, let me be the salt of the earth and the light of the world in the way I live my life for You every day.
1st READING
1 John 3:22 -4:6
John exhorts us to "test the spirits." What does he mean by this? I think that he is basically telling us to "look before we leap" that is, not to enter into anything without first trying to discern or understand where it will take us. Too many people get involved in groups or activities that they would never have entered if they had looked at them more carefully in the beginning.
22 We receive from him whatever we ask, because we keep his commandments and do what pleases him. 23 And his commandment is this: we should believe in the name of his Son, Jesus Christ, and love one another just as he commanded us. 24 Those who keep his commandments remain in him, and he in them, and the way we know that he remains in us is from the Spirit that he gave us. 4: 1 Beloved, do not trust every spirit but test the spirits to see whether they belong to God, because many false prophets have gone out into the world. 2 This is how you can know the Spirit of God: every spirit that acknowledges Jesus Christ come in the flesh belongs to God, 3 and every spirit that does not acknowledge Jesus does not belong to God. This is the spirit of the antichrist that, as you heard, is to come, but in fact is already in the world. 4 You belong to God, children, and you have conquered them, for the one who is in you is greater than the one who is in the world. 5 They belong to the world; accordingly, their teaching belongs to the world, and the world listens to them. 6 We belong to God, and anyone who knows God listens to us, while anyone who does not belong to God refuses to hear us. This is how we know the spirit of truth and the spirit of deceit.
P S A L M
Psalm 2:7bc-8, 10-12a
R: I will give you all the nations for an inheritance.
7 The LORD said to me, "You are my son; this day I have begotten you. 8 Ask of me and I will give you the nations for an inheritance and the ends of the earth for your possession. (R) 10 And now, O kings, give heed; take warning, you rulers of the earth. 11 Serve the LORD with fear, and rejoice before him; with trembling 12 rejoice. (R)
G O S P E L
Matthew 4: 12-17, 23-25
Repentance always has been and always will be one of the foundation stones of a good Christian life. True repentance indicates a desire to leave behind a life of sin and indifference, and marks the rise of a desire to live according to the will of God. It can take a while to put everything in place but if one's desire to repent is true then there will be no obstacle too big that will stop it from happening.
12 When Jesus heard that John had been arrested, he withdrew to Galilee. 13 He left Nazareth and went to live in Capernaum by the sea, in the region of Zebulun and Naphtali, 14 that what had been said through Isaiah the prophet might be fulfilled: 15 "Land of Zebulun and land of Naphtali, the way to the sea, beyond the Jordan, Galilee of the Gentiles, 16 the people who sit in darkness have seen a great light, on those dwelling in a land overshadowed by death light has arisen." 17 From that time on, Jesus began to preach and say, "Repent, for the kingdom of heaven is at hand." 23 He went around all of Galilee, teaching in their synagogues, proclaiming the gospel of the kingdom, and curing every disease and illness among the people. 24 His fame spread to all of Syria, and they brought to him all who were sick with various diseases and racked with pain, those who were possessed, lunatics, and paralytics, and he cured them. 25 And great crowds from Galilee, the Decapolis, Jerusalem, and Judea, and from beyond the Jordan followed him.
my reflections
think: What sins do I need to repent for today?
________________________________________________________

God's special verse/thought for me today________________
_________________________________________________________

T O D A Y ' S BLESSING LIST
Thank You Lord for: ____________________________________
_______________________________________________________
READ THE BIBLE IN ONE YEAR John 19-21
We and the KinGdoM of heaven
After the Feast of Epiphany, the Christmas decorations are taken down. We prepared so long for Christmas, celebrated so much, that our human nature urges us to go "back to normal." Work has to be done again, and after one week back to work, the mood for Christmas decorations is gone and we even don't miss them. But the Church continues to reflect on the mystery of the Son of God becoming one of us human beings.
In today's gospel passage, Jesus has grown up and leaves Nazareth to begin His public ministry in Galilee. Galilee was a Palestinian province in the north of the land, surrounded by pagan countries. If Jesus had started His ministry in ultraconservative Jerusalem, His ministry would have been short lived. Jesus did not come into this world for an exclusive group of people, the Jews, but that He came for all humanity. The stage is set for the very last words of Jesus in this gospel: "Go, make disciples of all nations…" But He cannot do this alone — He needs our cooperation.
Jesus has done the main part in our reconciliation with God when He offered His life and died for us on the Cross. Now we have to do our part — ongoing conversion, turning away from sinful ways of life and doing what Jesus teaches us throughout His ministry. The Kingdom of God has been established on earth by Jesus, and it will grow and expand in the hearts of those who experience true conversion and live out Jesus' teachings. The Kingdom of God will never be fully established in the world — this full coming of the Kingdom will only happen at the end of time when God will win His final victory over Satan. The more the Kingdom grows and expands in this world, the more the forces of evil will be pushed aside. Fr. Rudy Horst
Reflection Question:
Am I aware that through changing my life, I can contribute so much to the spread of the Kingdom of God and counteract evil in the world?
Lord, You came to establish and spread the Kingdom of God in this world. Much has been done but often I have failed to contribute to the spread of the Kingdom by avoiding to repent and to change my life. Lord, make me always aware that I have a responsibility in spreading good in the world.
St. Raymond of Peñafort, priest, pray for us.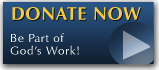 The FEAST is one of the happiest places on earth.

Click Here to find a Feast near you!
KERYGMA TV! is BACK
KERYGMA TV is on a new time slot and new channel Sundays 8 a.m. at IBC 13
Need Counseling? No Landline?
Now, you can use your mobile phone to call a friend for counseling at 09228407031. Or you may call our landlines 7266728, 7264709, 7259999 Mon-Fri 24-hrs, Sat 6am-5pm, Sun 6am-10am
BO BLOGS!
Go to Bo's Official Site and read his almost daily blog! Its not news, but thoughts and musings of Bo Sanchez. Get to know Bo in a more personal way --and find out what it means to live the life of a preacher. You get to enrich your faith as well.
DONATION
Remember to always donate your "first fruits"-not the last. Click on the "Donation" Box under the members menu - and you'll even see links to the nearest branches of the Banks where you can deposit.