READINGS for 2007-07-11
FAVORITE
In fact, all the world came to Joseph to obtain rations… – Genesis 41:57
We all know the story of Joseph. He was a favorite son, the only one who received a coat of many colors as a gift from his father. He was also the one sold into slavery byhis jealous brothers, the guy who was accused by Pharaoh's wife of attempted rape, the guy who was imprisoned for most of his young life.
Well, it seems to me that his experience ofbeing loved from a very young age was enough to permanently take on the perspective that life is good. His terrible experiences never erased that from his heart and mind. And when times of famine came, he had enough in his storeroom to share with others.Enough even for the very same brothers who had caused him so much misery.
What a contrast to his bitter and envious brothers!
When famine time came, they only sawpunishment. Probably because guilt lurked in their consciousness of how evil they had been to their brother.
Is our experience of the Father's love inour early Christian walk enough to take us through possible years of famine and deepen our faith maturity? Victoria L.
REFLECTION:
Is our experience of the Father's love in our early Christian walk enough to take us through possible years of famine and deepen our faith maturity?
May we always have the experience of early blessings fresh in our hearts especially as we go through darker times.
1st READING
Genesis 41:55-57; 42:5-7, 17-24
Through the advent of a famine, God brings together Joseph and his brothers and reconciles them. It is an important moment in the history of Israel as it is from this reunion that the people move to Egypt where after a few hundred years they become enslaved under a king who does not know Joseph. Egypt, a place that is initially a blessing, becomes a land of curse for the People of God.
55 When hunger came to be felt throughout the land of Egypt and the people cried to Pharaoh for bread, Pharaoh directed all the Egyptians to go to Joseph and do whatever he told them. 56 When the famine had spread throughout the land, Joseph opened all the cities that had grain and rationed it to the Egyptians, since the famine had gripped the land of Egypt. 57 In fact, all the world came to Joseph to obtain rations of grain, for famine had gripped the whole world. 42: 5 Thus, since there was famine in the land of Canaan also, the sons of Israel were among those who came to procure rations. 6 It was Joseph, as governor of the country, who dispensed the rations to all the people. When Joseph's brothers came and knelt down before him with their faces to the ground, 7 he recognized them as soon as he saw them. But he concealed his own identity from them and spoke sternly to them. "Where do you come from?" he asked them. They answered, "From the land of Canaan, to procure food." 17 With that, he locked them up in the guardhouse for three days. 18 On the third day Joseph said to them: "Do this, and you shall live; for I am a God-fearing man. 19 If you have been honest, only one of your brothers need be confined in this prison, while the rest of you may go and take home provisions for your starving families. 20 But you must come back to me with your youngest brother. Your words will thus be verified, and you will not die." To this they agreed. 21 To one another, however, they said: "Alas, we are being punished because of our brother. We saw the anguish of his heart when he pleaded with us, yet we paid no heed; that is why this anguish has now come upon us." 22 "Didn't I tell you," broke in Reuben, "not to do wrong to the boy? But you wouldn't listen! Now comes the reckoning for his blood." 23 They did not know, of course, that Joseph understood what they said, since he spoke with them through an interpreter. 24 But turning away from them, he wept.
P S A L M
Psalm 33:2-3, 10-11, 18-19
R: Lord, let your mercy be on us, as we place our trust in you.
2 Give thanks to the LORD on the harp; with the ten-stringed lyre chant his praises. 3 Sing to him a new song; pluck the strings skillfully, with shouts of gladness. (R) 10 The LORD brings to nought the plans of nations; he foils the designs of peoples. 11 But the plan of the LORD stands forever; the design of his heart, through all generations. (R) 18 But see, the eyes of the LORD are upon those who fear him, upon those who hope for his kindness, 19 to deliver them from death and preserve them in spite of famine. (R)
G O S P E L
Matthew 10:1-7
Jesus sends out the disciples to proclaim the Gospel. Today we celebrate the life of St Benedict, one of the greatest monks of the Western Church. As we pray for the Benedictine orders, for both men and women, let us also thank God for the lives of intercession they lead for the Church. I hate to think what a mess we would be in without the thousands of contemplatives who have dedicated their lives to interceding for the Church and particularly her leaders.
1 Then he summoned his twelve disciples and gave them authority over unclean spirits to drive them out and to cure every disease and every illness. 2 The names of the twelve apostles are these: first, Simon called Peter, and his brother Andrew; James, the son of Zebedee, and his brother John; 3 Philip and Bartholomew, Thomas and Matthew the tax collector; James, the son of Alphaeus, and Thaddeus; 4 Simon the Cananean, and Judas Iscariot who betrayed him. 5 Jesus sent out these twelve after instructing them thus, "Do not go into pagan territory or enter a Samaritan town. 6 Go rather to the lost sheep of the house of Israel. 7 As you go, make this proclamation: 'The kingdom of heaven is at hand.'"
my reflections
think: Let us pray for our contemplative brothers and sisters.
________________________________________________________
_________________________________________________________
God's special verse/thought for me today________________
_________________________________________________________
T O D A Y ' S BLESSING LIST
Thank You Lord for: ____________________________________
_______________________________________________________
READ THE BIBLE IN ONE YEAR Sirach 44-47
GOD'S REIGN AS SOMETHING AT HAND
The calling and choosing of the Twelve Apostles, the list of their names, and the initial instructions given to them by Jesus all indicate a certain "constitutionality" in the Twelve. They are like a judicially established group, which nevertheless doesn't mean that it is closed in on itself. The mission they have, in the first place, shows they are not at all for themselves alone. Although Jesus' instruction to them is to start their ministry with "the lost sheep of the house of Israel," nevertheless theirs is an openness which launches them always outward. And moreover, the list of the Apostles goes on, as it were, across the centuries and until the present day.
The saints, in fact, are like such "extensions" of the Apostles. They have been raised by God, in response to definite times and situations in history. In the case of St. Benedict (our saint for today), he was the bright light in the midst of the darkness of the Middle Ages. Apart from his many experiences and enterprises, a remarkable example from his life was his relationship with his sister, Scholastica (who herself also became a saint). One incident (recorded and offered as the Second Reading in the Divine Office of February 10, Memorial of St. Scholastica) was their spending the night together (after some initial hesitation on the part of Benedict). It took some divine intervention, and they eventually passed the night talking about holy things and eternal happiness. The following morning they parted, and three days later Scholastica died. Benedict was at that time alone in his cell absorbed in prayer when, lifting his eyes, he saw his Scholastica's soul ascending to heaven as a dove. Filled with joy, he praised and thanked God.
"Charity begins at home," as we commonly say. Our Lord Jesus himselfinstructed his Apostles that they didn't need to go far when it comes to carrying out their mission. So also we can start with the people precisely around us, those closest to us whether in our families, with our friends, or in our workplaces. To them, first and foremost, we make the announcement with our lives, "The reign of God is at hand!" Fr. Martin M.
REFLECTION QUESTION: How are you being a light in the darkness?
May I be glowing always with Your love and truth.
St. Cindeus, martyred priest, pray for us.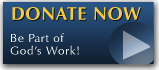 The FEAST is one of the happiest places on earth.

Click Here to find a Feast near you!
KERYGMA TV! is BACK
KERYGMA TV is on a new time slot and new channel Sundays 8 a.m. at IBC 13
Need Counseling? No Landline?
Now, you can use your mobile phone to call a friend for counseling at 09228407031. Or you may call our landlines 7266728, 7264709, 7259999 Mon-Fri 24-hrs, Sat 6am-5pm, Sun 6am-10am
BO BLOGS!
Go to Bo's Official Site and read his almost daily blog! Its not news, but thoughts and musings of Bo Sanchez. Get to know Bo in a more personal way --and find out what it means to live the life of a preacher. You get to enrich your faith as well.
DONATION
Remember to always donate your "first fruits"-not the last. Click on the "Donation" Box under the members menu - and you'll even see links to the nearest branches of the Banks where you can deposit.