READINGS for 2007-06-24
Solemnity of the Birth of John the Baptist
WHAT DRIVES YOU?
"What, then, will this child be?" – Luke 1:66

This is a true story. A young medical intern had the opportunity to observe an actual appendectomy procedure. This was performed by a doctor-surgeon who had been in the medical profession for a long time. After the surgery, the intern quizzically asked the doctor, "Doc, how come you removed the patient's appendix when it didn't look inflamed? It seems to me that this is not a case of appendicitis." Not bothered by her question, the doctor replied, "You're still very young and don't know a lot of things. You need to learn the ropes regarding how to earn money in order for you to survive in this profession."
When we were little children, we had our dreams of becoming somebody, someday. We dreamt of becoming doctors, nurses, lawyers, accountants, teachers, policemen and even the President of the Philippines. Some made their dreams come true. Others may have taken a different path but still became successful in their chosen fields.
Whatever we have become, the question still remains. Are we living up to our names and titles in our respective professions? Have we been faithful to our duties and our missions? Do we strive to be the exception rather than the norm? What drives you? Only you and God know the answer. Judith C.
REFLECTION:
Are your inner drives in tune with the Lord's drive for you?

May I always remain true to Your calling for me.
1st READING


Isaiah 49:1-6

We are all called to be prophets of the Word of God, the Good News of salvation. Each of us should be aware of this calling and always looking for the opportunity to put it into action. Isaiah reflects that his experience is that his mouth has become a sharpened sword that speaks the truth when God calls on him to speak. Let us pray that we will never tire of speaking the truth into a world so confused as it is by the lies of sin and the devil. Let us pray for the light of the truth to shine through the word of the example of our lives and not just the spoken words of our mouths.

1 Hear me, O coastlands, listen, O distant peoples. The LORD called me from birth, from my mother's womb he gave me my name. 2 He made of me a sharp-edged sword and concealed me in the shadow of his arm. He made me a polished arrow, in his quiver he hid me. 3 "You are my servant," he said to me, "Israel, through whom I show my glory." 4 Though I thought I had toiled in vain, and for nothing, uselessly, spent my strength, yet my reward is with the LORD, my recompense is with my God. 5 For now the LORD has spoken who formed me as his servant from the womb, that Jacob may be brought back to him and Israel gathered to him; and I am made glorious in the sight of the LORD, and my God is now my strength! 6 "It is too little," he says, "for you to be my servant, to raise up the tribes of Jacob, and restore the survivors of Israel; I will make you a light to the nations, that my salvation may reach to the ends of the earth."
P S A L M

Psalm 139:1-3, 13-14, 14-15

R: I praise you for I am wonderfully made.

1 O LORD, you have probed me and you know me; 2 you know when I sit and when I stand; you understand my thoughts from afar. 3 My journeys and my rest you scrutinize, with all my ways you are familiar. (R) 13 Truly you have formed my inmost being; you knit me in my mother's womb. 14 I give you thanks that I am fearfully, wonderfully made; wonderful are your works. (R) My soul also you knew full well; 15 nor was my frame unknown to you when I was made in secret, when I was fashioned in the depths of the earth. (R)
2nd READING
Acts 13:22-26

Repentance is a crucial aspect of our conversion to Jesus Christ. There is no true or lasting conversion without repentance of our sins. It can be hard and even embarrassing to confess our sins to the priest. Perhaps this is a good thing in that if we thought about it a bit more often, this embarrassment might even cause us to take greater steps to avoid sin in the first place! Now that would be a very good thing, would it not?

22 Then he removed him and raised up David as their king; of him he testified, 'I have found David, son of Jesse, a man after my own heart; he will carry out my every wish.' 23 From this man's descendants God, according to his promise, has brought to Israel a savior, Jesus. 24 John heralded his coming by proclaiming a baptism of repentance to all the people of Israel; 25 and as John was completing his course, he would say, 'What do you suppose that I am? I am not he. Behold, one is coming after me; I am not worthy to unfasten the sandals of his feet.' 26 My brothers, children of the family of Abraham, and those others among you who are God-fearing, to us this Word of Salvation has been sent.
G O S P E L
Luke 1:57-66, 80

The signs around the birth of John the Baptist do indeed indicate that God has special plans for him. However, I believe that this is true of all of us. Every person is a miracle of the gift of new life and God loves us all and has plans for all of our lives. How committed are we to seeking out God's Will for our lives? We cannot expect it to arrive as a text message or email from the Heavenly Center of God's Will. No, I am not trying to be funny or silly! This is a life or death issue! It is important that we each take responsibility for discovering God's Will for our lives.

57 When the time arrived for Elizabeth to have her child she gave birth to a son. 58 Her neighbors and relatives heard that the LORD had shown his great mercy toward her, and they rejoiced with her. 59 When they came on the eighth day to circumcise the child, they were going to call him Zechariah after his father, 60 but his mother said in reply, "No. He will be called John." 61 But they answered her, "There is no one among your relatives who has this name." 62 So they made signs, asking his father what he wished him to be called. 63 He asked for a tablet and wrote, "John is his name," and all were amazed. 64 Immediately his mouth was opened, his tongue freed, and he spoke blessing God. 65 Then fear came upon all their neighbors, and all these matters were discussed throughout the hill country of Judea. 66 All who heard these things took them to heart, saying, "What, then, will this child be?" For surely the hand of the LORD was with him. 80 The child grew and became strong in spirit, and he was in the desert until the day of his manifestation to Israel.

my reflections
think: There is no true or lasting conversion without repentance of our sins.
________________________________________________________
_________________________________________________________
God's special verse/thought for me today________________
_________________________________________________________

T O D A Y ' S BLESSING LIST
Thank You Lord for: ____________________________________
_______________________________________________________
READ THE BIBLE IN ONE YEAR Songs 5-8
SABBATH PAUSE
My weekly time with God
THANK YOU LIST
Things to be grateful for from the past week
________________________________________________________________
________________________________________________________________
_________________________________________________________________
SPECIAL NEEDS
Things to ask God for in the coming week
________________________________________________________________
_________________________________________________________________
________________________________________________________________
HIDDEN TREASURE
Most important word God told me this week
________________________________________________________________
_________________________________________________________________
_________________________________________________________________

NOMEN EST OMEN
St. John the Baptist, martyr, pray for us.
Many Filipino fathers name their sons after them. When there is already a "junior," they resort to "the third," "the fourth," and so forth and so on. My father was different. He did not want to name me after him. Funny but he reasoned out that if my name were similar to his and people badmouthed him, it would sound like they were badmouthing me.
Zechariah did not name his son after him. He named his son after God's choice. "John" was God's choice. It was not Zechariah who named his son after all. It was God who named his son. Zechariah simply wrote the name God gave his son. Very often, in the Bible, when God chooses a person for a special mission or a unique role, He gives that person a new name. Take for example, Abram became Abraham, Jacob became Israel, Levi became Matthew, and Simon became Peter. The mission or role is given in the name. As the Romans would say, "Nomen est omen " ("The destiny is in the name").
John's name meant "God's graciousness". John fulfilled that role. He was God's kindness to his otherwise old and barren parents. He was God's favor upon the Jews, preparing them for the eventual coming of the Messiah. He was God's compassion to the repentant sinners who came to him for baptism. He was God's graciousness to us by testifying to the Christ in life and in death.
John's mission was to bring about God's graciousness. But what is ours? We may not be named "John" but we also go by the name "Christian," do we not?
Fr. Bobby T.
REFLECTION QUESTION: Do I live up to my name "Christian"?
Lord, I ask You to not only bless me; please make me Your blessing to others. I beg You to not only answer my prayers; please make me Your answer to the prayers of others. Each day, may I live up to the mission and role You gave me at baptism. May I be a true Christian at all times, in all places, and to all people. Amen.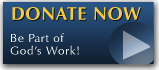 The Feast - Photo Gallery
Come as you will be in 2014

The FEAST is one of the happiest places on earth.

Click Here to find a Feast near you!
KERYGMA TV! is BACK
KERYGMA TV is on a new time slot and new channel Sundays 8 a.m. at IBC 13
Need Counseling? No Landline?
Now, you can use your mobile phone to call a friend for counseling at 09228407031. Or you may call our landlines 7266728, 7264709, 7259999 Mon-Fri 24-hrs, Sat 6am-5pm, Sun 6am-10am
BO BLOGS!
Go to Bo's Official Site and read his almost daily blog! Its not news, but thoughts and musings of Bo Sanchez. Get to know Bo in a more personal way --and find out what it means to live the life of a preacher. You get to enrich your faith as well.
DONATION
Remember to always donate your "first fruits"-not the last. Click on the "Donation" Box under the members menu - and you'll even see links to the nearest branches of the Banks where you can deposit.