READINGS for 2007-05-12
INSTRUCTIONS
"If the world hates you, realize that it hated me first." – John 15:18

As a grade five student, I knew how it felt not to belong. I was the only one in our class with thick, geeky black framed eyeglasses. I was ranked the fourth heaviest boy in our batch. (Gee, I really thought I was the fifth.) And while all of my classmates wore long pants, I was wearing my Grade 4 (short) shorts. So when I got to high school I vowed to myself that I will never again be mocked. I made sure I wore the latest fashion. Never mind if I looked like an uncooked sausage in my stretch pencil-cut pants. And of course, I mastered the art of tucking in my tummy, taking full breaths only when nobody is looking.
Sigh! The things we do just to gain the world's approval.
Sometimes doing what God wants requires us to make unpopular decisions. Many times following Him means saying yes when the world says no; telling the truth even when it is more convenient to lie; and keeping a promise even if it means going out of our comfort zones.
Today's reading reminds us that Jesus went through the humiliation, persecution and rejection long before us. Are you being despised for the sake of the Gospel? Rejoice, you are in good company. Randy B.
REFLECTION:
When faced with a choice between the approval of the world and doingGod's will, what will I choose?

Lord, give me the character and strength to choose you over the approval of the world. Make me strong in my commitment to do Your will amidst the opposition and the temptations of the world. Amen.
1st READING

Acts 16:1-10

Paul's journeys have an epic quality to them. When we read about them it is often a matter of rolling the names of the various towns off the tips of our tongues and then on to the next one. There is little sense of how difficult such travels would have been 2,000 years ago. We think in terms of planes, trains and automobiles. Paul's reality would have been camels, horses and walking!

1 Paul reached also Derbe and Lystra where there was a disciple named Timothy, the son of a Jewish woman who was a believer, but his father was a Greek. 2 The brothers in Lystra and Iconium spoke highly of him, 3 and Paul wanted him to come along with him. On account of the Jews of that region, Paul had him circumcised, for they all knew that his father was a Greek. 4 As they traveled from city to city, they handed on to the people for observance the decisions reached by the apostles and presbyters in Jerusalem. 5 Day after day the churches grew stronger in faith and increased in number. 6 They traveled through the Phrygian and Galatian territory because they had been prevented by the Holy Spirit from preaching the message in the province of Asia. 7 When they came to Mysia, they tried to go on into Bithynia, but the Spirit of Jesus did not allow them, 8 so they crossed through Mysia and came down to Troas. 9 During [the] night Paul had a vision. A Macedonian stood before him and implored him with these words, "Come over to Macedonia and help us." 10 When he had seen the vision, we sought passage to Macedonia at once, concluding that God had called us to proclaim the Good News to them.
P S A L M

Psalm 100:1-2, 3, 5
R: Let all the earth cry out to God with joy.

1 Sing joyfully to the LORD, all you lands; 2 serve the LORD with gladness; come before him with joyful song. (R) 3 Know that the LORD is God; he made us, his we are; his people, the flock he tends. (R) 5 The Lord is good: his kindness endures forever, and his faithfulness, to all generations. (R)
G O S P E L
John 15:18-21

Jesus affirms that we will suffer if we take on the call to discipleship. Suffering does not end with the cross of Jesus; it begins there and continues on to wherever the Gospel is preached. It is our responsibility as disciples to embrace the suffering that comes with the living of the Gospel and to present this challenge to others. This is the only way that the true Gospel will be proclaimed to the nations.

18 "If the world hates you, realize that it hated me first. 19 If you belonged to the world, the world would love its own; but because you do not belong to the world, and I have chosen you out of the world, the world hates you. 20 Remember the Word I spoke to you, 'No slave is greater than his master.' If they persecuted me, they will also persecute you. If they kept my word, they will also keep yours. 21 And they will do all these things to you on account of my name, because they do not know the one who sent me."

my reflections
think: Suffering does not end with the cross of Jesus; it begins there and continues on to wherever the Gospel is preached.
_______________________________________________________
________________________________________________________
God's special verse/thought for me today________________
_________________________________________________________

T O D A Y ' S BLESSING LIST
Thank You Lord for: ____________________________________
_______________________________________________________
READ THE BIBLE IN ONE YEAR Job 6-9
THE DANGER OF IGNORANCE AND BEING DIFFERENT
When Jesus speaks, he speaks in "black and white." A person is either for him or against him. A person cannot serve God and money. And there is the world and there are the followers of Christ who don't get along with each other. Jesus speaks clearly about persecutions that would haunt his followers. He never lured people into following him by making unrealistic promises. He spoke always the truth, because he is the Truth. The early Church faced many persecutions. First some Jewish authorities started it because they saw in the teachings of the Christians a threat to their religion. They persecuted the young Church, like young Saul (Paul), not because they were bad people, but because they were deeply religious people and could not understand that a crucified man could have been the Messiah. And to call him 'Son of God' was blasphemy for them. Also the Romans were not bad people when they persecuted Christians; they did not understand them and their teaching because they did not even try to know Christianity better. A Roman historian wrote that there are people "hated for their crimes, whom the mob call Christians." Another Roman writer called them "a race of men who belong to a new and evil superstition." The Roman government suspected them to be not loyal because they refused to offer incense to the statue of the emperor. Shallow knowledge and ignorance can lead to horrible injustices and suffering. Nonconformity is always suspect.
We feel often sad when non-Catholics accuse us of idolatry because we have statues in our churches and homes. It is ignorance and sometimes the refusal to learn and understand that causes this rift. But we Catholics can also at times do injustice to members of other religions. What injustices have been done by Christians to the Jews! Even now, I encounter sometimes Catholics who make derogatory remarks about Jews and Muslims. Why?
Because they don't know their religion well enough to appreciate it.
By the way, do we know our own religion enough? Do we try to overcome ignorance and gain a profound knowledge about our Bible and our faith? Fr. Rudy H.

REFLECTION QUESTION: Do I do enough to know profoundly Christ, his teaching and my faith? Have I the courage to be different among my friends and coworkers?

Lord, give me the strength and courage to be different – for You. Send me Your Spirit to enlighten me and so deepen my knowledge and love for You.

St. Dominic de la Calzada, hermit, pray for us.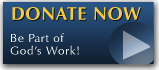 The FEAST is one of the happiest places on earth.

Click Here to find a Feast near you!
KERYGMA TV! is BACK
KERYGMA TV is on a new time slot and new channel Sundays 8 a.m. at IBC 13
Need Counseling? No Landline?
Now, you can use your mobile phone to call a friend for counseling at 09228407031. Or you may call our landlines 7266728, 7264709, 7259999 Mon-Fri 24-hrs, Sat 6am-5pm, Sun 6am-10am
BO BLOGS!
Go to Bo's Official Site and read his almost daily blog! Its not news, but thoughts and musings of Bo Sanchez. Get to know Bo in a more personal way --and find out what it means to live the life of a preacher. You get to enrich your faith as well.
DONATION
Remember to always donate your "first fruits"-not the last. Click on the "Donation" Box under the members menu - and you'll even see links to the nearest branches of the Banks where you can deposit.