READINGS for 2007-05-09
YES, LORD!
"If you remain in me and my words remain in you, ask whatever you want and it will be done for you." – John 15:7

I was elected as vice-president for finance in our village association. Last Easter I was able to organize our first-ever egg hunt. With the help of some friends I was able to solicit goods for the children. Well, I decided to lift up everything to God. And voila! I only asked five people for donations, each person to donate two packs of assorted candies and every time they called me back for pick up, they would hand me at least six packs! Suddenly, generous donors from nowhere donated eggs and plastic eggs too for the candies... but best of all, we were able to ask Jollibee to donate some burgers.
I accepted God as my personal Lord and Savior last 1993. Not all my experiences have been like the one above, but even with trials from time to time, I try to treat them as God's way of letting me know that I have a "big guy" to back me up. Now that is what I call a blessing! Marissa E.
REFLECTION:
Are you ready to entrust your life to God?

Lord, beginning today I fully entrust my life into Your hands. You've always known what's best for me. Thank You for answering our prayers.

1st READING

Acts 15:1-6

The Early Church had its problems with doctrines and practices. It would take them a little while to settle some of them, yet settle them they did in order to preserve the Unity of the Spirit of God between them. We cannot allow differences of opinion to cause splits in the unity of the Body of Christ. This is a scandal and great hindrance to the proclamation of the Gospel. We should work hard to repair the historical disagreements so that the Church will be able to bear a united witness to the love of God in Christ Jesus our Lord.

1 Some who had come down from Judea were instructing the brothers, "Unless you are circumcised according to the Mosaic practice, you cannot be saved." 2 Because there arose no little dissension and debate by Paul and Barnabas with them, it was decided that Paul, Barnabas, and some of the others should go up to Jerusalem to the apostles and presbyters about this question. 3 They were sent on their journey by the church, and passed through Phoenicia and Samaria telling of the conversion of the Gentiles, and brought great joy to all the brothers. 4 When they arrived in Jerusalem, they were welcomed by the church, as well as by the apostles and the presbyters, and they reported what God had done with them. 5 But some from the party of the Pharisees who had become believers stood up and said, "It is necessary to circumcise them and direct them to observe the Mosaic law." 6 The apostles and the presbyters met together to see about this matter.
P S A L M

Psalm 122:1-2, 3-4, 4-5

R: Let us go rejoicing to the house of the Lord.

1 I rejoiced because they said to me,"We will go up to the house of the LORD." 2 And now we have set foot within your gates, O Jerusalem. (R) 3 Jerusalem, built as a city with compact unity. 4 To it the tribes go up, the tribes of the LORD. (R) According to the decree for Israel, to give thanks to the name of the LORD. 5 In it are set up judgment seats, seats for the house of David. (R)
G O S P E L
John 15:1-8

Jesus affirms that apart from Him we are powerless to do anything. We must seek to remain one with God in mind and heart at all times and never allow the lies of the devil to insert instruments or means of division within our personal relationships with God or each other. Let us pray for those who are struggling in this area with deception and lies from the devil that the truth may be made clear to them and that they will return to Jesus, the true vine.

1 "I am the true vine, and my Father is the vine grower. 2 He takes away every branch in me that does not bear fruit and everyone that does, he prunes so that it bears more fruit. 3 You are already pruned because of the Word that I spoke to you. 4 Remain in me, as I remain in you. Just as a branch cannot bear fruit on its own unless it remains on the vine, so neither can you unless you remain in me. 5 I am the vine, you are the branches. Whoever remains in me and I in him will bear much fruit, because without me you can do nothing. 6 Anyone who does not remain in me will be thrown out like a branch and wither; people will gather them and throw them into a fire and they will be burned. 7 If you remain in me and my words remain in you, ask for whatever you want and it will be done for you. 8 By this is my Father glorified, that you bear much fruit and become my disciples."

my reflections
think: We must seek to remain one with God in mind and heart at all times.
________________________________________________________
_________________________________________________________
God's special verse/thought for me today________________
_________________________________________________________

T O D A Y ' S BLESSING LIST
Thank You Lord for: ____________________________________
_______________________________________________________
READ THE BIBLE IN ONE YEAR Esther 6-7
WHAT KIND OF GRAPE AM I?
When Jesus taught, He never bored his listeners with abstract philosophical and theological theories. He took images from the Hebrew Bible, so familiar to His audience, and from the world around them so they could easily understand the point he was making. People in Palestine, as in other Mediterranean countries, drank a lot of wine. It was what for us is Coke and Sprite. Vineyards were everywhere. During summer, they impress with their lush green leaves; in autumn, they overwhelm with their golden foliage. But during winter and spring, it seems nothing of the vine is left because the vinedresser has cut off all branches except a few. This is done to guarantee more and bigger grapes. Jesus used this image to tell us that such pruning has also to be done in our lives. Many children today demand, "I want this; I want that." Or they complain easily, "I don't want this." Here pruning by the parents is necessary, otherwise they become spoiled brats. But why focus on children? Are we adults not also tempted to get what we want and reject what does not fit in our plans?
The image of the vine and the branches speaks also about the profound unity Christ desires to have with us, a unity which He knows is essential for our salvation. Jesus uses the word "remain" several times in the few sentences of our gospel. That means, our relationship with Christ is supposed to be not just a passing encounter, but a permanent and solid relationship that integrates our whole being into His. As the vine cannot bring forth leaves and sweet juicy grapes without being continuously nourished from the roots through the stem, so we will not be able to bring the fruits of a genuine Christian living without being deeply united with Christ.
Going to church when we feel like going, coming late without listening to the word of God, remaining ignorant in matters of faith endangers our future salvation because we lack the nourishment God provides so abundantly for us. Many do not like to hear the word hell; many doubt its existence or think that, because of God's mercy, hell must be empty. But let us not ignore what Jesus said about fruitless branches, about their being thrown away and burned! God is loving and merciful, no doubt. But He also expects a lot from us. Fr. Rudy H.

REFLECTION QUESTION: Am I ready to "prune" my desires in order to bring fruit for the Lord?

Lord, my vine, let my weak branch never be separated from you. Continue to nourish me as I strive to remain united with You.

St. Beatus of Vendome, missionary, pray for us.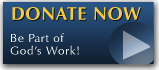 The FEAST is one of the happiest places on earth.

Click Here to find a Feast near you!
KERYGMA TV! is BACK
KERYGMA TV is on a new time slot and new channel Sundays 8 a.m. at IBC 13
Need Counseling? No Landline?
Now, you can use your mobile phone to call a friend for counseling at 09228407031. Or you may call our landlines 7266728, 7264709, 7259999 Mon-Fri 24-hrs, Sat 6am-5pm, Sun 6am-10am
BO BLOGS!
Go to Bo's Official Site and read his almost daily blog! Its not news, but thoughts and musings of Bo Sanchez. Get to know Bo in a more personal way --and find out what it means to live the life of a preacher. You get to enrich your faith as well.
DONATION
Remember to always donate your "first fruits"-not the last. Click on the "Donation" Box under the members menu - and you'll even see links to the nearest branches of the Banks where you can deposit.