READINGS for 2007-03-30
THROWING ROCKS
...picked up rocks to stone him. – John 10:31
I have thrown many rocks in my life. Worse, I have thrown them at Jesus and the people around me. And even at myself.
My big rocks include not trusting God enough during the hard times, dislodging Him from the driver's seat of my life, not obeying His will, not loving and caring for my family as I should, and sometimes not trying hard enough to reach out to those who may be in need. Oh, yes, rocks of pride, too... lots of it. I have medium-sized rocks, too, like not being faithful to my friendship with God, or talking about other people behind their backs, being too critical and judgmental of them, or not being a good steward of God's resources. Carelessly, I have thrown many tiny rocks, like telling white lies and not fulfilling my promises and commitments.
The rocks may be big, medium-sized, or tiny ones, but they can hurt the people they're thrown at. I shudder at how much hurt I have caused Jesus. By now, He could be bruised all over with the great number of rocks I've thrown at Him. Still, He continues to endure them for the love of me, always waiting for me to offer Him a bouquet of good deeds instead of rocks! TessVA.
REFLECTION:
What are your rocks?
Lord, please help me to restrain myself from throwing rocks – at Jesus, at other people, at myself.
1st READING
Jeremiah 20:10-13

Jeremiah struggled against many persecutors for much of his ministry as a prophet. He grumbled and complained about his lot in life but was always faithful to the command of the Lord. God is not really interested in whether or not we like what He asks us to do. He is interested in our obedience to His Word. Let us pray that we can overcome any reluctance to follow His will through knowing that it is through obedience that we will inherit the gift of eternal life.

10 I hear the whisperings of many, "Terror on every side! Denounce! Let us denounce him!" All those who were my friends are on the watch for any misstep of mine. "Perhaps he will be trapped; then we can prevail, and take our vengeance on him." 11 But the LORD is with me, like a mighty champion my persecutors will stumble, they will not triumph. In their failure they will be put to utter shame, to lasting, unforgettable confusion. 12 O LORD of hosts, you who test the just, who probe mind and heart, let me witness the vengeance you take on them, for to you I have entrusted my cause. 13 Sing to the LORD, praise the LORD, for he has rescued the life of the poor from the power of the wicked!
P S A L M

Psalm 18: 2-3, 3-4, 5-6, 7

R: In my distress I called upon the Lord, and he heard my voice.

1 [2] I love you, O LORD, my strength, 2 [3] O LORD, my rock, my fortress, my deliverer. (R) My God, my rock of refuge, my shield, the horn of my salvation, my stronghold! 3 [4] Praised be the LORD, I exclaim, and I am safe from my enemies. (R) 4 [5] The breakers of death surged round about me, the destroying floods overwhelmed me; 5 [6] the cords of the nether world enmeshed me, the snares of death overtook me. (R) 6 [7] In my distress I called upon the LORD and cried out to my God; from his temple he heard my voice, and my cry to him reached his ears. (R)
G O S P E L
John 10:31-42

Jesus seems to be able to elude the Jews when He needs to. I think that this is part of John's literary plan demonstrating that Jesus will submit to His Passion and Death when the time is right. This is not yet the case, so Jesus eludes capture and stoning. There are times and seasons of grace in our own lives. Let us seek to be attentive to them and embrace them when they come as the gifts from God that they are leading us deeper into relationship with him.

31 The Jews again picked up rocks to stone him. 32 Jesus answered them, "I have shown you many good works from my Father. For which of these are you trying to stone me?" 33 The Jews answered him, "We are not stoning you for a good work but for blasphemy. You, a man, are making yourself God." 34 Jesus answered them, "Is it not written in your Law, I said, 'You are gods'? 35 If it calls them gods to whom the word of God came, and scripture cannot be set aside, 36 can you say that the one whom the Father has consecrated and sent into the world blasphemes because I said, 'I am the Son of God'? 37 If I do not perform my Father's works, do not believe me; 38 but if I perform them, even if you do not believe me, believe the works, so that you may realize [and understand] that the Father is in me and I am in the Father." 39 [Then] they tried again to arrest him; but he escaped from their power. 40 He went back across the Jordan to the place where John first baptized, and there he remained. 41 Many came to him and said, "John performed no sign, but everything John said about this man was true." 42 And many there began to believe in him.

my reflections
think: God is not really interested in whether or not we like what He asks us to do. He is interested in our obedience to His Word.
________________________________________________________
_________________________________________________________
God's special verse/thought for me today________________
_________________________________________________________

T O D A Y ' S BLESSING LIST
Thank You Lord for: ____________________________________
_______________________________________________________
READ THE BIBLE IN ONE YEAR 1 Kings 17-19
SPEAK OUT!
Why do some Christians choose to remain silent while there are so many bad things happening around them? We are aware that the challenge for us is to speak against the evils of this world so that evil may not flourish. But most of us still find it difficult to do because we know what happens to those who choose to become prophets. Most of the prophets of old died a martyr's death. And we just wouldn't want to play along those dangerous lines.
A factory worker discovered an anomaly in their company. He was surprised to find out that some of his closest friends were involved in it. He immediately called the attention of his friends out of concern for them. But they took offense of him for his supposed holier than thou attitude. He was ostracized by his friends to the point of losing their friendship entirely.
A group of teenagers decided to have some clean fun. But one of them suggested that they ought to become more adventurous and daring that time. He suggested they go to a girly bar. Through that person's prodding all of them agreed except for one who said it's not right. Quite suddenly, although expectedly, he's been regarded as "uncool" by his friends. Prophets have to put up with ill-treatments from others despite the fact that they are doing the good thing.
Jesus said to the Jews, "I have shown you many good works from the Father; for which of these do you stone me?" (Jn 10:32). All of us know that Jesus did nothing but good works, but he was still persecuted. Nonetheless that did not stop him from pursuing still what is right. He kept on performing miracles and speaking against the iniquities of this world.
Looking at what Christ did, we know that even if he suffered for what he did that is still the right thing to do. The Father vindicated Christ. Like Christ, Christians need not be discouraged in engaging in works of a prophet. For we know that that is the essence of our faith—to reflect the light of Christ in our life that people may be drawn to a life of holiness. Persecutions may come but God will surely vindicate us in the end. Fr. Sandy V. E.

REFLECTION QUESTION: Are you ready to stand up for the truth?

Strengthen my resolve, Lord, to do Your will.
St. Zosimus, bishop, pray for us.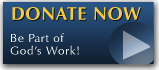 The FEAST is one of the happiest places on earth.

Click Here to find a Feast near you!
KERYGMA TV! is BACK
KERYGMA TV is on a new time slot and new channel Sundays 8 a.m. at IBC 13
Need Counseling? No Landline?
Now, you can use your mobile phone to call a friend for counseling at 09228407031. Or you may call our landlines 7266728, 7264709, 7259999 Mon-Fri 24-hrs, Sat 6am-5pm, Sun 6am-10am
BO BLOGS!
Go to Bo's Official Site and read his almost daily blog! Its not news, but thoughts and musings of Bo Sanchez. Get to know Bo in a more personal way --and find out what it means to live the life of a preacher. You get to enrich your faith as well.
DONATION
Remember to always donate your "first fruits"-not the last. Click on the "Donation" Box under the members menu - and you'll even see links to the nearest branches of the Banks where you can deposit.