READINGS for 2007-03-27
COUNT YOUR BLESSINGS
"We are disgusted with this wretched food!" – Numbers 21:5

The mere fact that we are able to wake up each morning is already such a blessing beyond compare; it is a miracle.
Just how blessed are we indeed to be able to bathe ourselves with hot and cold running water (while others have to fetch for it), to have food on the table during breakfast (while others still have to look for what to eat the next day), to have a car to bring us to our work place (while others have to walk a mile or two to reach their destination), to be in an airconditioned room while we work (while others have to toil amidst sunshine and rain), to have hot meals for lunch (while others have no choice but to eat whatever is available), to be able to take power naps and coffee breaks (while others don't have this kind of luxury), to have dinner with the family and watch TV as we recline and call it a day (while others don't even have a TV so they go ahead and sleep the night away to wake up to another day).
How blessed are we really. So, let's count our blessings instead of complaining. Henry Y.
REFLECTION:
Have you counted your blessings today?

For the times we grumble and fail to praise You, forgive us.
1st READING
Numbers 21:4-9

The Old Testament has a very simple message of reward and punishment for the things that we do or fail to do. Fiery serpents have been set loose in the Israelite camp because of their sin and grumbling – their lack of faith and trust in God. Moses, the great intercessor, has gone before God and received the promise that those who look upon the standard that he makes will be healed. This echoes the New Testament understanding that all who look upon Christ lifted up on the cross will be healed of their sins.

4 From Mount Hor they set out on the Red Sea road, to by pass the land of Edom. But with their patience worn out by the journey, 5 the people complained against God and Moses, "Why have you brought us up from Egypt to die in this desert, where there is no food or water? We are disgusted with this wretched food!" 6 In punishment the LORD sent among the people saraph serpents, which bit the people so that many of them died. 7 Then the people came to Moses and said, "We have sinned in complaining against the LORD and you. Pray the LORD to take the serpents from us." So Moses prayed for the people, 8 and the LORD said to Moses, "Make a saraph and mount it on a pole, and if anyone who has been bitten looks at it, he will recover." 9 Moses accordingly made a bronze serpent and mounted it on a pole, and whenever anyone who had been bitten by a serpent looked at the bronze serpent, he lived.
P S A L M

Psalm 102:2-3, 16-18, 19-21

R: O Lord, hear my prayer, and let my cry come to you.

1 [2] O LORD, hear my prayer, and let my cry come to you. 2 [3] Hide not your face from me in the day of my distress. Incline your ear to me; in the day when I call, answer me speedily. (R) 15 [16] And the nations shall revere your name, O LORD, and all the kings of the earth your glory, 16 [17] when the LORD has rebuilt Zion and appeared in his glory; 17 [18] when he has regarded the prayer of the destitute, and not despised their prayer. (R) 18 [19] Let this be written for the generation to come, and let his future creatures praise the LORD. 19 [20] "The LORD looked down from his holy height, from heaven he beheld the earth, 20 [21] To hear the groaning of the prisoners, to release those doomed to die."
G O S P E L
John 8:21-30

Jesus is in confrontation mode with the Jewish leaders. He is not going to take a step back and compromise what He knows to be true. Sometimes it is essential that we have the same fortitude as Jesus when it is a moral principle at sake. Giving in to something that we know to be wrong is never the right thing to do – it is a betrayal of the truth, a betrayal of all that Jesus stands for in the Gospel.

21 He said to them again, "I am going away and you will look for me, but you will die in your sin. Where I am going you cannot come." 22 So the Jews said, "He is not going to kill himself, is he? Because he said, 'Where I am going you cannot come'?" 23 He said to them, "You belong to what is below, I belong to what is above. You belong to this world, but I do not belong to this world. 24 That is why I told you that you will die in your sins. For if you do not believe that I AM, you will die in your sins." 25 So they said to him, "Who are you?" Jesus said to them, "What I told you from the beginning. 26 I have much to say about you in condemnation. But the one who sent me is true, and what I heard from him I tell the world." 27 They did not realize that he was speaking to them of the Father. 28 So Jesus said [to them], "When you lift up the Son of Man, then you will realize that I AM, and that I do nothing on my own, but I say only what the Father taught me. 29 The one who sent me is with me. He has not left me alone, because I always do what is pleasing to him." 30 Because he spoke this way, many came to believe in him.
my reflections
think: Giving in to something that we know to be wrong is never the right thing to do – it is a betrayal of the truth, a betrayal of all that Jesus stands for in the Gospel.
________________________________________________________
_________________________________________________________
God's special verse/thought for me today________________
_________________________________________________________

T O D A Y ' S BLESSING LIST
Thank You Lord for: ____________________________________
_______________________________________________________
READ THE BIBLE IN ONE YEAR 1 Kings 9-11
JUDGING BY APPEARANCE
Remember John 3:18 where Jesus said, "Whoever does not believe has already been condemned"? Well, the truth is, Jesus doesn't need to judge us anymore. By our rejection of His grace and love, and our refusal to be converted and to believe in Him as the Light of the World, we already bring judgment upon ourselves.
Jesus does not condemn. Even the Last Judgment scenario in the Gospel of Matthew (Matthew 25) shows this truth clearly. It's our selfish acts that bring us judgment and condemnation. But Jesus came that we may have life, and have it to the full.
In order for us to attain this life, He provides us with means to find our way to his life that He offers. He bids us to walk in the light. But as the third chapter of John records, human beings love darkness. Even if the light came into the world, they preferred darkness because their works were evil (John 3:19). So again, it's not Jesus but our acts that bring us condemnation.
In contrast, we, who by believing in Jesus are given a reprieve from the punishment due our sins, are prone to judging others. And not only do we judge them quickly, most of the time, we base our judgment on appearances. This happens when we continue to live in darkness.
But today, our Lord calls on us to believe in Him as the light of the world and the light of our lives. That means following Him and not walking in the darkness of sin, ignorance, selfishness and unbelief again.
This way, our lives would become living testaments to the life and the Gospel of Jesus, and to the One who sent him — His Father in heaven. Fr. Toni N.

REFLECTION QUESTION: In what way have I experienced Jesus as the Light of the World and the Light of life?

Lord, be a lamp to my feet and a light to my path. Let me never walk in darkness
again. Amen.

St. Amator, hermit, pray for us.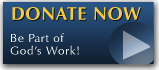 The FEAST is one of the happiest places on earth.

Click Here to find a Feast near you!
KERYGMA TV! is BACK
KERYGMA TV is on a new time slot and new channel Sundays 8 a.m. at IBC 13
Need Counseling? No Landline?
Now, you can use your mobile phone to call a friend for counseling at 09228407031. Or you may call our landlines 7266728, 7264709, 7259999 Mon-Fri 24-hrs, Sat 6am-5pm, Sun 6am-10am
BO BLOGS!
Go to Bo's Official Site and read his almost daily blog! Its not news, but thoughts and musings of Bo Sanchez. Get to know Bo in a more personal way --and find out what it means to live the life of a preacher. You get to enrich your faith as well.
DONATION
Remember to always donate your "first fruits"-not the last. Click on the "Donation" Box under the members menu - and you'll even see links to the nearest branches of the Banks where you can deposit.