READINGS for 2007-03-14
PASS IT ON
Teach them to your children and to your children's children. – Deuteronomy 4:9

When I was in Florence, Italy last year, I got lost and ended up late at night on a bus that was near empty. A Filipino man and woman got on the bus with a three- or four-year-old boy. I was surprised to hear them speak to the boy in Tagalog. And not only were they speaking to him in Tagalog, they were teaching him how to "mano" (kiss the hand) of his grandma when they got home. Aside from that, they were careful to point out a teenage boy who was on the bus with a beer bottle in his hand. They asked the boy what he thought of that and he answered (in excellent Tagalog) that drinking could be harmful and that he wouldn't do that when he grew up.
Of course I doubted whether the boy would really not drink when he got to his teen years. But I was impressed that this young couple would take the time to teach their little boy the values that their parents had instilled upon them… especially as they no longer were in their native land.
How else do we ensure that what we value is not left buried under the ground when we are? Do we not need to teach our children well? Victoria L.
REFLECTION:
For us single people who do not have children of our own, do we take care to pass on what we value in some way to those we have influence over?

May the blessing You have given me never die out but be passed on to those that come after me.
1st READING
Deuteronomy 4:1, 5-9

Obedience to God's Law is a fundamental aspect of our faith. This is what our covenant way of life is all about. Without the Law, there is no lifestyle that marks the People of God as distinct from all of the other peoples of the world. No, we are not meant to be some sort of elitist group; but we are called to be faithful to a lifestyle of truth and love that reflects the intention of God when he created humanity. This is a big challenge today with a world that is seeking to break down the Judao-Christian moral ethic.

1 "Now, Israel, hear the statutes and decrees which I am teaching you to observe, that you may live, and may enter in and take possession of the land which the LORD, the God of your fathers, is giving you. 5 Therefore, I teach you the statutes and decrees as the LORD, my God, has commanded me, that you may observe them in the land you are entering to occupy. 6 Observe them carefully, for thus will you give evidence of your wisdom and intelligence to the nations, who will hear of all these statutes and say, 'This great nation is truly a wise and intelligent people.' 7 For what great nation is there that has gods so close to it as the LORD, our God, is to us whenever we call upon him? 8 Or what great nation has statutes and decrees that are as just as this whole law which I am setting before you today? 9 However, take care and be earnestly on your guard not to forget the things which your own eyes have seen, nor let them slip from your memory as long as you live, but teach them to your children and to your children's children."
P S A L M

Psalm 147:12-13, 15-16, 19-20

R: Praise the Lord, Jerusalem.

12 Glorify the LORD, O Jerusalem; praise your God, O Zion. 13 For he has strengthened the bars of your gates; he has blessed your children within you. (R) 15 He sends forth his command to the earth; swiftly runs his word! 16 He spreads snow like wool; frost he strews like ashes. (R) 19 He has proclaimed his word to Jacob, his statutes and his ordinances to Israel. 20 He has not done thus for any other nation; his ordinances he has not made known to them. (R)
G O S P E L
Matthew 5:17-19
Jesus affirms that He has not come to abolish the Law. Yes, He radicalizes it but this act only serves to call us to a deeper obedience to the Law than was previously asked. Jesus submitted to the Law insofar as it applied to Him in all that He did. Yes, He challenged particular understandings of the Law such as the Sabbath, however He never abolished them. Let us pray for the grace to understand the demands of the Law more completely and then the further grace to put them all into practice.

17 "Do not think that I have come to abolish the law or the prophets. I have come not to abolish but to fulfill. 18 Amen, I say to you, until heaven and earth pass away, not the smallest letter or the smallest part of a letter will pass from the law, until all things have taken place. 19 Therefore, whoever breaks one of the least of these commandments and teaches others to do so will be called least in the kingdom of heaven. But whoever obeys and teaches these commandments will be called greatest in the kingdom of heaven."
my reflections
think: Let us pray for the grace to understand the demands of the Law more completely and then the further grace to put them all into practice.

________________________________________________________
_________________________________________________________

God's special verse/thought for me today________________
_________________________________________________________

T O D A Y ' S BLESSING LIST
Thank You Lord for: ____________________________________
_______________________________________________________
READ THE BIBLE IN ONE YEAR 1 Samuel 21-24
WHEN HE SEES HIS IMAGE
A story is told of a group of women that met for Bible study.
While studying the book of Malachi, chapter three, they came across verse three which says: "He will sit as a refiner and purifier of silver." This verse puzzled the women and they wondered how this statement applied to the character and nature of God. One of the women offered to find out more about the process of refining silver, and to get back to the group at their next Bible study. The following week, the woman called up a silversmith and made an appointment to watch himn while at work. She didn't mention anything about the reason for her interest, beyond her curiosity about the process of refining silver.
As she watched the silversmith work, he held a piece of silver over the fire and let it heat up. He explained that in refining silver, one needed to hold the silver in the middle of the fire, where the flames were the hottest, so as to burn away all the impurities.
The woman thought about God holding us in such a hot spot, then she thought again about the verse that "He sits as a refiner and purifier of silver." She asked the silversmith if it was true that he had to sit there in front of the fire the entire time the silver was being refined.
The man answered yes, that not only did he have to sit there holding the silver, but he had to keep his eyes on it the entire time it was in the fire. If the silver was left even a moment too long in the flames, it would be destroyed.
The woman was silent for a moment. Then she asked the silversmith, "But how do you know when the silver is fully refined?" He smiled at her and answered, "Oh, that's easy - when I see my image in it." (Tina Harrison)
Some of the first words of God that were ever written were, "…he created man in his own image..." This serves as a stamp on each man—God's image has its imprint on all his human creation. Nonetheless, we have to know that while it is already a given fact, it is still a project or a mission that everyone must work to sustain. That imprint must be continually realized in one's person and life. We can only know that "it is done" when the image of God can truly be reflected on our life, such that like St. John, man may be able to say, "it is no longer I that lives but Christ lives in me. Fr. Sandy V. E.

REFLECTION QUESTION: Are you done yet?

Father, thank You that You don't leave me in the flames for longer than necessary.

St. Boniface Curitan, bishop, pray for us.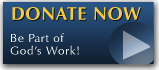 The FEAST is one of the happiest places on earth.

Click Here to find a Feast near you!
KERYGMA TV! is BACK
KERYGMA TV is on a new time slot and new channel Sundays 8 a.m. at IBC 13
Need Counseling? No Landline?
Now, you can use your mobile phone to call a friend for counseling at 09228407031. Or you may call our landlines 7266728, 7264709, 7259999 Mon-Fri 24-hrs, Sat 6am-5pm, Sun 6am-10am
BO BLOGS!
Go to Bo's Official Site and read his almost daily blog! Its not news, but thoughts and musings of Bo Sanchez. Get to know Bo in a more personal way --and find out what it means to live the life of a preacher. You get to enrich your faith as well.
DONATION
Remember to always donate your "first fruits"-not the last. Click on the "Donation" Box under the members menu - and you'll even see links to the nearest branches of the Banks where you can deposit.