READINGS for 2006-03-23
HIS WAYS
Walk in all the ways I command you and you will prosper. ? Jeremiah 7:23
When I left the seminary, I was sure I that in a short time I would end up as supervisor or manager. I had friends who were in multinational companies, In no time I would be driving my own car and owning my dream house. But things didn?t turn out that way. I had hard times applying for job. Friends only spoke empty promises and I ended up jobless for a year. When a job finally came, it was a teaching job?the kind of work I liked the least. But I felt like I had no choice. And so I accepted it, and every day I was miserable, refusing to let go of the dream of becoming a manager. When I got married, my family life suffered. Both my wife and I ended up with empty pockets the day after payday. But One day, I realized that my desire for things material had blinded me from seeing that God wanted me to teach. It was the work He knew that I would enjoy because I could make a difference in the lives of the young. Suddenly, everything fell into place. Working became fun and fulfilling. Even my family life started to get well. We still managed to save for the future. When I started to walk in His ways, I began to prosper. Mike M.
REFLECTION:
Am I living in God?s will?
May Your will be done, O Lord.
1st READING

Jeremiah 7:23-28

The human heart can be such a fickle thing. One moment it can be totally enamored by the love of God and nothing is too much to ask of it. And then a few minutes later it can be caught in a web of thoughts that lead to sin! This is what we have to deal with every day. There often seems to be a lack of consistency within our desires and hopes and dreams. Let us seek to listen more closely to God?s Word and so follow His path for our lives.

23 This rather is what I commanded them, ?Listen to my voice; then I will be your God and you shall be my people. Walk in all the ways that I command you, so that you may prosper.? 24 But they obeyed not, nor did they pay heed. They walked in the hardness of their evil hearts and turned their backs, not their faces, to me. 25 From the day that your fathers left the land of Egypt even to this day, I have sent you untiringly all my servants the prophets. 26 Yet they have not obeyed me nor paid heed; they have stiffened their necks and done worse than their fathers. 27 When you speak all these words to them, they will not listen to you either; when you call to them, they will not answer you. 28 Say to them: This is the nation which does not listen to the voice of the LORD, its God, or take correction,. Faithfulness has disappeared; the word itself is banished from their speech.

P S A L M
Psalm 95:1-2, 6-7, 7-9
R: If today you hear his voice, harden not your hearts.
1 Come, let us sing joyfully to the LORD; let us acclaim the Rock of our salvation. 2 Let us come into his presence with thanksgiving; let us joyfully sing psalm to him. (R) 6 Come, let us bow down in worship; let us kneel before the LORD who made us. 7 For he is our God, and we are the people he shepherds, the flock he guides. (R) Oh, that today you would hear his voice, 8 ?Harden not your hearts as at Meribah, as in the day of Massah in the desert, 9 where your fathers tempted me; they tested me though they had seen my works. (R)
G O S P E L
Luke 11:14-23
The battle for human souls is a very real battle both here in the material world and in the spiritual realm as well. We are wise if we do not underestimate the power of evil, though we also need to remember that Jesus gives us victory over sin and the devil. It is up to us whether we align our lives with the good or evil. We choose the things we allow to influence our lives. Sometimes we may choose badly. If we do, then let us not forget that we can repent and return to the Lord as well.

14 He was driving out a demon [that was] mute, and when the demon had gone out, the mute person spoke and the crowds were amazed. 15 Some of them said, ?By the power of Beelzebul, the prince of demons, he drives out demons.? 16 Others, to test him, asked him for a sign from heaven. 17 But he knew their thoughts and said to them, ?Every kingdom divided against itself will be laid waste and house will fall against house. 18 And if Satan is divided against himself, how will his kingdom stand? For you say that it is by Beelzebul that I drive out demons. 19 If I, then, drive out demons by Beelzebul, by whom do your own people drive them out? Therefore they will be your judges. 20 But if it is by the finger of God that [I] drive out demons, then the kingdom of God has come upon you. 21 When a strong man fully armed guards his palace, his possessions are safe. 22 But when one stronger than he attacks and overcomes him, he takes away the armor on which he relied and distributes the spoils. 23 Whoever is not with me is against me, and whoever does not gather with me scatters.?
my reflections
think: We are wise if we do not underestimate the power of evil.

________________________________________________________
_________________________________________________________


God?s special verse/thought for me today_______________________
_________________________________________________________

T O D A Y ? S BLESSING LIST
Thank You Lord for: ______________________________________
_______________________________________________________
READ THE BIBLE IN ONE YEAR 2Samuel 23-24
YOU THOUGHT YOU WERE SAFE
In Australia where I grew up, we do not have any subdivisions with guards, walls and fences that attempt to provide protection and security for the residents. It was a very strange experience for me when I first arrived here in the Philippines in 1995. I raise this image of a supposedly protected and secure life in order to demonstrate that we cannot allow ourselves to fall into the trap of thinking that we are secure when in reality we are not!
A normal house in a subdivision is protected by guards at the gate of the subdivision, walls around the subdivision, walls, gates and locks around the individual house, the locks on the house itself, and ? in some extreme cases ? by a further set of private security guards at the house. This may well provide physical protection from trespassers. However, the great irony for me is that a greater source of moral temptation is wired directly into the house and very few safeguards, if any at all, are placed on its use ? namely cable TV and the Internet.
As a priest, one is always ministering to people as regards their struggles and trials to live a moral life. I believe that the unregulated use of television and the Internet in the lives of young people, particularly those not yet capable of properly discerning the moral worth of the shows that they watch and the websites that they visit, is a far greater danger to young people than the threat of physical violence. The television should never be used as a de facto babysitter for children without constant supervision. The ideas and images it projects too easily make an impression on young minds. Similarly, the use of the Internet ought to be carefully regulated so that young and impressionable minds are not led astray by the countless websites that have little or no real value of education or legitimate enjoyment. The same is true regarding video games that promote a culture of violence. It is all very well to protect one?s self from physical violation, but let us not forget that we need to do the same thing as regards the moral formation of our young people. If we form them well, there will be no need for protection from physical violence. It is because we are failing to do this that we find the fortresses of subdivisions necessary! Fr. Steve T.

REFLECTION QUESTION:
We put a lot of effort into protecting ourselves physically. Do lies put as much effort to protect our minds and values as well?
Lord, help me protect my mind, heart and spirit from things that will corrupt me.
St. Turibius De Mogrovejo, bishop confessor, pray for us.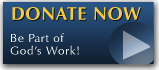 The FEAST is one of the happiest places on earth.

Click Here to find a Feast near you!
KERYGMA TV! is BACK
KERYGMA TV is on a new time slot and new channel Sundays 8 a.m. at IBC 13
Need Counseling? No Landline?
Now, you can use your mobile phone to call a friend for counseling at 09228407031. Or you may call our landlines 7266728, 7264709, 7259999 Mon-Fri 24-hrs, Sat 6am-5pm, Sun 6am-10am
BO BLOGS!
Go to Bo's Official Site and read his almost daily blog! Its not news, but thoughts and musings of Bo Sanchez. Get to know Bo in a more personal way --and find out what it means to live the life of a preacher. You get to enrich your faith as well.
DONATION
Remember to always donate your "first fruits"-not the last. Click on the "Donation" Box under the members menu - and you'll even see links to the nearest branches of the Banks where you can deposit.