READINGS for 2006-02-12
CHICKEN OR PIG?

?whatever you do, do everything for the glory of God. ? 1 Corinthians 10:31
We were having bacon and scrambled eggs at the seminary one morning when a fellow seminarian asked, ?Who gave more?the chicken who laid the egg or the pig that gave us the bacon?? After a great deal of laughter, we seriously began to reflect on the question. How much do we actually give of ourselves? As much as the pig who had to die in order to put meat on our breakfast table? The extent of our generosity is an expression of our character, of how charitable we are. In our increasingly materialistic society, people who can give ?much,? are the ones who gain recognition. However, the gospels do not define ?much? by how much of what you have in excess. Instead, ?much? was measured by how much you had that you needed for yourself that you gave away anyway for the sake of another. Like the widow with only two copper coins. Or the widow of Zarapeth who had only a jar of flour left. When we give away used clothes and old things that have no real value to us, are we really being generous then? Are we doing all for the glory of God? Chicken or pig? Mike M.
REFLECTION:
Christ generously gave his life to save us from sin. How do I respond to this kind of generosity?
Lord, give me a generous heart.
1st READING
Leviticus 13:1-2, 44-46
The rules concerning people with sickness may seem somewhat harsh and even at times arbitrary. However, in times when medical care was much more limited compared with what we have today, these rules were designed to protect public health. It is not that long ago that lepers from the USA were sent to the island of Molokai near Hawaii! Even today ships with an outbreak of disease on board are barred from allowing passengers to disembark when in port in order to restrict the outbreak.
1 The LORD said to Moses and Aaron, 2 ?If someone has on his skin a scab or pustule or blotch which appears to be the sore of leprosy, he shall be brought to Aaron, the priest, or to one of the priests among his descendants,? 44 the man is leprous and unclean, and the priest shall declare him unclean by reason of the sore on his head. 45 ?The one who bears the sore of leprosy shall keep his garments rent and his head bare, and shall muffle his beard; he shall cry out, ?Unclean, unclean!? 46 As long as the sore is on him he shall declare himself unclean, since he is in fact unclean. He shall dwell apart, making his abode outside the camp.?
P S A L M
Psalm 32:1-2, 5, 11
R: I turn to you, Lord, in time of trouble, and you fill me with the joy of salvation.
1 Blessed is he whose fault is taken away, whose sin is covered. 2 Blessed the man to whom the LORD imputes not sin to you, my guilt I covered not. I said, ?I confess my faults to the LORD,? and you took away the guilt of my sin. (R) 11 Be glad in the LORD and rejoice, you just; exult, all you upright of heart. (R)
2nd READING
1 Corinthians 10:31-11:1
Paul has a one-track mind. He tries to direct all that he does to the furthering of the Kingdom of God. If only we were more like him, perhaps the Gospel would have taken deeper root in our society. Paul is ever aware that everything he does may impinge upon someone?s view of the Gospel. Thus he is at pains to remind us of this as well so that we will be more conscious of the fact that our lives are often the first point of contact people have with the Gospel.
31 So whether you eat or drink, or whatever you do, do everything for the glory of God. 32 Avoid giving offense, whether to Jews or Greeks or the church of God, 33 just as I try to please everyone in every way, not seeking my own benefit but that of the many, that they may be saved. 11: 1 Be imitators of me, as I am of Christ.
G O S P E L
Mark 1:40-45
Jesus demonstrates His power of the sickness of leprosy. There seems to be nothing beyond His power! The healing of a person ostracized from the community because of a physical illness is a figure or symbol for the forgiveness that He brings to our sins. Our sin ostracizes us from God ? it drives us away from Him as He is all-perfect and cannot abide sin. Jesus? forgiveness removes the cause of separation and makes it possible for us to re-enter our communion with the Father.
40 A leper came to him [and kneeling down] begged him and said, ?If you wish, you can make me clean.? 41 Moved with pity, he stretched out his hand, touched him, and said to him,?I do will it. Be made clean.? 42 The leprosy left him immediately, and he was made clean. 43 Then, warning him sternly, he dismissed him at once. 44 Then he said to him, ?See that you tell no one anything, but go, show yourself to the priest and offer for your cleansing what Moses prescribed; that will be proof for them.? 45 The man went away and began to publicize the whole matter. He spread the report abroad so that it was impossible for Jesus to enter a town openly. He remained outside in deserted places, and people kept coming to him from everywhere.
my reflections
think: Paul is ever aware that everything he does may impinge upon someone?s view of the Gospel. Are we as aware?
_________________________________________________________
_________________________________________________________


God?s special verse/thought for me today_______________________
_________________________________________________________

READ THE BIBLE IN ONE YEAR Numbers 35-36

T O D A Y ? S BLESSING LIST
thank You Lord for: ______________________________________
_______________________________________________________
SABBATH PAUSE
My weekly time with God
THANK YOU LIST
Things to be grateful for from the past week
_______________________________________________________
_______________________________________________________
_______________________________________________________
SPECIAL NEEDS
Things to ask God for in the coming week
______________________________________________________
______________________________________________________
______________________________________________________

HIDDEN TREASURE
Most important word God told me this week
_____________________________________________________
_____________________________________________________
_____________________________________________________
GETTING TO KNOW THE SAINTS

St. Scholastica
Nun (d. 543)
?I asked my Lord, and He listened to me.?
This holy woman was the twin sister of St. Benedict, founder of Western monasticism.Our knowledge of her story depends on two chapters in the famous life of Benedict by St. Gregory the Great. There we learn that she entered religious life at an early age and apparently rose to the office of abbess in a convent near her brother?s monastery at Monte Cassino. Gregory?s account of Scholastica is largely given over to a story of her last days. It illustrates the affectionate and yet somewhat competitive relationship between the siblings. More importantly, it provides a monastic parable about the power and virtue of love versus a rigid devotion to rules.
It seems that Benedict and Scholastica had a custom of meeting once a year in a house somewhere between their respective monasteries. There they would spend the whole day ?praising God and talking of spiritual matters.? One year they met as usual. But when, as dusk began to fall, Benedict made preparations to leave, his sister begged him to spend the night that they might ?talk until morning about the joys of life in heaven.? Benedict refused, citing the rules of his monastery from which it was impossible? to deviate. To this answer Scholastica responded by simply lowering her head in prayer. Immediately the heavens erupted in thunder and released such a flood of rain that travel was obviously impossible. ?May almighty God spare you, sister,? Benedict cried in alarm. ?What have you done?? Scholastica answered simply, ?I asked you, but you were unwilling to listen to me. I asked my Lord and He listened to me.? And so Scholastica had her desire: ?They spent the whole night awake, and had their fill of talk about spiritual matters.? St. Gregory comments thus on Scholastica?s victory over her brother in this case: ?As John says, ?God is love,? and she justly overcame him by the greater strength of her love.?
It was to be their last meeting. Three days later, as Benedict stood in hiscell, he had a vision of his sister?s soul leaving her body and rising to heaven in the form of a dove. Without delay he dispatched several monks to retrieve her body. They found her dead, just as Benedict had foreseen. Her body was carried to the monastery and placed in a tomb which Benedict had prepared for himself. There, in time, he joined her.
IN A WAY WE ARE ALL LEPERS!
Leprosy was a disease that caused people to be excluded from participatingin society. People were afraid that it was contagious, and it is, but not to the same extent as people originally thought. So the only way to safeguard the health of a town or city was to ensure that lepers did not come into close contact with healthy people. In a sense, sin plays the same role as leprosy does. It is abhorrent to those seeking to grow in holiness and we should try to keep our distance from sin as much as possible. However, this is not to say that we reject the sinner as was once the case with lepers; every comparison limps a little and this is where mine does not quite work.
In reality, it is sin that we reject and not the sinner, just as it ought to have been the disease of leprosy that was rejected and not the leper! As we all seek to grow in holiness and discipleship, one of the lessons we have to learn is to love the sinner but not the sin. This is the primary foundation of the doctrine of forgiveness, a bedrock truth of our faith and way of life. Jesus? ability to heal the leper speaks to us also of His power to forgive our sins and to make us worthy to be part of human society once again.
In truth we are called to embrace the sinner and so win him or her back from the depths of sin through our love, just as Jesus has done for us through His death and resurrection. As we do this, we will come into contact with sin and its effects and so we have to be careful that we do not allow it to take hold in our lives. Yes, sin is a sort of social disease that ever requires our vigilance. It is also a vanquished enemy, defeated by the Cross of Jesus Christ.
As we seek to follow the Lord as His disciples, let us not be afraid of sin, nor the sinner, but let us seek to imitate Jesus in His forgiveness and love for all. This way we strengthen our human society through a ministry of acceptance and inclusion rather than foster rejection and exclusion. Sin is dangerous, but we have the answer to it in the Cross of Jesus. Fr. Steve T.
REFLECTION QUESTION:
A healthy fear of sin will help us grow in holiness. Is this how it is in my life or have I an excessive or trivial fear of sin?
Lord Jesus, You embraced Your mission to minister forgiveness to the sinner and gave your life in this service. Thank You for Your love and generosity. Help me to do the same as I seek to be your disciple.
St. Gaudentius, bishop confessor, pray for us.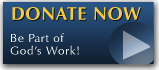 The FEAST is one of the happiest places on earth.

Click Here to find a Feast near you!
KERYGMA TV! is BACK
KERYGMA TV is on a new time slot and new channel Sundays 8 a.m. at IBC 13
Need Counseling? No Landline?
Now, you can use your mobile phone to call a friend for counseling at 09228407031. Or you may call our landlines 7266728, 7264709, 7259999 Mon-Fri 24-hrs, Sat 6am-5pm, Sun 6am-10am
BO BLOGS!
Go to Bo's Official Site and read his almost daily blog! Its not news, but thoughts and musings of Bo Sanchez. Get to know Bo in a more personal way --and find out what it means to live the life of a preacher. You get to enrich your faith as well.
DONATION
Remember to always donate your "first fruits"-not the last. Click on the "Donation" Box under the members menu - and you'll even see links to the nearest branches of the Banks where you can deposit.